---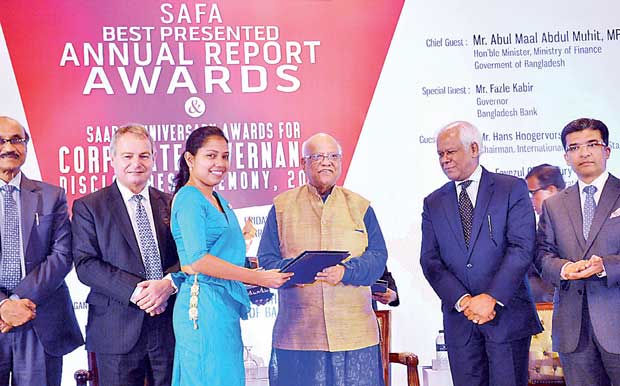 HNB Assurance PLC (HNBA) walked home with another top award for its 2015 Annual Report recently. The Company's annual report was awarded for its transparency, accountability and good governance with a Gold Award at the South Asian Federation of Accountants (SAFA) Annual Report Awards under the Insurance Sector category, which was held in Dhaka, Bangladesh recently.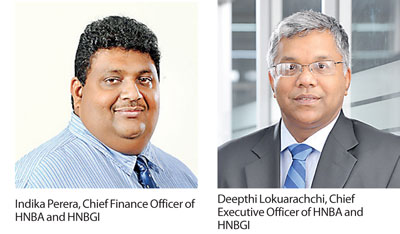 Sharing thoughts on this win Chief Executive Officer of HNBA and its fully owned subsidiary HNB General Insurance Limited (HNBGI) Deepthi Lokuarachchi stated, "We are extremely honored to be the recipient of this prestigious award as this exhibits the commitment of the Company and the continuous measures to improve our spirit in disclosing transparent, reliable and relevant financial information to our stakeholders. The annual report of a company is its calling-card to inform all of its stakeholders on its financial, non-financial information as well as the company's sustainable business practices and procedures.
Over the years HNBA has set a benchmark through its financial reporting sphere and the Company will continue to disclose financial information adhering to accounting practices and legislative requirements". Speaking on this victory, Indika Perera, Chief Finance Officer of HNBA and HNBGI stated that this is an acknowledgement the Company received for its robust practices in financial reporting and presentation, especially from a body which looks into accounting standards of leading corporations across the region. Speaking further, Indika Perera expressed his sincere gratitude stating "the company was able to witness this victory as a result of the dedication, commitment and collaboration of an astonishing team in the process of completing the annual report of the company". The annual report of the Company won multiple honors this year for its reporting standards, presentation and
transparency.