---
HNB Assurance PLC (HNBA) and HNB General Insurance Limited (HNBGI) announced the relocation of its Horana branch recently.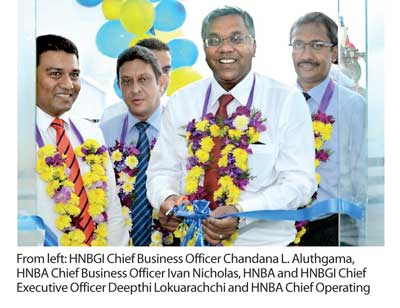 As a part of HNBA's and HNBGI's customer-centric pledge to provide a customer service that is of high quality and value, the newly opened branch emphasizes on improving customer experience. The proposition of the relocated branch includes a spacious ambience for its customers to dwell around freely and seek the best life and general insurance solutions along with ample parking.
Sharing views on the branch relocation, HNBA and HNBGI Chief Executive Officer Deepthi Lokuarachch pledged the constant support of both companies in providing the best of life and general insurance solutions to individuals and businesses in the area.
Speaking further on the relocation, Lokuarachchi stated, "We're extremely proud to be part of this rapidly developing town. In fact, this is the third premises that we are occupying in the area. We are very grateful to our valued clientele who have helped us grow from strength to strength."
The branch is located at No: 165/1/1, 1st Floor, Rathnapura Road, Horana.
HNBA, a subsidiary of Hatton National Bank PLC, is one of the fastest growing insurance companies in Sri Lanka with a network of 55 branches. Following the introduction of the segregation rules by the insurance regulator, HNBGI was created and commenced its operations in January 2015.