---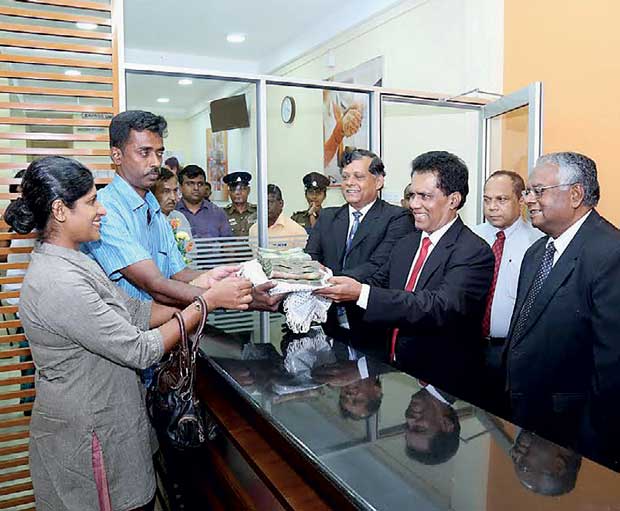 Central Bank Deputy Governor Sunil Lankathilake makes the first transaction with a customer in the presence of HDFC Bank Chairman R.J. De Silva and GM/CEO Upali Hettiarachchi
HDFC Bank recently opened its 39th branch in Dambulla in line with its corporate mission to improve the living standards of the underprivileged in particular with housing and other financial facilities.
The new branch was declared open by Central Bank Deputy Governor Sunil Lankathilake in the presence of HDFC Bank Chairman Attorney-At-Law R.J. De Silva, GM/CEO Upali Hettiarachchi and members of the staff.
The new branch located near the Dambulla clock tower, Kurunegala road, Dambulla will offer a range of services to meet the needs of people in the area, including housing loans, education loans, leasing facilities and a range of small and medium enterprise (SME) banking solutions and attractive savings and fixed deposit schemes.
It will also offer 'Thilina' children's savings and 'Prathilabha' general savings with competitive interest rates, 'Vishrama Rekawarana', a unique retirement plan that would benefit the investor with the highest interest return.
Customers will also have access to network linked ATM facilities. In addition, the newly opened branch will also offer Palm Top Banking facilities for customers, enabling them to carry out their banking transactions at the time and place most convenient for them.
Speaking at the occasion, Lankathilake said HDFC Bank serves the country in the specific field of housing finance, which is a social service as physical shelter has a significant impact on the lives of the people. He also added that according to the data from KPMG, price levels for condominium units per square foot in Sri Lanka have increased in recent years and therefore HDFC bank has a greater potential to extend its services to the people.
Expressing his views at the event, HDFC Chairman Attorney-at-Law R.J. De Silva mentioned that the bank looks forward to contribute to the government's nation building activities by providing an exceptional service that will truly benefit the people in
the area.
"With the history of over 32 years, as the affordable housing finance provider to the people whose access to finance is low, HDFC Bank has a responsibility to contribute towards the social upliftment of rural and low-income masses and improve their quality of life by fulfilling the hope of permanent shelter through housing finance,"
he said.
CEO/GM Upali Hettiarachchi in his speech invited the people of the area to come over to HDFC bank and experience the friendly customer service and get all the housing and other financial requirements from
one place.
Dambulla Divisional Secretary H.P.P.A. Hevapathirana, Central Bank Regional Managers Central, Eastern and North Western Regions Mahinda Saliya, J.M. Ameer and D.N. Weerasinghe, HDFC Bank Chief Operations Officer S. Dissanayake, Chief Finance Officer D.V. Pathirana, AGM Business Development and Marketing H.S. Gunathilake, Manager Development Credit Anura Dissanayake, North Western Province Regional Manager Kapila Senevirathne, HDFC Dambulla Branch Manager Menaka Rathnayake and a number of staff members of the bank and customers also attended the occasion.