---
NDB's new children's savings account provides great incentives for children to accumulate savings by rewarding them at progressive milestones with exciting gifts. While this contributes to building a savings habit amongst the children, it also provides the parents a great tool to help build a children's savings fund for their children that would be available when their child is 18 years old.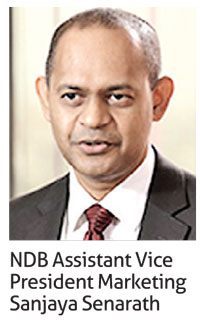 Speaking about the new product, NDB Assistant Vice President Marketing Sanjaya Senarath said, "NDB has always been in the forefront of fostering the habit of saving among children, especially through its 'Ithuru Karana Maga' savings campaign. Now providing the parents a great way to save for their kids, NDB launches NDB children's savings with a range of gifts that kids are sure to love. We encourage all parents to make this Children's Day more meaningful with this account. NDB will be officially introducing the product on October 7, at Viharamahadevi Park and we invite all parents and kids to join for a fun-filled day."

For account balances starting from Rs.1,000 up to Rs.5,000,000, there is a range of gifts such as tills, school bags, skateboards, dolls, smart watches, organs, remote control helicopters, scooters, melodicas, mountain bikes, smartphones, tabs and laptops.