---
The Commercial Bank of Ceylon has won two more prestigious international accolades,being adjudged the 'Best Bank' in Sri Lanka in 2016, and presented a Platinum award for 20 years of excellence by the Hong Kong based 'FinanceAsia,' magazine, one of the most respected financial publications in the region.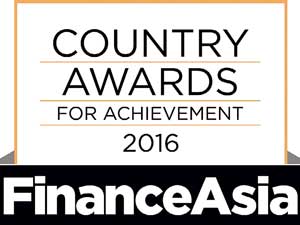 This is the sixth 'FinanceAsia Country Banking Achievement Award' presented to Commercial Bank in the eight years since the Bank became the first entity in Sri Lanka to receive this coveted tribute in 2009.
Additionally, as FinanceAsia celebrates 20 years covering Asia's financial markets this year, the magazine has chosen Commercial Bank as one the recipients of a one-off Platinum Award presented to banks and corporations that have consistently excelled over the past two decades, providing utmost quality and innovation to customers.
The FinanceAsia Country Award is based on the respective banks' financial performance and considers profits, NPL ratios, provisioning, return on equity, capital adequacy ratios, totalassets, loans, deposits, branch network, vision and long-term strategy, market position versus the nearest competitor, principal sources of profit, and feedback of stock market analysts.
"There are no subjective assessments for the FinanceAsia awards, which are based strictly on hard facts and figures," Commercial Bank's Managing Director/CEO Mr Jegan Durairatnam said. "They are therefore an excellent benchmark not only to reaffirm the Bank's position in the market, but to compare its performance with other top banks in the region." FinanceAsia's Country Banking Achievement Awards for2016 ranks Commercial Bank alongside many banking giants in the region including HSBC and DBS, adjudged the best in Hong Kong and Singapore respectively; as well as banks of the calibre of ICBC (China), CTBC (Taiwan), ICICI (India), Kasikornbank (Thailand), Busan Bank (Korea), Bank Central Asia (Indonesia), Techcombank (Vietnam), MCB Bank (Pakistan) and Dutch-Bangla Bank (Bangladesh).
The full list of this year's winners is to be published in the July issue of FinanceAsia, which will be in circulation in mid June.
First published in 1996, FinanceAsia is Asia's leading financial publishing company and the world's foremost information source on the Asian financial markets. Published 11 times a year in Hong Kong, the magazine provides readers with the latest financial trends, interviews, features and investigative reports. The company is owned by Haymarket Media Limited, the largest privately-owned publishing group in the UK.