---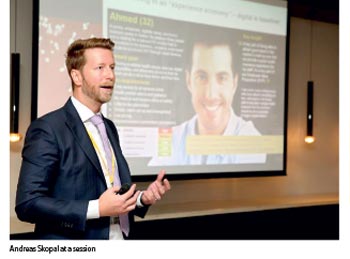 EY has been recognized as a leader for digital strategy and agency services consulting in the Americas, EMEA and Asia-Pacific regions by the IDC MarketScape: Digital Strategy and Agency Services 2017 Vendor Assessment results.

According to the report, EY is regarded by IDC and EY clients to be among key organizations producing value-generating business innovation; in providing deep, competent industry insight; in understanding the unique business needs of clients; and in providing the capabilities necessary to deliver against those needs. In addition, IDC MarketScape says EY is one of the strongest at limiting risk and helping to ensure engagement success by involving local or global resources, managing client expectations, and focusing on the operational and commercial performance goals of clients.

Andreas Skopal, Partner and Digital Market Segment Leader for the Middle East, Africa and India Region for Financial Services visited Sri Lanka recently to exchange views on Digital Strategy journey pursued by clients and conducted few insights-led, high impact, collaboration sessions on Digital Strategy.

Andreas commenting on his visit said: "We are committed to helping EY clients as they develop and launch their business strategies in a digital world. Enterprises today are in a near-constant state of change, so they have to evolve at a speed that matches the pace of digital technology adoption. That's why we continue to invest significantly in this space, so EY can provide the resources clients need as they face increasingly complex challenges. We are extremely pleased with the IDC MarketScape's recognition of our digital services across the EMEA, APAC and Americas regions."

IDC Digital Strategy Consulting Research Director Michael Versace says: "The formation of a broad set of digital-related services, along with growth in the advisory and deals business have led EY to a seventh year of strong business and growth worldwide, as clients turn to consulting teams like EY to play a critical role in their overall digital ecosystem and providing success in business transformation. In addition to its global footprint and its purpose-led growth strategy, EY continues to expand its capabilities through Wavespace collaboration centers, the adoption of emerging technology to serve clients better, and through acquisition and collaborations to strengthen and differentiate its digital offerings."

As per the IDC report EY will continue to excel in the Digital strategy market by addressing the technical needs of its clients in artificial intelligence (AI) and big data integration and the increased requirement to bring about organization and culture changes necessary to succeed in the digital era.

EY Sri Lanka Advisory Leader Arjuna Herath commenting on this success says: "Our digital go-to-market strategy focuses on seeing our clients' challenges from a digital perspective to help them to build, grow and protect their businesses. We are creating impact with our clients with our multiple service lines working together to solve pressing business issues with digital solutions and analytics capability, such as seeking new ways to optimize the supply chain, design customer experiences and rethink operating models. We bring the power of our alliances to the table and we are also creating ecosystems of partners that have emerging technology and design capabilities."