---
Veteran professional and entrepreneur, Dr. Rohan Karunaratne, has been appointed as the new Chairman of Arpico Finance Company PLC (AFCP).

Arpico Finance is the second oldest finance company in Sri Lanka and it engaged 65 years in the finance industry.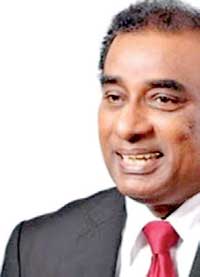 A civil engineer by profession, Dr. Karunaratne holds over 30 years of post-qualification experience in civil engineering, building construction, engineering consultancy, construction training, lecturing, designing and planning.

An eminent academic and professional, Dr. Karunaratne selected business administration for his post-graduation. When it was the time for a PhD, he selected both subjects. Accordingly, he has two PhDs, one in Business Administration from Sussex (UK) and Contraction Management from USA.

Dr. Karunaratne is currently Chairman of AMF, Human Resource Development (Pvt.) Ltd, Master Builders International (Pvt.) Ltd, Hybrid Airports (Pvt.) Ltd, Overseas Training Academy, Pinthaliya Resorts and Spa, and A.K.K. Engineers (Pvt.) Ltd.

He is President of the Ceylon Institute of Builders and Vice President of International Institute of Management.

Dr. Karunaratne is also a board Director of Hatton National Bank PLC, Chamber of Construction Industry and Helanko Hotels & Spa. He is also the adviser to the Megapolis and Western Development Ministry. AFCP is a fully-fledged finance company licensed by the Monetary Board of the Central Bank of Sri Lanka under the Finance Business Act No.42 of 2011. It is Sri Lanka's second oldest finance company, supporting the financial needs of the retail and small and medium enterprises (SME) sector for over six decades.

The controlling interest of the AFCP was acquired by the Alliance Finance group in 1967 from the original shareholders. With the consolidation drive initiated by the Central Bank, the Alliance Finance group divested its controlling interest to Associated Motor Finance PLC, who is now the major shareholder of the company with a stake 94 percent.

AFCP offers a range of services including deposits, leasing and hire purchase, loans and Islamic finance to its loyal customer base, some of whom have been with the company for over four decades. It operates through a network of 10 branches and a team of 350 employees who are key enablers of its success over the years.

The company is listed on the Main Board of the Colombo Stock Exchange with a market capitalization of Rs.1.23 billion as at March 31, 2017.