---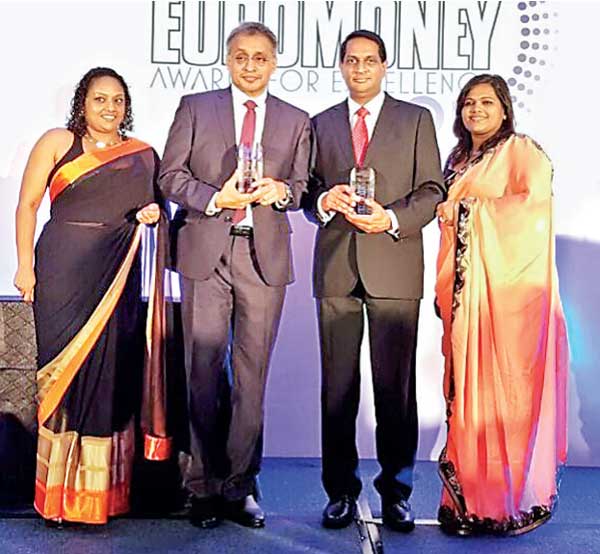 From left: NDB Investment Bank COO Kaushini Laksumanage, NDB Capital Holdings CEO Vajira Kulatilaka, NDBIB CEO Darshan Perera and VP Debt and Equity Distribution Avanthi Dissanayake
NDB Capital Holdings Group (NCAP) secured top investment banking awards presented by the prestigious Euromoney magazine at the Euromoney Awards for Excellence ceremony held recently in Hong Kong.

NCAP's fee-based investment banking operations both in Sri Lanka and Bangladesh, namely NDB Investment Bank (NDBIB) and NDB Capital, were crowned as the best investment banks in their respective countries. This was a rare achievement repeating the feat in 2014, where NCAP emerged as the only investment banking group in Asia to be to be named 'Best Investment Bank' in two countries simultaneously.

NDBIB secured the prestigious award as 'Sri Lanka's Best Investment Bank 2016' from Euromoney for the fifth successive year whilst NDB Capital secured the 'Bangladesh's Best Investment Bank 2016' for the second time.
Speaking on this exceptional achievement, NCAP CEO Vajira Kulatilaka stated, "Over the years we, as a group, have strived to be the best at what we do. What prides me the most is that we've been able to build a culture around excellence and replicate what we have done with NDBIB in our venture in Bangladesh. Our efforts have been recognized with the leadership positions we enjoy in each of the verticals NCAP operates in. Our people are driven by excellence and we will continue to dish out our exciting brand of innovation whilst striving to provide better value to our clients."

NDBIB is the premier investment bank in Sri Lanka and further extended its leadership in both debt and equity capital markets in Sri Lanka by concluding a record-breaking year in 2015 raising a mammoth Rs.60 billion capital for its clients. NDBIB achieved an unassailable 55 percent share of the debenture market in 2015 and co-managed the largest IPO to take place during the year.

The highlight however was the joining of forces between two fast-growing apparel companies, Hela Clothing and Foundation Garments, where NDBIB's involvement spanned right from the origination of the idea up to closure of the transaction. NDBIB also raised debt financing for a Maldivian Resort through a syndicated loan facility with the participation of several local banks.

NDBIB's advisory expertise was sought after by many including Resus Energy who undertook a restructuring exercise in order to unlock shareholder value. The team at NDBIB comprises of a rare breed of exceptional individuals with varying educational backgrounds and skills sets geared to deliver unmatched quality and innovation in investment banking.

NDB Capital in Bangladesh executed a number of unique transactions in 2015 introducing a variety of capital market instruments to the local market leveraging on its superior structuring skills. The focus during the year was mainly on broadening the company's services by providing corporate advisory services as a value addition to fund raising activities carried out both locally and regionally. NDB Capital was instrumental in facilitating People's Leasing and Finance PLC's maiden entry into the Bangladeshi market in a transaction valued at US $ 8 million. NDB Capital formulated the entry strategy for Sri Lanka's largest non-bank financier and supported the entire process by identifying a suitable target, managing regulatory approvals and negotiating and finalising requisite legal agreements.

NDB Capital also managed to successfully arrange and facilitate a joint venture between a local and a Sri Lankan construction company to undertake construction of large-scale real estate and building and piling activities in Bangladesh. Transactions during the year also included fund raising via US dollar and local currency loan syndications, preference shares, zero-coupon bonds and commercial paper. NDB Capital is a fully-fledged merchant bank licensed by the Bangladesh Securities and Exchange Commission and is the only international merchant bank in the country. It has an experienced team, which offers a unique combination of local and foreign expertise.
NDBIB and NDB Capital are the two fee-based investment banks managed by NDB Capital Holdings Group. The group adheres to strict compliance and ethical guidelines with a corporate culture built on honesty and integrity.