---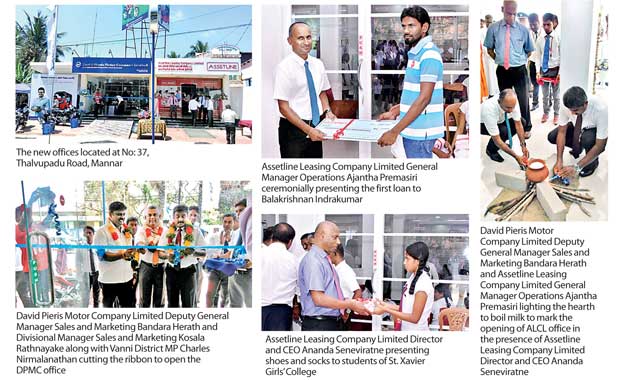 David Pieris Motor Company Limited (DPMC) and its sister company Assetline Leasing Company Limited opened their latest office in Mannar.

This will enable the people of the area to have access to the entire range of Bajaj three-wheelers and motorcycles, along with leasing, business loans and related financial services under one roof.

The office located at No: 37, Thalvupadu Road was declared open in the presence of staff and a large gathering of the local business community. This would further expand the group's extensive islandwide reach to 65 regional offices. As part of the David Pieris group's commitment to uplift the lives of the community they do business in, disadvantaged students of St. Xavier Girls' College were presented with shoes and socks to mark the occasion.

David Pieris Motor Company Limited, the largest automotive company in the country based on performance, has been in the forefront of the industry with a history that dates back over five decades. Assetline Leasing Company Limited is one of the largest specialized leasing companies in Sri Lanka.