---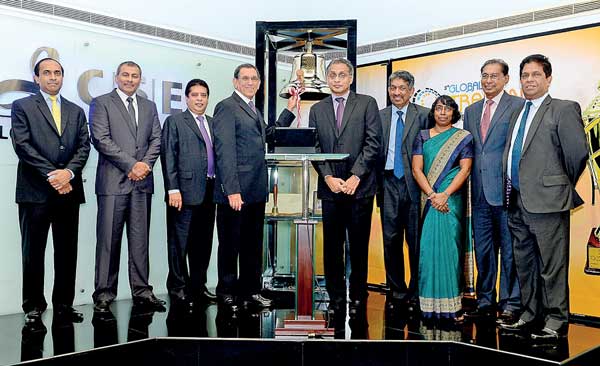 From left: CSE CEO Rajeeva Bandaranaike, CSE Director Ray Abeywardena, DFCC Deputy CEO Lakshman Silva, DFCC Chairman Royle Jansz, CSE Chairman Vajira Kulatilaka, DFCC CEO Arjun Fernando, DFCC Company Secretary Anomie Withana, CSE Director MokseviPrelis and CSE Director Aravinda Perera
DFCC Bank rang the opening bell to commence trading at the Colombo Stock Exchange (CSE) last week. The market opening ceremony was organized to mark the first trading day for the month of June.

The Bank's Chairman Royle Jansz, CEO Arjun Fernando, Deputy CEO Lakshman Silva and Company Secretary Anomie Withana were present at the event.

The CSE was represented by Chairman Vajira Kulatilaka, Directors Moksevi Prelis, Ray Abeywardena, Aravinda Perera and CEO Rajeeva Bandaranaike.

Speaking at the event, CEO of DFCC Bank Arjun Fernando said, "After 60 years of development and growth, we are proud about what we have been able to deliver to our shareholders. We are now further strengthened and will continue to grow, raising the bar in service delivery and rapidly expanding our digital reach and footprint across the country. We remain committed to maximizing shareholder value in a sustainable manner by providing innovative financial solutions, drawing on the synergies of our other businesses within the group."

Commenting on the Bank's contribution to the Sri Lankan capital market, Vajira Kulatilaka, Chairman of CSE said that the listing of DFCC Bank and value offered through the Bank's shares played a vital role in sparking interest in the market, especially among retail investors around the country. He went on to state that the Bank's share has since developed into an attractive stock for investors and continues to attract interest both locally and internationally.

DFCC Bank is one of the oldest Development Banks in Asia and the pioneering development Bank in
Sri Lanka. Today, it has combined the expertise of a pioneer development bank and the energy of a dynamic commercial bank, and offers the full gamut of development and commercial banking services with an employee base of over 1,500.

In keeping with its commitment to advance financial inclusion, DFCC is fast growing its footprint across the island to service customers. While focusing on expansion through traditional brick and mortar structures, the Bank is also developing electronic channels that provide customers with the ease and convenience of experiencing banking while on-the-go. Besides banking, DFCC also offers consultancy services, industrial park management, information technology, investment banking and wealth management delivered through the subsidiaries – DFCC Consulting, Lanka Industrial Estates, Synapsys and the joint venture - Acuity Partners.