---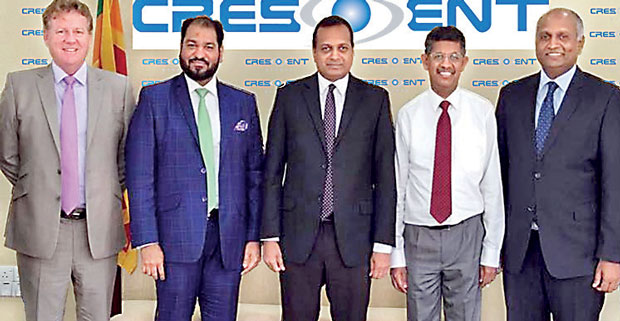 Crescent Global's top-rated reinsurance covers and support are what could only be termed 'a miraculous blessing bestowed on the country' for the maiden national insurance schemes rolled out by the government recently, including a first of its kind in the world, the national natural disaster insurance scheme (NNDIS) for all uninsured Sri Lankans.
The NNDIS' initial estimated claim of up to Rs.5.4 billion for the flood and disaster in May last year is being settled, in particular in Kegalle, which was the worst affected district, where all claims were settled in full earlier this year.
Crescent Global South Asia has the most diverse and the most spectacular reinsurance portfolio in the country in terms of national insured schemes launched, insured properties and reinsured projects. A quick glance would make this fact abundantly clear.
Examples are the cooperative insurance policy for the fisherman, NITF national natural disaster cover for up to Rs.10 billion, SRCC and terrorism cover top up cover up to Rs.10 billion, combined retrocession cessation XOL cover for 30 percent compulsory ceding of for all general insurance and Ceylon Petroleum Corporation, by far the largest specialized risk in Sri Lanka, as reinsured with A-rated securities in the international markets by Crescent Group.
The NITF has been in the forefront in launching the national schemes last year. The best example, Minister Niroshan Perera says is the proactive cover, the insurance provided to all uninsured for natural disasters including a cover for fishermen and more recently the scheme for paddy farmers.
The most recent is the islandwide insurance for natural disasters for agricultural farmers for Rs.25,000 per hectare, topped up by a national cover for natural calamities such as flood, inundation, drought and wild elephant attacks, which were all insurance initiatives reinsured in A-rated securities.
Crescent Global's single strength has been that organisations that have been reinsured through its good offices have helped entities such as NITF, Cooperative Insurance and Petroleum Corp be proactive about disasters or accidents and losses and not reactive.
"It's also significant that what Crescent Global has insured is either on the mammoth scale -- the entire country, for natural disasters -- or of mammoth size, such as the biggest properties, of which Petroleum is obviously huge, in terms of the volatility of the commodity insured and the sheer enormity of the property value indemnified," said Crescent Global South Asia Director Indrajith Fernando.
But it's not the mere proactivity but the range as well. Crescent Global's portfolio is marked by its diversity.
Take the national cooperative fisheries cover for instance. All fishermen registered under co-op fishermen society are covered for personal accident for Rs.1 million per person, including funeral expenses, with a hospitalization per day cover. Additionally, this is a 365-day, 24-hour cover, for onshore and offshore eventualities.
The NNDIS, a first of its kind in the world, applauded by Breton Woods institutes including the World Bank, also insures all fishermen, uninsured households, small and medium-size businesses and industries and all persons while fishing for personal accident, during natural disasters, with a cover of Rs.10 billion. It is a cover to beat all these covers, so to speak," adds Fernando. This cover includes an emergency relief fund for food and shelter, for up to
Rs.200 million.