---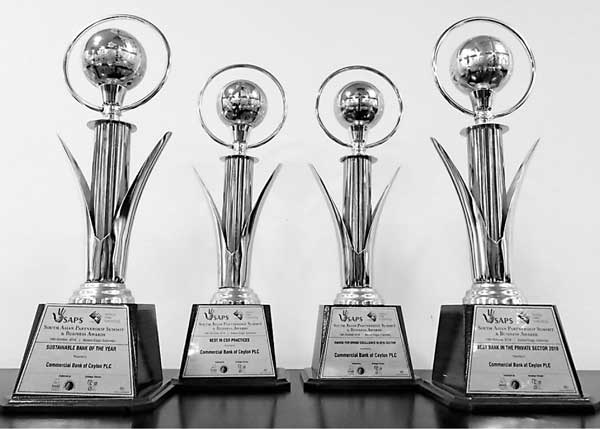 The Commercial Bank of Ceylon won four top awards including Best Private Sector Bank in Sri Lanka at the 2016 South Asian Partnership Summit & Business Awards presented by World HRDCongress and endorsed by the Asian Confederation of Businesses.

The most-awarded bank at the ceremony, Commercial Bank received the awards for 'Best in CSR Practices, 'Best in Brand Excellence in Banking and Financial Services and Insurance Industry,' and'Best Sustainable Bank' in addition to being named the 'Best Private Sector Bank.'
The awards ceremony at Waters Edge on 13th October was attended by 200 senior corporate sector leaders and officials from several South Asian countries.

The South Asian Business Awards honour and celebrate leaders around the region working to strengthen unity and increase economic opportunity. The goal of the South Asian Partnership Summit is to provide a forum to establish the standards of excellence for quality development and to honour the people and organisations responsible for developing the most effective actions that exemplify that excellence.

Commenting on these awards, Commercial Bank's Managing Director/CEO Jegan Durairatnam said: "At Commercial Bank we always strive to achieve excellence in everything we do, but it is always nice to be recognised for our efforts. We take pride in our strategic brand building efforts and commitment to sustainable business practices which have been recognised by both international and local awarding bodies." The jury for the awards programme comprised of business leaders, researchers and academics of the stature of Dr Arun Arora, ex-President and CEO, The Economic Times and Chairman, Edvance Pre-schools and Emeritus Chairman of the World HRD Congress; Dr Harish Mehta, Chairman & Managing Director of Onward Technologies Ltd., Emeritus Chairman World HRD Congress and Founder Member of NASSCOM; Professor Tom Hilton, Global Chairman of the Asia Pacific HRM Congress; Jack Jones, Global Chairman of World HRD Congress; Jonathan Peters, Global Chairman of Stars of the Industry Group; Prof. Indira Parikh, ex Dean of IIM Ahmedabad &President – Antardisha; Dr R. L. Bhatia, Founder, World CSR Day and World Sustainability; and Nina E. Woodard, President & Chief "N" Sights Officer of Nina E. Woodard & Associates, a division of NDPendence Inc.