---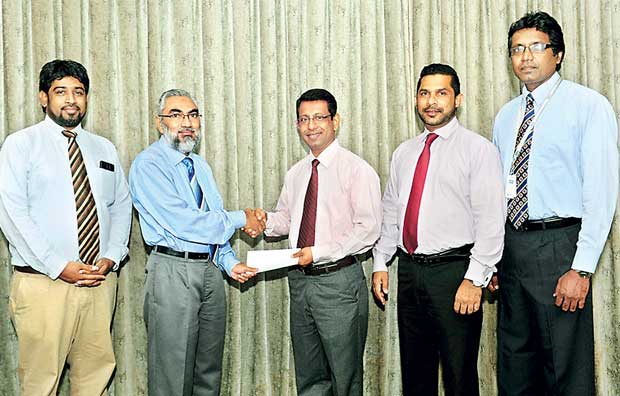 Transnational BPM Lanka (Pvt.) Ltd Country Manager Dr. Imtiaz Ismail handing over the sponsorship cheque to Clearing Association of Bankers President Upul de Silva in the presence of Transnational BPM Lanka (Pvt.) Ltd Deputy General Manager Thurab Hilmy, Clearing Association of Bankers Secretary Razak Deen and Treasurer Janak Palugaswewa
The Clearing Association of Bankers (CAB) has organised its annual Interbank Quiz competition, which will take place on April 24, 2016 at Balmoral Hall, The Kingsbury Hotel Colombo, at 4:30 p.m.
The competition sponsored this year by Deutsche Bank, Pronto Lanka (Pvt.) Ltd and Transnational BPM Lanka (Pvt.) Ltd with ITN Sri Lanka playing the part official electronic media partner, is the 24th Interbank Quiz organised by the CAB.
This much-anticipated event is open to all commercial, development and savings banks as well as other financial institutions in Sri Lanka.
Commenting on the number of participants CAB President and People's Bank IT Manager Upul De Silva had this to say, "The response is overwhelming with over 35 teams already announcing their participation, including the defending champions, the HNB A-Team and last year's runner-up, the HNB B-Team."
The Interbank Quiz competition is a healthy mix of competition and fun. It serves as a means of fostering good relationships among the bankers and imparts knowledge on varied subjects including current affairs, law relating to banking and finance, international trade, sports and entertainment.
The quiz is worked out in five rounds, each team comprising of five members face the quizmaster together in the five rounds. Each round has 10 questions making a total of 50 questions.
Enhancing the knowledge of bankers, promoting goodwill, understanding and fellowship among bankers engaged in clearing and acquiring the cutting-edge technology in the world with regard to clearing for member banks are the basic objectives of the CAB. These have been achieved through islandwide activities with encouraging response.