---
Citigroup Asia CEO Francisco Aristeguieta is in Sri Lanka to meet with government officials, regulators and key clients. Aristeguieta is responsible for all Citi businesses across 16 markets in Asia. He has the additional responsibilities for Citi's consumer operations in the UK, Russia, Poland and the UAE.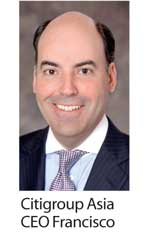 Asia is Citi's largest contributor to revenues and profit outside North America and the region reported third quarter revenues of US $ 3.4 billion, up 3 percent quarter-on-quarter and 1 percent year-on-year on October 14.
A 22-year Citi veteran, Aristeguieta is a member of Citi's Global Operating Committee and sits on the board of the Citigroup Foundation, the firm's philanthropic organisation and Citi Ventures, its venture capital arm specializing in incubation and seed investments.
He also currently serves on the Board of Trustees of the Asia Society. Prior to his role as Asia CEO, Aristeguieta served as CEO for Citi Latin America, where he was responsible for 23 markets. Aristeguieta's visit to Sri Lanka aims to further strengthen Citi's longstanding relationships with the Government of Sri Lanka, regulators and key clients, which dates back to when Citi first established a presence in the country in 1979. Earlier this year, Citi led the Government of Sri Lanka's US $ 1.5 billion two tranche international bond issue.
Citi offers a full set of products and services to corporate clients from its branch in Colombo. Citi Sri Lanka is rated 'AAA' by Fitch Ratings and has maintained this rating since 2003. Over the course of its history, Citi Sri Lanka has led a number of local market innovations in capital raising, cash management solutions, risk management, trade financing and corporate finance.
Citi Sri Lanka is also proud of the ongoing contribution it makes in the local community, particularly around its focus to usher economic transformation through financial inclusion and business support services to micro entrepreneurs in rural Sri Lanka.