---
Ceylinco General Insurance Ltd., announced excellent results for the period ended June 2017, indicative of yet another outstanding year of growth.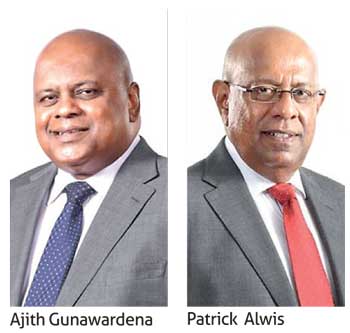 Ajith Gunawardena, the Chief Executive Officer of Ceylinco General Insurance, elaborating on the excellent performance of the company, said: " The company recorded a premium income of Rs. 8.7 billion (Rs. 8,738 million) up to the 2nd quarter in 2017,with an impressive growth of 11.4 percent, which signifies an increase of almost Rs. 900 million over the same period last year, which I would say is an exceptional achievement. Moreover, the company recorded an after tax profit of Rs. 431 million with an increase of 286 percent, for the period ended 30th June 2017 whilst the profit before tax stood at an exceptional Rs . 611 million. As a result, Ceylinco General Insurance has maintained its unassailable lead. This is in the midst of stiff competition. This strong growth trend will no doubt help us to end the year on a resoundingly successful note".

Elaborating further on the impressive figures, Patrick Alwis, Managing Director of Ceylinco General Insurance Ltd, added : "Ceylinco General Insurance paid claims amounting to Rs. 4.9 billion during the 6 month period ended June 2017. A large number of flood claims were paid to over 1,400 customers thus enabling them to return to normalcy in the shortest possible time. Staff of Ceylinco General Insurance acted promptly to pay compensation within 14 days to all of its policy holders with flood cover who were affected by the devastating floods we experienced in May – June this year"
Recently in another landmark move, Ceylinco General Insurance announced yet another breakthrough in Motor Insurance - a Rs. 1 million cover that will reimburse medical costs incurred in the treatment of heart disease, cancer, kidney failure, stroke and several other serious illnesses including heart attack and open heart surgery, major organ transplants, chronic lung and liver diseases, deafness, blindness, multiple sclerosis, paralysis etc as an exclusive benefit for Ceylinco VIP On The Spot policy holders

During the early part of the year, Ceylinco General Insurance embarked on an immense CSR initiative: 'Ceylinco VIP Akurata Saviyak', providing financial assistance to under privileged school children, in order to help them to continue their education unhindered. The first phase of the project was launched in Moneragala district by extending of 1000 scholarships to students in grades six and seven. Each of the 1000 students selected will receive Rs 1500 per month, from grade 6 onwards till they reach the Advanced Level, thereby easing the burden on their parents and giving them a solid platform to remain in school till they complete their Advanced Level examinations.

A great number of children living in economically and socially-deprived regions in the island, face the burden of abruptly ending their schooling career due to financial difficulties faced by their families. This initiative adopts a more sustainable approach which will ensure that these children's lives will be enriched owing to an uninterrupted educational experience facilitated by Ceylinco General Insurance.