---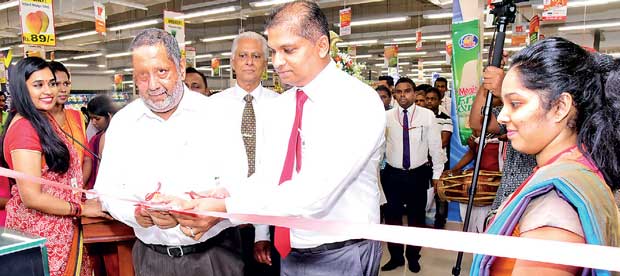 Cargills Bank Ratnapura branch being declared open by Chief Guest Cargills Bank Limited Joint Deputy Chairman Rajendra Theagarajah in the presence of Guest of Honor Cargills Foods Company (Pvt.) Ltd Retail Deputy General Manager Sahan Ganegama and Cargills (Ceylon) PLC Company Secretary Sarath Dissanayake
Cargills Bank Limited opened its newest branch in Ratnapura within the Cargills Food City premises at the Municipal Commercial Complex conveniently located in the heart of the town. The new Cargills Bank branch was declared open by Chief Guest, Cargills Bank Ltd Joint Deputy Chairman Rajendra Theagarajah and Guest of Honor Cargills Foods Company (Pvt.) Ltd Retail Deputy General Manager Sahan Ganegama in the presence of Cargills (Ceylon) PLC Company Secretary Sarath Dissanayake, Cargills Bank Ltd Executive Director/Company Secretary Kamalini De Silva, Cargills Foods Company (Pvt.) Ltd Area Manager Neil Samantha and Cargills Bank Ltd Marketing Deputy General Manager Rumaiz Rahim.

"The opening of our newest branch in Ratnapura following the Wattala branch in September 2017 gradually expands the branch network of the bank and the increased presence at Cargills Food City outlets provides the community at large the opportunity to experience superior supermarket banking services. It is an exciting time of growth for Cargills Bank and we are committed to providing our customers the latest banking technology backed with service excellence," said Cargills Bank Managing Director/CEO Prabhu Mathavan.

Cargills Bank is a fully fledged Licensed Commercial Bank providing a comprehensive portfolio of products and services to support personal and business banking needs, which include Current and Savings Accounts, Foreign Currency Accounts, Fixed Deposits, Advances and Loans, Trade Services, Treasury Services and Remittances.

The bank provides unparalleled customer convenience through its state-of-the-art digital banking services and the innovative Cargills Cash Savings Account services at over 320 Cargills Food City outlets island-wide that are open from 8:00a.m. to 10:00p.m., 365 days of the year. Customers can now avail of the Cash Deposit and cash Withdrawal facility at all Cargills Food City outlets.

At present, Cargills Bank's Head Office is in Colpetty with branches at Maitland Crescent, Maharagama, Old Moor Street, Kandy, Peradeniya, Nuwara Eliya, Thanamalwila, Matara, Galle, Kurunegala, Vavuniya, Chunnakam, Jaffna and Wattala.