---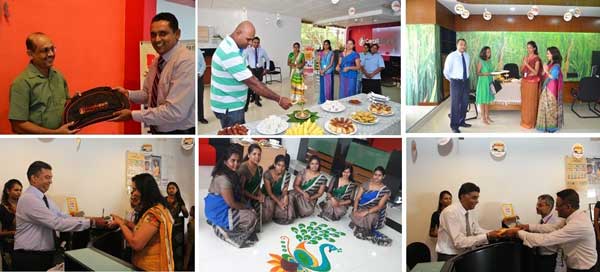 Cargills Bank, in keeping with the traditions and customs of the Sinhala and Tamil New Year, invited customers to join the Bank for "Avurudu Ganu Denu". Branches located at Maitland Crescent, Matara, Kurunegala and the Corporate Branch in Colombo 3 were open for AvuruduGanuDenu on the 14th April 2016 and the remaining 7 branches located in Old Moor Street, Jaffna, HawaEliya, Vavuniya, Thanamalvila,Chunnakam and Maharagama conducted traditional New Year "GanuDenu" on the 15th April 2016.
A gathering of customers and members of the public participated in the programme and as per the norms of the celebration, an exchange of gifts took place in the spirit of this traditional event to symbolize 'Ganu Denu'. The branches also organised a table with a selection of traditional Avurudu sweetmeats for its customers and the general public who visited the Bank to conduct transactions of those days.

According to the spokesperson for the Bank, "traditionplays an important role in our operations. Engaging in the traditional "Ganu Denu" affirms our commitment to join the nation during the Sinhala and Tamil New Year to uphold the true spirit of the celebration. It also encourages our customers to celebrate the New Year more meaningfully. We take this opportunity to wish all our valued customers and all Sri Lankansa Happy and Prosperous New Year."

Also to coincide with the Avurudu season and its celebrations, Cargills Bank introduced a number of ongoing promotionssuch as double your Avurudu, CASA Rewards and 10.5 percent Fixed Deposits to reward and recognize the customers for their valued support and business.

Cargills Bank is a fully fledged commercial bank providing value propositions across all customer segmentsthat it serves. As a customer centric Bank, enhancing and adding value to the Bank's product portfoliois an integral part of its strategy and strong commitment to customers. The Bank provides a comprehensive portfolio ofproducts and services to support personal and business banking needs that range from Current and Savings accounts, Fixed Deposits, Trade services and Treasury services. Positioning itself on the premise of 'Banking on the Human Spirit,' Cargills Bank is committed to delivering the best possible bankingexperience for its customers that surpasses expectations.