---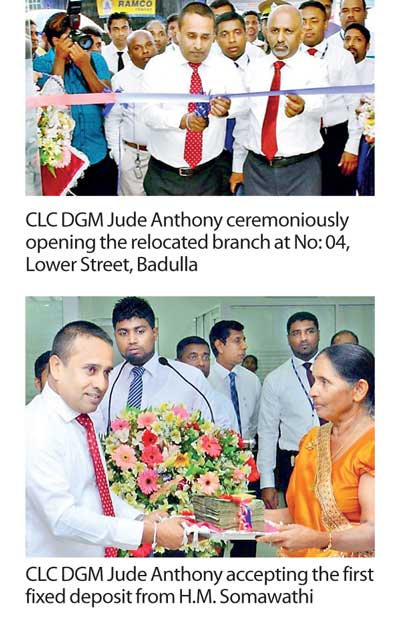 Commercial Leasing and Finance PLC (CLC) Badulla branch was relocated to a more spacious location at No: 04, Lower Street, Badulla in a bid to provide a range of unparalleled financial services to people in the area.

The branch was declared open recently and the opening ceremony was graced by CLC DGM Branch Network Jude Anthony. H.M. Somawathi and T. Senthurkumar obtained their CLC fixed deposit certificates as the very first customers of the relocated branch.

This fully-fledged branch will continue to provide leasing, fixed deposit, savings, flexi cash, microfinance, Islamic finance facilities and factoring services along with the newly introduced facility of making any pre-paid (reload) and post-paid mobile payments real-time via CLC Online, which is yet another justification of CLC's commitment and persistence efforts to offer financial services that keep up to the dynamic requirements of society.

Badulla was chosen as a strategic location by the company with the purpose of serving its existing and potential customers in need of trustworthy financial services in a growing economic atmosphere. The branch is dedicated to serve its customers with utmost professional care ensuring trust, as all branches are, growing under the company's highly cherished philosophy 'Hithawathkama'.