---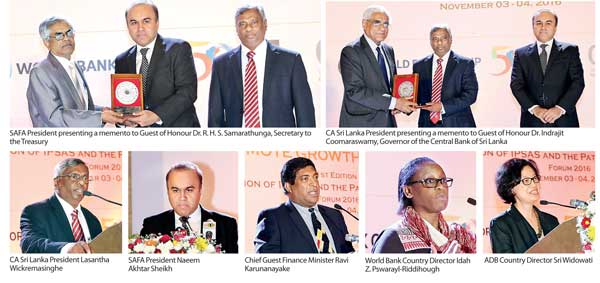 As accrual accounting continued to gain ground, South Asia too has begun to extensively deliberate on adopting this methodology for the public sector during a high profile event organized by the Institute of Chartered Accountants of Sri Lanka (CA Sri Lanka), South Asian Federation of Accountants (SAFA), World Bank Group and Asian Development Bank.

Speaking at the event, Finance Minister Ravi Karunanayake said that accrual-based accounting standards ensures greater transparency and accountability in the public sector, and also helps better monitor
government debt.
"It is important for governments to focus on establishing trust, and to establish trust, it is important for governments to provide accurate and complete information pertaining to the expenditures and transactions in order to demonstrate accountability and professionalism," he told the event which brought together over 200 delegates from across South Asia.
Karunanayake said that in the current context, the role of the accounting professional and their accountability in ensuring good governance is significant. "Therefore the regional event on accrual accounting is very appropriate," he said.
World Bank Country Director Idah Z. Pswarayl-Riddihough said South Asian countries have made remarkable progress towards achieving millennium development goals, particularly in poverty reduction, gender equality, and access to primary education, with the region recording a impressive 7.1 percent growth which is expected to increase to 7.3 percent.
However, according to her, despite the unprecedented growth in South Asia, resources still remained scarce, and accountability needed enhancement, and it was also important to create an environment that boosts jobs while also protecting the poorest. ADB Country Director Sri Widowati said that ADB recognizes that investment in socio and economic infrastructure are much more effective and efficient when good governance practices such as a sound public management system is in place.
"ADB with other development partners have imparted the importance to most borrowing countries to shape their accounting system from cash based accounting to accrual accounting to enhance the quality of financial reporting in the public sector," she said.
President of SAFA Naeem Akhtar Sheikh said that the road to accrual accounting is the road to prosperity. "We accountants strongly believe that accrual accounting is the way forward. And in fact it is the mother reform to take the country forward. The early adoption of public financial management and accrual-based accounting will enable the governments with financial information to make informed decisions and let them know whether they are using the resources effectively and also increase their ability to raise finances,"
he said.

Sheikh noted that this financial information will also help in measuring the performances of governments and making them more transparent and accountable. Thus enabling the use of public money in most efficient and effective manner.

President of CA Sri Lanka, Lasantha Wickremasinghe said that even though the public sector directly falls under the purview of a government, it is not only the responsibility of a government to help strengthen this sector. "As professional organizations, and international agencies, we all have a responsibility to help enhance the public finance management in our respective countries," he said.
He said that if financial management is effective, it no doubt will lead to enhanced economic development in South Asian countries and the region as a whole.

"In recent years, accrual accounting has been a subject that has been widely discussed. Therefore, there is no doubt that accrual accounting is a timely topic even for countries from South Asia," Wickremasinghe added.

The regional event this month held in Colombo brought together policy makers, preparers and users of financial statements, regulators, public auditors, professional accountancy organizations, academia, think tanks and other relevant stakeholders from across South Asia to stimulate thinking on how the region can move financial reporting practices in South Asia to the next level.