---
The Bank of Ceylon (BoC) as the leading bank in Sri Lanka, has always acted as a responsible financial institution by creating the best solutions for its customers in an environmentally-friendly manner.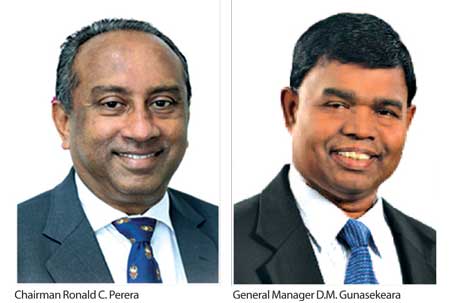 The bank has incorporated green banking as a strategic business initiative to its business process. Green banking is still an evolving concept that has emerged in recent years. Its core idea is to engage in any form of banking which the community gets environmentally benefitted through its practices.
The importance of the banking industry being involved in green initiatives comes through its importance in playing the role in economic development through financial intermediation. The banking sector acts as a major partner in financial inclusion therefore vested on its economic power it can promote environmentally sustainable and socially responsible investments and projects.
"For the Bank of Ceylon Success is always to gain sustainable growth together with the wellbeing of the community, therefore the idea is embedded as an integral part in the bank's core mission. Understanding the economic, social and environmental needs the bank evolved its approach overtime towards this mission without compromising the environment at any cost. The Digital Transformation was one big advancement we made towards this goal to make a better environment through digitization," said BoC Chairman President's Counsel Ronald C. Perera.
"Through this transformation process BOC has been able to alter its systems, processors, communication channels and manage all its resources not only to yield best economic advantages for the bank and its customers but also to engage in environment related best practices comprehensively." Perera further stated.
With the best practices that came along with the digital transformation the bank was able to move into a green process where day-to-day banking operations specially paper work was replaced by technology and made to be seamless and thus minimized waste including and carbon emission. Smart Products such as 'SmartGen" were introduced replace conventional savings accounts that use passbooks where there were a lot of paper usage. SmartZones were introduced for paperless transactions 24 x 7. These products and services have changed the bank's customer interface completely providing utmost convenience. Internally the bank has adapted a comprehensive Document Management System (DMS) and E-learning facility for employee training.
"We at bank of Ceylon had many on-going environmentally-friendly programs that have been there for several years. The bank has moved into a comprehensive green banking approach that is heavily aided by the digital transformation. With that we have introduced green processes, green products and services, strategies and green infrastructure that includes IT and physical infrastructure, " said General Manager D.M. Gunasekeara.
Encouraging the business community to adapt environmental best practices is an important initiative that a banking institution can do. "The Bank of Ceylon takes a special care in projects and business lending to make sure that those financed projects are environmentally-friendly. It even encourages customers, especially in the SME and Corporate segments to execute projects that use renewable energy and installation of renewable energy, waste management, recycling/ up-cycling projects and energy saving projects. Partnering to build the NSBM Campuses' new premises is a very recent such project the Bank of Ceylon worked with keen interest which was not only a green project but also addresses one major area of bank's social sustainability which is education," Gunasekara added
Apart from best practices adapted through digitalization, the Bank of Ceylon has been engaged in green initiatives such as paper recycling, E-waste management, installing eco-friendly equipments, installing energy efficient lighting systems in branches and head office, maintaining green gardens at selected branches with rain water harvesting systems.
The solar powered system in selected branches is also a recent addition to the bank's green banking process. Commenting on special achievements that is note worthy; during the past three years only BoC was able to recycle 389,440 kg of paper that was calculated to save 6621 fully-grown trees which otherwise would have been cut-down for this purpose and planted 100,000 trees in line with the bank's 75th anniversary in 2014 gathering school children and public from all over the country.
The bank's Kilinochchi branch was endorsed as a green branch recently as it was designed to have a solar energy system and utilizes space and architectural design to obtain more natural light and air, vertical green garden to keep the interior cool, rain water harvesting system and a SmartZone for digital banking.