---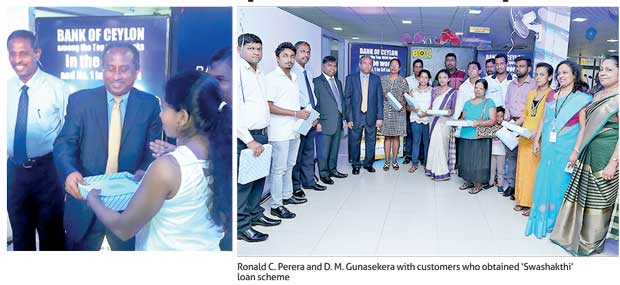 In response to the government initiative to generate 10 million employment opportunities, Bank of Ceylon officially disbursed 'Swashakthi' loans through its branch network recently.
The official ceremony of launching 'Swashakthi' through BOC branches took place with the patronage of the bank's Chairman, Ronald C. Perera and the participation of the General Manager D.M. Gunasekera, Deputy General Manager C. Amarasinghe and other members of Corporate and Executive Management. To mark the occasion several deserving BOC Customers were granted funds on this day.
The Central Bank together with the Ministry of National Policies and Economic Affairs has structured the 'Swashakthi' loan scheme with the objective of enhancing entrepreneurship and employment opportunities in the country. Within the scheme a deserving person who wishes to start-up a business can obtain a loan amount of Rs. 200,000 and Rs.50,000 as a grant altogether Rs.250,000 and if a person is already engaged in a small scale business, he can obtain a loan amount up to a maximum of Rs.250,000 . Customers who are entitled for this loan facility can enjoy 5.5 percent concessionary interest rate and a flexible repayment period up to a maximum of 5 years depending on the type and nature of the business. This project is aimed at improving the contribution of the country's unemployed graduates, youth and women and also differently-abled persons towards economic growth. Special reference is given to applicants who are between the ages of 18 to 45 years when being considered for this facility. The bank also readily provides advisory services for these entrepreneurs to manage their
financial matters.
Equipped with the best-in-class customer service and some of the best banking technologies, the Bank of Ceylon hopes to promote these government aided development initiatives further for a comprehensive socio-economic growth.