---
Amãna Bank was infused with over Rs.4.75 billion to its capital base, when its shareholders expressed confidence in the bank resulting in its recent rights issue being oversubscribed.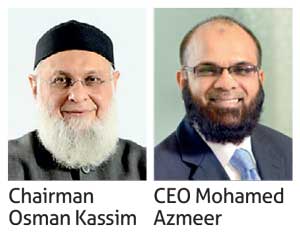 In doubling its capital, the bank issued 1,250,695,567 ordinary voting shares in the ratio of one new share for every share held at an issue price of Rs. 3.80 per share.

With the fresh capital input, the bank has comfortably met the statutory capital requirement of Rs. 10 billion, well ahead of the January 2018 timeline.

Subscribing to the Rights Issue, IB Growth Fund (IBGF) together with their ultimate parent company Islamic Development Bank (IDB), have increased their shareholding to 29.9 percent of the bank, showing strong confidence on the banks future and the country's economic progress and future prospects, despite Sri Lanka being a non-member country of the IDB. Along with IBGF and IDB, a number of other local and foreign shareholders have also subscribed to theissue, which resulted in the issue being oversubscribed.

Commenting on the successful rights issue campaign, the Bank's Chairman Osman Kassim said: "The oversubscription of the bank's rights issue signifies the confidence our shareholders have in Amãna Bank's journey and we are really honoured and grateful to have theirsupport and commitment. This capital infusion will take the Bank to greater heights"

Also sharing his views, Chief Executive Officer Mohamed Azmeer said: "Having turned around in 2015 to start making profits, and the fresh capital that has just come in, the Bank is now in a strong and healthy position to pursue its expansion and growth plansin line with our 5 year strategic plan. I am very optimistic of our future and look forward to the excitement and challenge as we enter our next phase of growth." Amãna Bank is the country's first Licensed Commercial Bank to operate in complete harmony with the globally growing non-interest based banking model.