---
Once again Amãna Takaful came forward and compensated a fishing vessel that met with unfortunate sinking incident off the port of Hambanthota.

Being a policy holder of Amãna Takaful's Ocean Insurance Scheme, R.M. Mihiraj, the owner of the fishing vessel, was eligible to receive a claim of Rs.2 million as accident claim for his boat.

Expressing his thoughts on the claim, R.M.Mihiraj stated, "My friends and colleagues expressed doubts as to whether I would be able to claim my insurance money at all. Amãna Takaful Insurance proved all of them wrong and stood with me. Amãna officials supported me from the time of the accident till the claim money was released. They were of great source of strength to me.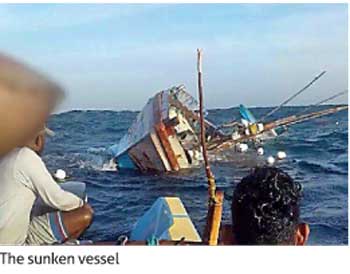 Not only that, they were also very efficient in releasing the claim money and I am truly grateful to Amãna Takaful."

The claim entitlement was handed over to R.M. Mihiraj by Fazaal Gaffoor – CEO, Amãna Takaful PLC. The ceremony was attended by representatives and staff including Janaka Wijeyakumara – Provincial Manager, South and Sabaragamuwa, Shammi Nissanka – Senior Executive Sales and Promotions, Tharanga Suren – Manager, Hambanthota branch.