---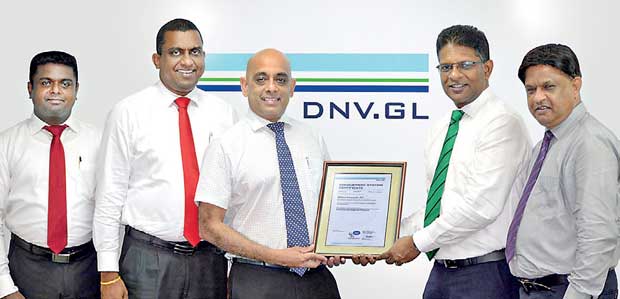 From left: Lakmal Maniksagara- Manager-Quality Management Systems (AFC), Michael Benedict-Chief Risk Officer (AFC), Romani de Silva- Deputy Chairman/Managing Director (AFC), Rathika de Silva –Country Head – Sri Lanka and Maldives Operations (DNV Business Assurance Sri Lanka), Vasantha Ranasinghe-Lead Auditor –Management Systems (DNV Business Assurance Sri Lanka)
Alliance Finance Company PLC (AFC), Sri Lanka's third oldest finance company upgrades its ISO Quality Management Systemto become compliant with the latest International Accreditation Forum (IAF), ISO 9001:2015 Quality Management Standard.
Changes introduced in the 2015 revision are intended to ensure that ISO 9001 continues to adapt to the changing environment in which the organization operates. Some of the key updates to the ISO 9001:2015 standard include restructuring some of the information, an emphasis on risk-based thinking to enhance the application of the process approach, improved applicability for services, increased leadership requirements, measurement, analysis, and improvement to the QMS through activities such as internal audits and corrective and preventive action. The new standard also helped identify new business opportunities that could potentially contribute to increasing the bottom-line of the organization.
Romani de Silva, Managing Director said: ISO 9001 also helps our organization align better with ourtriple bottom line business philosophyand ensures that customers consistently receive high quality products and services, whilst balancing the needs of multiple stakeholders.