---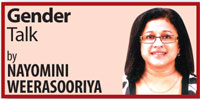 That's the question most ask – ever since the Facebook founder gave the world its most popular social network, the world has been looking for the next Zuckerberg who is waiting in the wings, so to speak. Entrepreneurship is no easy game; it takes a lot of innovation, thinking right and doing things right at the right time. It also means a lot of discipline and commitment to put an idea into a workable solution.

Adam Neumann's WeWork

But that's not all – the spirit of entrepreneurship of the 21st century seems to have changed drastically. The We Generation as the would-be Zuckerbergs like to call themselves, think and act differently. Their agenda differs considerably from the traditional menu of the entrepreneur. They have different business models, different sets of rules to play by and believe in keeping their feet on the ground.

Most try their best to include employees rather than exclude them even from the nitty-gritties of running a business. They are the We Generation – and often, their businesses are based on an actual felt need out there, often in the cyberspace.

Adam Neumann, who together with his business partner Miguel McKelvey launched WeWork which gives small business owners, entrepreneurs and creative types the opportunity to rent business premises. Their objective is to foster a growth in small business and encourage collaboration while empowering individuals to build their own companies.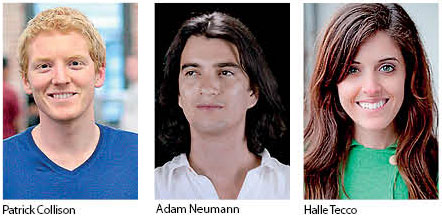 WeWork charges US $ 600 a month and in return, individuals can rent space in one of the company's 13 locations. The office space is made of glass so that everyone can see one another – additionally there are common areas which encourage people to interact often. The members of WeWork have their own internal social network on which they can post interesting articles or request for help.

Commenting on CNNMoney, Neumann opined that he wants to work for himself and wanted to do what he loved doing. "We are the We Generation," he identified himself thus. WeWork seems to be on the right path – with over 100 employees, the company has offices in New York, San Francisco and L.A. – and is planning to cover Boston, Chicago and Seattle.

Patrick-John Collison's Stripe

There are other would-be Zuckerbergs with big dreams; Patrick and John Collison are two brothers who dropped out of college to take on the online transaction giants the likes of PayPal, Google and Amazon. They set up shop in 2011 and have already processed millions of payments every day. They have developed simple yet innovative systems such as allowing the iPad to allow merchants to control the checkout experience without having to install infrastructure of a third party.

Their company Stripe is the typical We Generation start-up – with a unique set of rules and a unique structure. The brothers want to stay clear of traditional business models and believe in developing systems that include employees rather than exclude them. The company has no product managers but allows engineers to develop products based on needs.

Halle Tecco's Rock Health

Halle Tecco founded Rock Health in 2011, the first seed accelerator dedicated solely to digital health-related start-ups. Already, she had provided capital, mentorship, operational support and office space in San Francisco for 13 start-ups. While nearly half of them have received venture capital funding, one, Skimble, has become profitable.

Tecco has landed a number of high-profile backers like Nike, Procter & Gamble, Genentech and UnitedHealth and top VCs like Accel and NEA to cover capital and other costs. She has also built partnerships with hospitals including Mayo Clinic, UCSF and Harvard Medical School.

So what can the We Generation teach the world about becoming the next big business sensation – taking over from the world's youngest billionaire whose own story was much similar to that of the We Generation members? Typically tech savvy and typically young, not yet mature enough to gather years of business maturity under their belts, their attitudes are refreshing but one wonders whether in the long term, some of their concepts are workable. Given external circumstances such as weakening economies, more competition and dwindling customer bases, it takes more than the sheer enthusiasm of start-ups to keep going the long haul.

There are many stories they tell and all of them are based on one clear aspect – an identified need that very often, the entrepreneurs themselves experienced. There's no better teacher than experience – not only does it teach the best lessons but also encourage us to think out of the box.

(Nayomini Weerasooriya, a senior journalist, writer and a PR professional, can be contacted at [email protected])
---
---
Add comment

Comments will be edited (grammar, spelling and slang) and authorized at the discretion of Daily Mirror online. The website also has the right not to publish selected comments.

---