---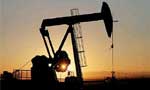 AFP -

Oil prices stabilised in Asia yesterday following sharp gains in the previous session as dealers predicted the end of volatile trading and the beaten-down commodity bottoming out, analysts said.


US benchmark West Texas Intermediate ( WTI) for April delivery fell 36 cents to $49.40 while Brent crude eased 41 cents to $62.17 in afternoon trade.
WTI advanced $1.59 while Brent gained a hefty $2.53 on Friday.WTI, after falling in early 2015 to a six-year low, swung wildly in February, but finished the month a little more than $1.50 higher. By contrast, Brent gained about $12.

Crude oil has lost about 50 percent of its value since June, largely due to a global supply glut partially caused by surging US shale production.
"Although there is still a global supply glut, oil prices are on a general increasing trend especially with the falling rig count numbers indicating that US shale is responding to low prices," Ken Hasegawa, energy trading manager at Newedge Group in Tokyo, told AFP.The weekly Baker Hughes US drilling rig count showed the number of rigs in operation fell by 33 to 986 in the week to February 27. The count is down 39 percent since October, according to Bloomberg News.

Hasegawa said thin l osses in Asian trading early yesterday was possibly due to "a profit-taking setting coming into play".Analysts said dealers will next be scrutinising a slew of US economic data to be released later Monday for clues on demand prospects in the world's biggest crude consumer.