---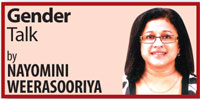 Sexual crimes against women
It seems our paradise nation has become an active haven for sexual perverts and rapists – not a day goes by without having to stomach a yet another unpalatable story of a rape or a sexual molestation. Girls as young as four or five are not spared by these vultures, who seem not to have any regard for children. While that remains so for the streets, how safe is the average Sri Lankan office for women – are they safe from sexual predators and perverts who take pleasure in deliberately harassing women?

Caving for Eve-teasing
There have been many stories – of bosses demanding sexual favours for promotions and career moves, co-workers making obscene gestures or using sexually explicit language, some of them actually making body contact in an unwanted manner. Even though there are tough laws in the land against eve-teasing or put in more politically correct language, sexual harassment against women, a few would dare to go to the law enforcement agencies for the fear of losing one's job.

Of course, for every perpetrator of a sexual crime, there are men well brought up, bosses, managers and co-workers who respect and regard women with a sense of decency. Women who get to work with them are both lucky and are able to proceed further up the career ladder without having to worry about unwanted favours.

Sexual harassment is not limited to a country – all over the world, women experience various degrees of harassment. Often, they either cave in eventually or find resistance equals leaving the job. The United Nations classify sexual harassment at the work place a gender discrimination that must not be tolerated. Sexual harassment at work extends not just to the plush office in the city but also to the paddy fields, factories, armed forces and civil society itself where women go to work in various fields.

Pradhan-Malla's report

On the whole in Sri Lanka, as in most of Asia, women do not admit to most forms of sexual harassment out of fear or shame. Most would put up with it for fear of losing one's job.

In a paper titled 'Sexual Harassment In the Workplace in Asia', authored by Sapana Pradhan-Malla of the Forum for Women, Law and Development, Nepal and presented at the experts group meeting on 'Good practices in combating and eliminating violence against women' of the UN Division for the Advancement of Women, Pradhan-Malla presents case studies and data from the region, including Sri Lanka.

In her report, the groundbreaking judgment of 'Visakhavs State of Rajasthan' in the Indian Supreme Court held that equality in employment is seriously impaired when women are subject to gender related violence such as sexual harassment at the work place. This case, according to the report, can be used by Indian courts to shape the country's laws concerning violence against women.

The Visakha judgment served as a springboard to highlight the levels of sexual harassment taking place against women in India – and following its success, many women dared to break the silence and go public with their stories.

The report also cites cases in Sri Lanka and Nepal, as highlighted in studies conducted by the International Labour Organisation (ILO). Although legally there is adequate support for women in Sri Lanka, not many would have access to the resources that would enable them to go that far. What they need mostly is some sort of a halfway house kind of counseling service that could both empower women and help them to deal with the level of harassment they are facing. The sooner we as a society start addressing this problem and start a dialogue, the sooner we will be able to deal with it effectively.

Corporate world's duty
It is also imperative that the offices themselves, often the big corporates, companies who take pride in employing women and recognizing them, come forward in helping to deal with the issue of gender discrimination. In fact, some organisations maybe inadvertently encouraging such discrimination – I have personally seen women work late hours at shops and supermarkets who complain of having to walk alone to their boarding places after 10 p.m. It is the duty of the company concerned to ensure that women who must work late are safely sent home.

For weeks now, we as women have watched TV with horror and read newspapers with unease, as story after story of sexual crime unfold right in front of our eyes. Somehow, most women no longer feel safe out on the streets. They do not dare to go out unaccompanied after hours. Those of us, who must work to keep home fires burning, need to feel safe when we engage in work. It is the duty of the corporate world and the society at large to provide the kind of assurance women need to feel safe.

(Nayomini, a senior journalist, writer and a PR professional can be contacted at nayominiwerasooriya@gmail.com)