---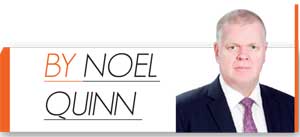 While global attention has been fixed on the geostrategic discord between China and its neighbours in Southeast Asia, their economies have been discovering new harmonies.

Where manufacturers in China and the 10 members of the Association of South East Asian Nations (ASEAN) -- Brunei, Cambodia, Indonesia, Lao PDR, Malaysia, Myanmar, the Philippines, Singapore, Thailand and Vietnam -- were once competitors, today their output is increasingly complementary, especially in more specialised manufacturing sectors; trade in services is expanding rapidly and investment flows are turning from a trickle to a flood.
Trade flows between China and ASEAN are driven as much by the evolution of regional production networks and trade integration initiatives as they are by rising regional domestic demand.

Some ASEAN countries have become the ideal locations for Chinese and international companies looking for additional manufacturing capacity to service China's burgeoning market

China-ASEAN trade
China-ASEAN trade is currently dominated by goods for production rather than consumption-oriented items – 66 percent of ASEAN imports from China and 58 percent of China imports from ASEAN are intermediate goods. Almost all of the shipments to China from Laos, Brunei, Myanmar and Indonesia are primary commodities. ASEAN markets are inundated with Chinese manufactured goods but ASEAN is not just a passive recipient of Chinese goods.

Two-way trade between China and ASEAN rose 5.4 percent year-on-year (YoY) to reach US $ 261.3 billion in July. It's on track to achieve the joint target of US $ 500 billion in trade by the end of 2015. We believe that intra-Asian trade as a whole will be worth US $ 10.8 trillion by 2020. (HSBC Global Research)
The most significant driver of regional change is the rise in production costs in China. The country is moving up the value-chain, increasing its share of medium to high technology exports, particularly mechanical and electronics products. The economy is undergoing a transformation to a consumption-driven economy powered by its own internal growth, a trend which will accelerate as the number of Chinese middle class consumers rises from 250 million today to 600 million by 2020. Some ASEAN countries have become the ideal locations for Chinese and international companies looking for additional manufacturing capacity to service China's burgeoning market.

ASEAN will have a new division of labour and production centred on China. A growing number of Chinese and international companies are now manufacturing their parts and components in cost-effective locations across ASEAN countries such as Vietnam and Cambodia, conducting final assembly in China and either selling it to China's new consuming class or exporting it to the traditional markets in Europe and the United States.

We expect manufacturing across ASEAN will continue to evolve over the next decade as consumption continues to rise, improvements are made to the infrastructure and investment environments, free trade agreements come into effect and investment into and between bloc members deepens.

ASEAN's challenges
Some of the biggest challenges are the wealth, cultural and political disparities between ASEAN members. In 2013, annual per capita gross domestic product (GDP) levels in ASEAN countries ranged from US $ 55182 in Singapore.

Chinese direct investment into ASEAN countries currently accounts for only 7 percent of China's total foreign direct investment, but it is growing. In the past the investment emphasis has been on natural resources in countries such as Laos, Myanmar and Cambodia but this is now starting to change. From January to July 2014, China's investment in ASEAN reached US $ 2.89 billion, up 9.1 percent YoY and Chinese capital is now flowing into infrastructure, real estate and agricultural processing.

Beijing is focusing on increasing direct investment and building infrastructure in the region, especially roads and high-speed rail. The country is spending US $ 7 billion to build a rail link that will start in Yunnan's capital Kunming and run through Laos, Vietnam, Cambodia, Myanmar, Thailand and Malaysia before terminating in Singapore.

Chinese investors accounted for 30 percent of investment transactions above US $ 10 million into ASEAN commercial real estate last year. A number of large Chinese retail developers are expecting to invest in rapidly urbanising markets such as Vietnam and Thailand.

China is aiming to increase its investment in the region fivefold to US $ 150 billion by 2020. To achieve this, the country needs to compete not only with Japan – which is continuing to invest heavily in manufacturing, agriculture, clean energy, healthcare and infrastructure throughout the region – but also with cross-border investments from within the region.

Use of renminbi
We believe China will play an increasing role as an exporter of capital into ASEAN due to its high level of savings, the saturation of domestic sectors, rising costs of production, and domestic deregulation of investment. The creation of the ASEAN Economic Community (AEC) in 2015 will have an additional positive impact on this investment.

With the uncertain direction of the US dollar and the euro being weighed down by continuing debt concerns, ASEAN business and banking communities have been increasingly using the renminbi as an alternative trade and investment currency.

The flow of renminbi into ASEAN countries typically goes through Singapore. The renminbi-denominated deposits in Singapore grew from 195 billion yuan at the end of 2013 to 220 billion yuan in the first quarter of 2014. RMB-denominated loans in Singapore, mainly trade financing, grew by almost 25 percent to reach over RMB 300 billion. Singapore accounted for about 60 percent of RMB trade finance outside mainland China and Hong Kong, based on SWIFT data.
ASEAN economies will lead the global pack in adopting renminbi as an international currency, expanding from trade settlement to infrastructure financing and broader investment opportunities as the region's dependence on — and loyalty to — the US dollar declines. But for the currency to become a truly international reserve currency, China would need to open its capital account and achieve full convertibility.

China and ASEAN are only starting to strengthen their trade and investment relationship. The road may be occasionally rocky, given the on-going political and territorial disputes, but rising prosperity and economic links – and especially an increasingly integrated investment landscape – point to a shared and prosperous future.

ASEAN is a political and economic organisation which was formed in 1967 by Indonesia, Malaysia, the Philippines, Singapore and Thailand. Membership has since expanded to include Brunei, Cambodia, Laos, Myanmar and Vietnam.

(Noel Quinn is the Head of Commercial Banking, Asia Pacific, HSBC)