---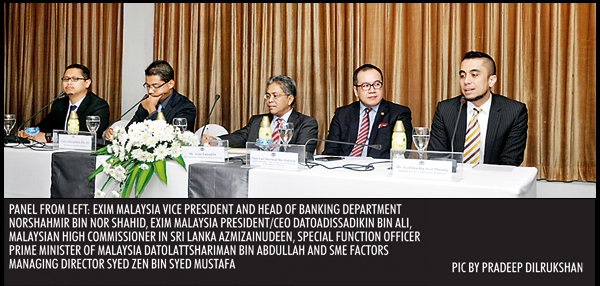 By Chandeepa Wettasinghe
Export-Import Bank of Malaysia (EXIM Malaysia) is willing to invest US$500 million in Sri Lanka, and is evaluating infrastructure, IT and energy related ventures in the country.
"Our limit for a single company is US$200 million but for countries it's based on a number of factors such as GDP growth, credit history and ratings, and for Sri Lanka it is US$ 500 million" EXIM Malaysia Vice President and Head of Banking Department Nor Shahmir Bin Nor Shahid said.
According to EXIM Malaysia President/CEO DatoAdissadikin Bin Ali, it and other investors from Malaysia are interested in investing in roads and infrastructure which is the Sri Lankan government's main aim, but is also keen in developing the island's manufacturing industry, and providing funds and knowledge to construct renewable energy sources such as solar and mini hydro plants.
The bank has already approved US$10 million for a lubricant blending plant in conjunction with the Ceylon Petroleum Corporation and US$ 20 million for an Urban Development Authority housing complex.
Bin Nor Shahid said that construction for the lubricant blending plant to process automobile and industrial engine lubricants would commence soon as cabinet approval has been given, and will be completed in 1 ½ years.
"Sri Lanka imports a lot of finished products. The plant is built in order to control it, like Singapore; to bring in intermediate goods and be self sufficient, and one day even export finished products," he said.
Bin Nor Shahid also expressed that while the Sapugaskanda refinery expansion plan was not heavily touched upon, EXIM Malaysia is also evaluating the feasibility of setting up a similar refinery.
Meanwhile Bin Ali added that 500 units of the 1650 unit housing complex constructed by MTD Walkers PLC have been completed and the rest would be ready within 3-5 years.
"The bank has already approved US$10 million for a lubricant blending plant in conjunction with the Ceylon Petroleum Corporation"

He said that in the past the bank had loaned US$ 10 million to requisition machinery for the Sri Lanka Port Authority, and for SLT IT projects, and is seeing repayment by the government, which was a motivation to invest more following the invitation by Dr. Amunugama.
Bin Ali stated that the delegation had discussions with Finance and Planning Deputy Minister Dr. Sarath Amunugama, Industry and Commerce Minister Rishard Bathiudeen and Treasury Secretary Dr. P. B. Jayasundera, whom expressed a need for a $ 1 billion loan.
"I wish I had a billion dollars in my pocket... We'll have to size it up because we have the capacity but we'll have to evaluate each project at our end, though they say they have already done evaluations," Bin Ali said.
SME Factors to set up operations
Leading Malaysian financing house SME Factors is aiming to set up operations in the island to empower small and medium enterprises.
"We believe in financing accessibility for SMES because they are the backbone for economic growth... SME Factors will be a partner in knowledge and training too. Our objective is to be a platform and partner for SMEs in Sri Lanka," SME Factors Managing Director Syed Zen Bin Syed Mustafa said.
He said that the company will be sending in teams to conduct studies in Sri Lanka for the next three months, and to develop relationships with entities such as the National Economic Development Authority and various chambers of commerce.
SME Factors intends to partner up with local banks and financial institutions to provide its services to its future clients.
"We will provide products specifically tailor made to SMEs. They are different sorts of products to improve liquidity," Bin Syed Mustafa said. While he added that the commitment to the country would be evaluated soon, the loans would be provided at a competitive local market rate.
World Bank Group's IFC has faced problems in promoting low interest rate credit lines to SMEs as banks would rather promote their own services with higher interest rates to earn profits.
However, Bin Syed Mustafa in response said that SME Factors will only partner with companies that will give a guarantee of promoting its services.
He also said that the possibility of acquiring a local financial institution due to the ongoing financial sector consolidation plan, which does not apply to foreign companies, has not been ruled out.
SME Factors provides SME friendly loans such as cash flow based and risk based lending as well as fast loans on goods invoices.
The company, founded in 2008, manages over RM 8 billion factoring facilities and services over 8,000 clients in Malaysia, and its Sri Lankan expansion is part of its plan to reach a global presence.