---
ri Lanka is one of the least urbanized countries in the world. Sri Lanka's low level of urbanization appears to be an exception for a middle-income country. Possible reasons for low urbanization include historical factors such as development of good social infrastructure around the country, as well as more recent trends such as rising property prices. Low urbanization also offers an opportunity to fast-track overall economic growth by encouraging faster urbanization and by promoting Colombo as a regional city. Sri Lanka can also tap growing global investor appetite for investing in opportunities around urbanization and emerging global cities.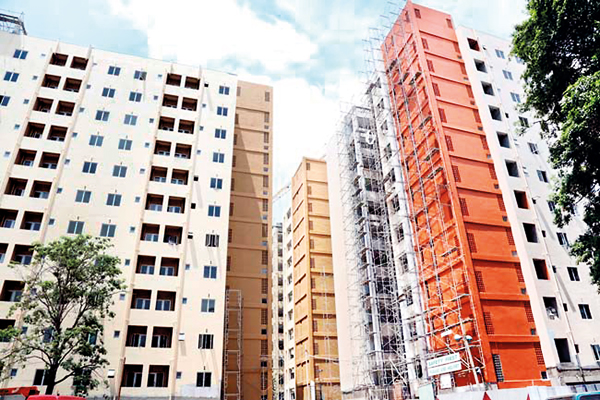 Sri Lanka's exceptional case

According to United Nations (UN) estimates, only 18.3 percent of Sri Lanka's 20 million population live in urban areas, thus making Sri Lanka one of the least urbanized countries in the world. In fact, the data shows that urban population has marginally declined over the years.

Irrespective of the possibility that the actual urban population could be higher than 18 percent due to anomalies in the way urban areas are defined, Sri Lanka reaching the middle-income status without a rapid increase in urban population appears to be an exceptional case compared to trends in other countries. Economic literature suggests that economic growth (as reflected by increase in gross domestic product (GDP) per capita) and urbanization go hand in hand.

Urbanization can be simply defined as the increase in number of people migrating from rural to urban areas and associated expansion of urban areas (i.e., expanding cities). The relationship between urbanization and income (GDP per capita) is very strong for many developing countries - especially in high-growth Asian countries such as China, Malaysia, Vietnam, Indonesia and Thailand.

However, this relationship is somewhat mixed for developing countries in the African and South American continents, where some countries have experienced fast urbanization without corresponding increase in GDP per capita. According to analysts, those countries, which faced high level of urbanization together with low growth, is a result of failure of these countries to develop infrastructure to gain the benefit of urbanization.




Sri Lanka can also attract more investments by promoting Colombo as an emerging regional city

Possible causes of low urbanization in Sri Lanka
Slower pace in industrialization
Generally rapid urbanization is associated with industrialization. Sri Lanka has not yet passed an industrialization phase and factory industries still account for only 15 to 16 percent of GDP, whereas agriculture still accounts for around 11 percent of GDP.

Another point needs to be highlighted is that policy initiatives to promote industries were also focused on promoting industries around the country and hence, there was less need for internal migration and urbanization. For example, the 200 garment factory programme initiated in the 1980s to propel the garment and textile industry focused on establishing garment factories all around the country.



Availability of social infrastructure throughout country

Urbanization creates economic and social transformation causing demographic changes such as lower fertility and increased life expectancy (which leads to ageing population). According to empirical studies, urbanization is also associated with increase in literacy rate, education, improved access to health and other social services. Sri Lanka's long history of generous social welfare programmes have made Sri Lanka another exceptional country by achieving significant gains in social development indicators. For example, with a literacy rate above 95 percent and infant mortality rate of less than 10, Sri Lanka already ranks par with many developed countries in health service. With 96 percent of the country's households having electricity and 88.7 percent households having access to safe drinking water, even rural households in Sri Lanka have access to necessary infrastructure services.

Hence, another possible reason for low level of urbanization is that the majority of the population in Sri Lanka is already enjoying access to good social infrastructure services and they don't have a necessity to migrate to urban areas seeking better access to services.



Slower population growth

One of the important factors driving urbanization in many countries is the increase in population. As the rural population increases, many of them migrate to cities for economic reasons as they cannot find opportunities in rural areas.

However, Sri Lanka has never experienced large increase in population in recent times and Sri Lanka's birth rate (per 1,000) has been below 30 since early 1970s and below 20 since early 1990s. Population growth has reached 0.8 percent in 2013 compared to 1.4 percent in 2000. As a result, low population growth in Sri Lanka is also a likely contributing factor for low urbanization in Sri Lanka.



High cost of housing

Perhaps one reason which had significant impact on urbanization in Sri Lanka in recent years is the unaffordability of housing in urban areas. Sri Lanka's house prices have increased sharply over the years due to increase in land prices and construction costs. According to globally accepted housing affordability benchmarks, the affordable price of a house for a household in the highest income decile (in 2012) amounts to around US $ 50,000. However, the price of an average housing unit in most urban areas even exceeds US $ 50,000. This also implies that 90 percent of households in Sri Lanka cannot afford to move into urban areas due to unaffordability of housing.



Impact of improved connectivity

Sri Lanka's transport infrastructure improved extensively during last few years and this increased the connectivity between rural areas and urban areas. This is likely to fast-track another trend which was less apparent earlier. It is the gradual redundancy of many existing infrastructure and facilities in some rural as well as in some urban areas. This trend will be more apparent in social infrastructure services such as education.

Sri Lanka has already seen gradual closure of many small schools in rural areas. This trend will eventually spread to private business establishments thus, creating a wave of consolidation and agglomeration of business activities into a fewer urban centres. Being a small country, Sri Lanka may ultimately have very few larger urban centres, which can even challenge the current business models of some industries.



Urbanization as a growth driver

Although urbanization is usually an outcome of industrialization and modernization of society, by promoting faster urbanization, a country could stimulate economic activities. In the case of Sri Lanka, where long-term growth drivers are limited, promoting urbanization could add to the economic growth momentum. Faster urbanization could be achieved by developing physical infrastructure and promoting specific economic activities around identified urban centres.

Such plans must also aim at increasing population density in selected areas while gradually reducing population density in other areas.

Although such measures could curtail growth in some businesses in the short term, long-term benefits to businesses from economies of scale and agglomeration is far greater. Urbanization can increase business prospects for a large number of industries catering to modern and urban living. These include not only property development and infrastructure but services such as healthcare, education transport and logistics businesses as well as consumer, retail and leisure businesses. Another benefit of urbanization is the potential improvement of land usage. Sri Lanka's limited land availability and inefficient land use is often highlighted as an impediment to increase productivity in the agricultural sector as well as industrial sector.

The government can also benefit from urbanization (despite high initial costs involved). Cost savings as well as improvement of the quality of services could be achieved in the delivery of social infrastructure services such as healthcare and education.

Slowdown in population growth has already begun to create shortage in labour in some service sectors such as healthcare and education. By promoting urbanization, most of such services distributed across the country could be consolidated into fewer locations and offer better and improved services. Furthermore, the government can expect to earn higher revenues with increased economic activities in urban areas as well as from the decline in the informal sector in the economy (i.e., through transition of economic activities from rural areas to urban areas, which are likely to be more formal).



Low population growth in Sri Lanka is also a likely contributing factor for low urbanization in Sri Lanka

Urbanization as an avenue to attract more foreign capital

During the last two to three years, strategies of global investment institutions changed markedly. One such change is the adoption of investment strategies around urbanization and growth in cities – especially around growing cities in developing countries. This trend is more visible among investors who are focusing on emerging and frontier countries, where the pace of urbanization and associated growth in economic activities in large cities have been faster than general economic trends of the county. Many investors are focusing on the investment needs associated with urbanization such as infrastructure development, utility services and property development. Service businesses such as transport, healthcare, education, hospitality, retail and entertainment are also eyed by investors.

Sri Lanka can also attract more investments by promoting Colombo as an emerging regional city. Growth and expansion of Colombo as the main urban centre in Sri Lanka, probably at the expense of other provincial urban centres, is inevitable. With a total population of around 20 million, Sri Lanka anyway will not be able to develop several large urban centres.

With many large-scale property projects already under construction to make Colombo a major centre in commercial, leisure, knowledge and (sea and air) transport activities, Sri Lanka can attract more investments into Colombo city-centric businesses.

In fact, most of the foreign direct investment (FDI) Sri Lanka received during last few years is associated with projects which directly or indirectly support urbanization and mostly centred around projects in the Colombo city.

Colombo will need and could absorb much more investment not only to increase the city's capacity, but also to meet the demand from the 10s of 1000s of more people who will be working in Colombo to support the increased capacity of the city.

However, such investments must not only aim at serving the minority wealthy population and tourists, but a wider market. After all, it is not possible to develop an urban centre without making people from all income segments part of it.



(Indika Hettiarachchi is the founder/Managing Director, Jupiter Capital Partners, a Sri Lankan-based private equity advisory and management firm.
Email:
[email protected])