---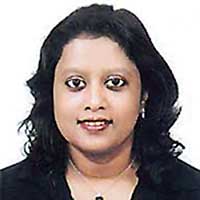 By Shenali Waduge
For a continent that attributes itself to man's evolution some 6 million years ago and reminds us our roots are in Africa, there is little other than famine, drought, poverty, disease, poor leadership, religious conflicts, ethnic conflicts that depicts Africa. The richness of the continent saw Europeans "scramble into Africa" to devour its natural resources, land, use its strategic location and to convert its natives. Africa was divided through the Berlin Conference on 1814-15 with new borders drawn up by 1914 separating families, tribes and ethnic groups creating complete anarchy. China is the new player in Africa and it is interesting to see how China's presence differs from the Europeans.

The story of Africa is nothing really pleasant. Having stolen the natural resources, divided land and created 100million slaves out of these natives, European invaders walked away with the riches of these nations. Asia's story is no different. These invaders, nations whose roots trace back to slaves and convicts are today known as the Developed World while Africa lives in poverty. The irony of Africa as with all other nations under colonial invader rule is that whilst being subject to inhuman treatment and having their land disintegrated and devoured, they have left these nations with a term called "independence" with leaders who have unfortunately proved they are no better than these foreign invaders. The story of the ordinary citizens in each of the nations that were once colonized and now in the hands of local leaders hasn't lived upto expectations.

Amazing continent
Africa is indeed an amazing continent. With 1billion population, 54 countries and people speaking 2000 languages. The Nile is the world's longest river, the Sahara is the worlds' largest dessert, Victoria Falls the world's largest waterfall, Mount Kilimanjaro the world's highest mountain. Africa is the hottest continent on earth, Sudan is its largest country (but the West has divided that into two) Cairo is Africa's largest city.

China's inroads into Africa has taken Western nations by surprise which explains the negative publicity given to China's investments in Africa.
We are now in the 21st century. Despite Africa's population being 1billion, 75% of the continent is sparsely inhabited. 24 million Africans are infected with AIDS with 6000 dying daily. Half of the continent lives below the poverty line. 48% of Africa are Christians (495.8 million) while 41 percent are Muslim (423.5 million). The African Muslim population is diminishing with 6m converting to Christianity annually.

Africa is seeing a rise in its economic growth and that change has been largely due to the presence of China. China is offering Africa the complete package – upfront money, technical expertise, influence at the UN Security Council against western influence and for autocrats and dictators would Africa say no to China? Thus from investing $10b in 2003, China's investment in Africa today is over $40 bilion.



China's impact


West Africa, especially Nigeria and Angola provide US with 15% oil imports. China has offered Angola a $2billion soft loan whilst signing a $7billion investment with Nigeria agreeing to purchase 30,000 barrels per day for 5 years and to manage 5 of Nigeria's oil blocks as well as agreeing to take over a privatized oil refinery that was on the verge of collapse. China's assistance has enabled Nigeria to pay off $18billion debt.

China has gone on to invest nearly $170m in Zambia's mining sector, Congo's mining industry whilst in Sierra Leone China is developing a luxury hotel and in Uganda China is involved in introducing anti-malaria drug. In Equatorial Guinea, Chinese firms are helping its dictator build an entirely new capital. For Rubert Mugabe, whose Zimbabwe has been almost handed over to China, his gift has been a 25 bedroom mansion valued at £1billion. Mugabe's response is "we have turned East, where the sun rises and given our backs to the West, where the sun sets".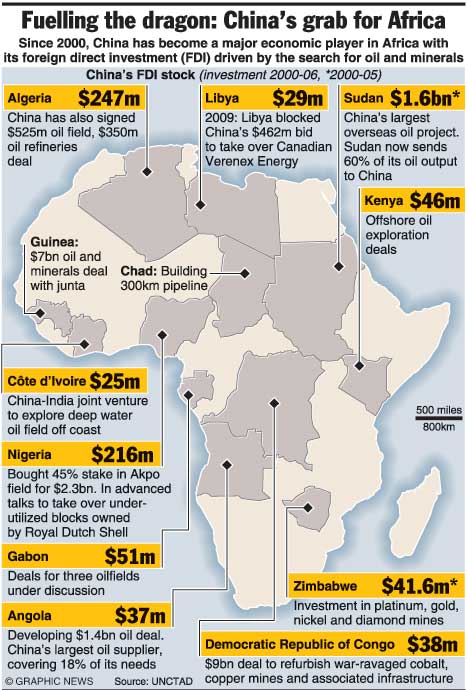 The difference
A clear aspect differentiating Western investors from China is the fact that China invests through state-owned companies which implies that China looks at foreign investments from a strategic point of view rather than from a commercial advantage which also denotes that China is in no hurry for dividends for these have been targeted for long term gains.

China is a country that is growing and holding one fifth of the world's 7b population and Africa is perfect to sell its goods while Africa is a home to a wealth of natural resources. Its interest has been on commodities like oil, gas, platinum, gold and other minerals. It has invested in infrastructure and transport and facilities that serve the new elite that will emerge – both African and Chinese. How US and EU nations must be envying China!

There are 750,000 Chinese who have settled down in Africa over the past decade and that figure is unlikely to decrease as China has made clear its policy on economic expansions. That could mean sending thousands more to solve its own population issues. These are aspects that need to be discussed and sorted and not left to be taken up later.

While China is clear about its business in Africa, the African nations dealing with China must also be aware of exactly what they are dealing with. Enslaved by colonial rulers, neglected by their own leaders African nations have little choice in gambling when assistance is provided. Yet, what must not be forgotten is that whilst China may provide aid and investment and turn a blind eye to internal issues China does not fool around with its export policies. One good example is the multifibre agreement imposed on China for a decade that has now been lifted. Thus, China's goods are flooding the local markets and affects Africa's exports resulting in not only loss of revenue but loss of jobs as well.


Lessons for Sri Lanka
For a geographically advantaged country we should be prudent in the aspects of agreements we enter into and unlike the West whose bullying tactics are seeing them loose Africa, we do not need to be bending on fours worshipping the West simply because they are white and all those discussing agreements must be able to openly discuss a win-win situation that would not compromise Sri Lanka, its natural resources or its people.

Ideally, we should be concentrating on making Sri Lanka self-sufficient in agriculture, how far any action plans have been set up is a good question and demands legislators as to why they have not come up with a national plan to uplift the country's agriculture.

In the light of poor performances by our own leaders, advisors and officials if we need to look to a fixed partner that would protect us from the barrage of international pressures and challenges coming our way – it should be China and certainly not India.
---
Add comment

Comments will be edited (grammar, spelling and slang) and authorized at the discretion of Daily Mirror online. The website also has the right not to publish selected comments.

---