---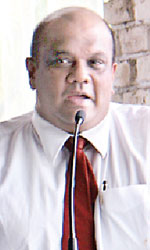 Ranil de Silva

Graphic design is one of today's most versatile careers making up the backbone of the global advertising industry. Sri Lanka's blooming advertising industry is taking in young graphic designers who are equipped with international knowledge to cater to the new and global challenges faced by the industry.

Chani Perera is a young graphic designer employed by one of Sri Lanka's most influential advertising agencies, Leo Burnett. Chani is a First Class Graduate of the Academy of Design (AOD) who showed exceptional talent in graphic design and illustration during her education. Today, Chani is using her talents honed through the international education at AOD to enrich the creative solutions provided by Leo Burnett.

Chani says that being a professional designer in the competitive field of advertising is a challenging one, "It takes a lot of hard work from our behalf. If you want to grow, you have to perform well." She commends her colleagues and peers at Leo Burnette for making her professional life into an intense learning experience. "At Leo Burnett, the people, the work trainings, foreign workshop and festival visits, local/international competitions and engagement with famous advertising gurus are a few things we are exposed to."

Chani says she's lucky to be working for a versatile agency such as Leo Burnett that allows her to work on a wide range of creative projects. "My favourite so far was the latest ODEL project I worked on. The campaign worked brilliantly and the client loved it."

Chani thanks her teachers from the international faculty at AOD, for providing her with the correct design knowledge of global standards, "I'm happy to say my education at AOD allowed me to mingle immediately with the industry. Our knowledge, ability to draw inspiration and experience levels were made very high thanks to AOD.

Preparing students for industry goes beyond education and includes familiarizing them to the cultures and practices of their respective industries, a task AOD takes very seriously. Chani says she got a preview to the ad industry right throughout her education, "It's not just design education that we received at AOD. I think most of my colleagues from AOD who are now in the industry will agree that we took a lot more with us than that. Working hard, self-confidence and presentation skills, working as a team and most of all how to respect others' work are definitely valued attributes I gained at AOD, which I hope to cherish along with not just with my career, but in life.

AOD graphic design programme head Alain Parizeau said providing industry-relevant graphic design education is what allows his students like Chani to evolve into valuable assets to their workplaces, "We aim to give our students theoretical and practical knowledge that will prepare them for today's design and advertising world. We're very proud of Chani. Seeing them excel as professionals assures us that we're doing it right."



Ranil de Silva, Managing Director of Leo Burnett Solutions Inc. also expressed his confidence in Chani and AOD's graphic design education standards, "We're glad to have Chani, one of AOD's graphic design programme's first class honours students, in our team. The work she does and her passion for the business is a great strength to us. In fact, Chani was selected as a Young Leo recently and had the opportunity to attend the Goa Fest in April this year. We have seen AOD students perform creditably at the likes of the local programme to select the Sri Lankan nominee for the Roger Hatchuel Academy at the Cannes Lions International festival. I think these factors say a lot about AOD graduates and the standards of their programmes."

AOD provides world renowned design degrees in fashion, fashion marketing, interior design, graphic design, motion graphics and animation along with certificate education in jewellery design and photography.
---
Add comment

Comments will be edited (grammar, spelling and slang) and authorized at the discretion of Daily Mirror online. The website also has the right not to publish selected comments.

---