---
This is the sixth of the interview series titled 'Mirror Business S&P SL20 Insights' conducted in collaboration with the Colombo Stock Exchange. Following are excerpts of an interview with Hemas Holdings PLC Group CEO Steven Enderby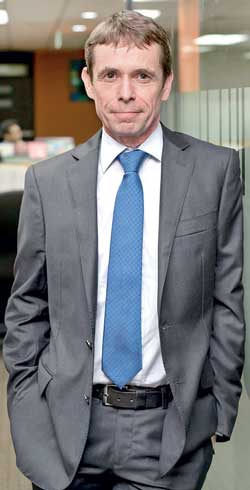 What key milestones has the company achieved during 2016?
Our personal care and home care brands continue to delight Sri Lankan consumers as shown by our increasing market share in many personal care categories. We are particularly pleased with the continued progress of our market leading baby care brand, Baby Cheramy. Clogard, Velvet and our feminine hygiene brand Fems, has also captivated a new generation of Sri Lankan consumers.
Our FMCG team has excelled in developing a great position in Bangladesh, where Kumarika our hair oil brand is the number one non-coconut value-added hair oil in the Bangladesh market. Sri Lanka's unique geographic position and maritime advantage is a source of great advantage in the region, and Hemas Maritime were appointed the General Service Agents for Evergreen Shipping Lines, the fourth largest mainline shipping line globally.
J.L. Morison's our pharmaceutical and OTC manufacturing subsidiary launched a range of new skincare and sun protection products under the Morison's brand.
We launched our 41st Piyawara school, our corporate sustainability initiative to enhance pre-school learning & development of the Sri Lankan child. This initiative is particularly close to the all of our hearts at Hemas.

What is your view/outlook on the industries that Hemas Holdings PLC operates in?
Last year was also a significant year with consumer spending improving, as the various budgetary relief measures provided a lift in incomes. This year's recent budget announcements indicate that consumer spending will tighten over the next six months as purchasing power is impacted by increased rates of VAT and income tax.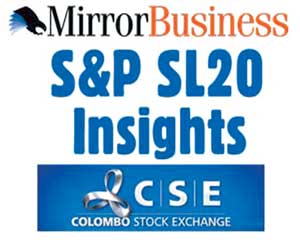 It is an interesting time to serve the Sri Lankan consumer as they look for more sophisticated products that deliver increasing value and a wider range of benefits in convenient formats. We are working hard to respond to this opportunity.
Hemas is also a significant player in Sri Lanka's healthcare space. We see more Sri Lankans are seeking personal wellness, the ability to be in control of their own health and wellbeing, and demanding convenient high quality healthcare services and products. Sri Lankans are also more informed of their options – in medicines, over-the-counter products, diagnostics and services. Group companies such as JL Morison, Hemas Hospitals and Hemas Pharmaceuticals are all ideally positioned to address this increasing need for Wellness.
We also see that our environments are becoming more challenging. We operate in a regulated industry and with new guidelines governing pharmaceuticals and a new VAT imposed on healthcare, we are mindful of how we can continue to serve our customers and deliver value.
Sri Lanka will continue to be a vital point to access South Asia through our great advantage in maritime positioning. We think that new infrastructure and service improvements in this sector will provide a great platform for continue growth.
Sri Lanka is also a wonderful tourism destination and as we are seeing there is a continued growth in tourism arrivals. We believe that this is sector of very significant growth potential where our business interests in hotels, in bound and out bound travel and airline representation will both benefit and must be positioned to delight our visitors through high quality experiences.

Could you elaborate a few growth prospects for the company going forward and how you intend to capitalize on these growth opportunities?
Sri Lanka's domestic personal care market is important to us, and we believe that there is good growth through the introduction of new, innovative and premium products, across multiple categories. For example, we have just launched our new range of Velvet skin care products designed specifically for Sri Lankan skin. Internationally, we continue to expand our personal care footprint in Bangladesh both in hair oil and in new personal care categories building on the success we are enjoying there.
Sri Lankans appetite to take their own health and wellness decisions mean that they are seeking products and services that can better help them do that – we will continue meeting this demand through our three healthcare businesses, each of which we are planning on expanding. We will establish new pharmaceutical manufacturing capacity and deepen our excellence in key therapeutic areas at our hospitals.
Sri Lanka's unique maritime sector advantages will be a strong vector of growth; Hemas Mobility sector is expanding our capabilities to serve more customers and be a strong partner for growth through the establishment of a new logistics park.

In your opinion, what challenges do you anticipate in the industries that you operate in?
We are conscious of making decisions in an environment where there may be regulatory change. Government of Sri Lanka has big and bold plans for growth and driving economic performance. We need to ensure we are well positioned to take full advantage and provide support to these plans.
As new business models and technologies emerge, we also know that we need to continue to innovate and meeting global standards to serve our customers better – be it in healthcare, leisure or mobility. Internationally, we deal with the excitement and the uncertainty of exploring a new terrain – especially in Bangladesh, and our experiences have sharpened us.

What efforts and initiatives are you taking to drive shareholder value?
We invest in high quality leadership as ultimately our competitive advantage lies in our team. We recently launched our Future Leaders Programme in collaboration with Indian Institute of Management preparing 30 of our future leaders for the challenges ahead.
We actively look for sizeable growth opportunities in our core sectors. We take a decisive view of where significant growth comes from, and that's where we focus our thinking and hard work. We seek market leading positions wherever we compete. We believe in industry leadership, and that if we deliver value to our customers that will be rewarded with strong market positions, which in turn drives value in our business.

How has listing on the CSE been beneficial to Hemas Holdings PLC?
A listing on the CSE in itself is a matter of international prestige to Hemas Holdings PLC. We believe it is very positive that all Sri Lankans and international investors have the opportunity not only to buy our great products but also to be owners in the company.
Hemas Holdings has been able to raise capital on the public market for our growth activities. The governance demands of being a listed business is helpful to us in terms of driving a high quality standard of governance across the group.