---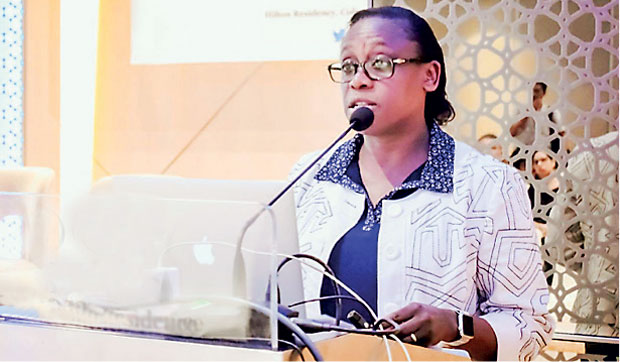 World Bank Country Director for Sri Lanka and the Maldives Idah Pswarayi-Riddihough
Mirror Business recently met with World Bank Country Director for Sri Lanka and the Maldives Idah Pswarayi-Riddihough for a brief interview over the World Bank's new Country Partnership Framework (CPF) for Sri Lanka and her take on the country's development agenda. Following are the excerpts from the interview.
What are the priorities outlined in the World Bank Country Partnership Framework that will come into effect from FY17-20 period?
The recently approved Country Partnership Framework or CPF for Sri Lanka builds on a development partnership of over six decades with the World Bank. We have journeyed together during difficult times and good times, including through the dark days of the three-decade long conflict. As with all journeys, there is so much that we can learn from and successes are all the more rewarding for all involved. The progress that Sri Lanka has achieved, such as the significantly reduced poverty levels, infrastructure development, education attainment, maternal health amongst many shows both the determination and the desire of the country to move rapidly into a solid middle-income country. Sri Lanka has the ambition to become a higher middle-income country with stronger institutional capabilities and commitment to the principles of good governance practices.

This declaration resonates with the World Bank's twin goals and mission. The priorities outlined in the new CPF are focused on the reforms needed to end poverty and promote shared prosperity, our twin goals, which closely relate to the Government of Sri Lanka's declaration of 2017 as the year to end extreme poverty. Improving macro fiscal stability and competitiveness, social inclusion and sustainability are priority areas that we are working on with the government. Many of these areas contain reforms, investments, institutional and capacity-building activities. For the selected reform areas of focus, we expect more and better jobs for educated and skilled youth, better targeting of social welfare programmes to reach the people living in poverty and improved protection to Sri Lanka's environment from natural and man-made risks.

We have also increased engagement with the people who are the key stakeholders in moving the country up the income ladder. In addition, the World Bank is also putting emphasis on improving good governance practices through systems of accountability and transparency. This closely tallies with the government's emphasis on the Right to Information reforms. Last but not least, we will be emphasizing more than before the need to action gender-sensitive approaches to address development issues that may impact men and women differently.

We are seeing positive movement in the reform agenda. For example, in order to access the Development Policy Operation, the government of Sri Lanka fulfilled eight prior actions to enable private sector competitiveness, improve transparency and public sector management and improve fiscal sustainability.

We would like to congratulate and encourage the government to continue on the reform path, which will certainly become more difficult as time passes.

What are the major projects identified or scheduled under the new CPS and their funding size?
The current active World Bank portfolio in Sri Lanka comprises 15 projects – 13 financed by the IDA and two financed through the International Bank for Reconstruction and Development, with a total net commitment value of US $ 1.9 billion. Urban and rural development accounts for 26 percent of the overall portfolio, followed by education and health (24 percent), transport and competitiveness (18 percent), water (16 percent) and resilience to climate and disaster risk (16 percent).

Trust funds have continued to play an important role in implementing the World Bank Group's Country Partnership Strategy in Sri Lanka, supporting both analytical work and technical assistance, as well as providing stand-alone or co-financing for projects. The portfolio currently comprises five recipient-executed trust funds of a total net commitment value of US $ 54 million.

Several new themes were recently added to the portfolio such as projects supporting education, agricultural modernization, social safety nets, urban infrastructure, ecosystems management, disaster risk reduction and transport connectivity and asset management.

The World Bank Group's programme of support to Sri Lanka continues to benefit from close coordination and collaboration with the government and development partners.

What would the World Bank's approach to Sri Lanka's development be going forward, given its lower-middle income status?
The World Bank's approach to Sri Lanka's development is as outlined in the CPF. The World Bank programme will be delivered through a combination of investment financing, development policy financing (including guarantees), analytical and advisory services and technical assistance.
The World Bank will also assist the government to crowd in private sector financing as well as financing from new development partners such as Asia Infrastructure and Investment Bank (AIIB) and established partners such as the Asian Development Bank (ADB), Japan Investment Corporation Agency (JICA), European Union (EU) and Department of Foreign Affairs and Trade (DFAT) amongst others.

Sri Lanka can access knowledge and expertise to learn from different models and country experiences. As demonstrated before, Sri Lanka is capable of finding its own homegrown solutions learning from effective practices of other countries. The World Bank together with other development partners is happy to facilitate this learning and knowledge-sharing effort. Ultimately, it is not one model – rather it will be a combination of models that will drive development solutions that are appropriate for its circumstances.

How closely is the World Bank working with the present administration on propagating public-private partnerships (PPP) in infrastructure building, state-owned enterprises, etc.?
The World Bank, with its global expertise and experience working on public-private partnerships, recently facilitated a knowledge-sharing workshop for key policymakers and development partners. This workshop was based on a diagnostic study identifying Sri Lanka's own experiences of carrying out PPP operations in the country and the current constraints to facilitate the Sri Lankan private sector and foreign direct investments following PPP models. As a follow up to the many deliberations with the government and other development partners, the bank will be providing support to the government's initiative to set up a PPP unit, which will serve as a one-stop shop to facilitate PPP projects. It is important to recognize that on their own PPPs are not panaceas. They are a tool among others that can be used to help the government deliver on its development agenda.

What is the biggest concern the World Bank currently has about Sri Lanka's economy at the moment?
The World Bank's latest Sri Lanka Development Update – a half-yearly report on the Sri Lankan economy and its prospects – finds that monetary and fiscal policy corrections and the start of a new IMF (International Monetary Fund) programme have contributed to improving short-term stability of Sri Lanka's economy although external reserves remain low.

The report emphasizes the importance of adhering to the revenue-led fiscal consolidation path to create fiscal space for increased investment in human and physical capital and the provision of other public goods to sustain growth in the medium term. It also highlights the need for structural reforms to improve competitiveness and governance.

Is Sri Lanka doing enough to improve its ease of doing business?
Over the past year Sri Lanka made progress in two reform areas that are covered by the Doing Business report, namely Starting a Business and Protecting Minority Investors. The improvements, while important, were not enough to stop a decline in the country's overall rank from 109 in 2016 to 110 in 2017. This is not necessarily an indicator that the country has slipped down in rank but is more a reflection that other peer economies have undertaken a larger number of reforms in the business environment during the same period. If Sri Lanka has the ambition to improve its rank, it will need to get up to speed on reforms. We are supporting the government in this area through several operations.

We need all Sri Lankans to participate in Sri Lanka's development. While the World Bank and other development partners have provided financing and the government has implemented many reforms and activities, it is ultimately critical that the key beneficiaries, the people of Sri Lanka, come together and support the implementation.

We have planned a series of online and offline engagements to get regular feedback on our operations and also to get to know the great work already under implementation to realize our collaborative efforts of ending poverty in Sri Lanka.