---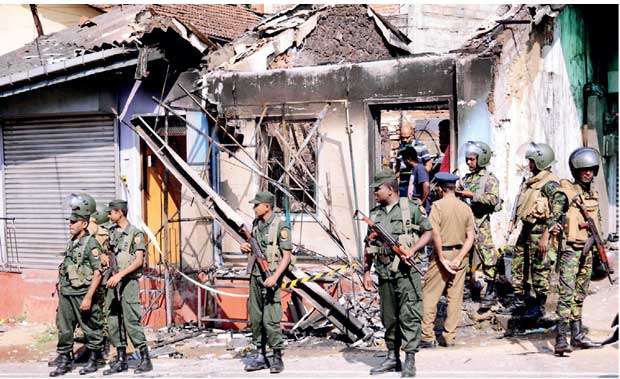 On March 5, 2018, the Sri Lankan government mandated a state of emergency for 10 days following riots and a wave of targeted violence against Muslims in the city of Kandy.

The latest episode took place after a Sinhalese Buddhist truck driver engaged in an altercation with some Muslim youths and succumbed to his injuries. The altercation is not believed to have been racially or religiously motivated.

Seizing the opportunity, hardliner Buddhist monks such as Ampitiye Sumana and organisations like Maha Sohon Balakaya and Bodu Bala Sena fanned the flames of religious intolerance and hate by inciting riots between Buddhist and Muslim communities.

Political mobilisation in the name of violent nationalism requires the perception of an aggrieved and continually maligned community. It also requires a convenient and vulnerable adversary that can be blamed for the perceived injustice.

Sri Lanka has a history of mobilising ethno-cultural nationalism to justify majoritarian violence. While the civil war is frequently framed as a clash between ethnicities (Sinhalese against Tamil), much of the mobilisation and rhetoric was often religious as well (Buddhist against Hindu).

The Sinhalese Buddhist majority has been trained to feel continually disenfranchised. Their sense of aggrievement and insecurity has become a key part of their self-perceived identity and has been mobilised for political purposes for decades.

Since the end of the 17-year civil conflict, there have been targeted attacks on Muslims and Christians in Sri Lanka. In 2014, Aluthgama — a town in the country's southwest — saw clashes between Muslim and Buddhist communities, which left at least four dead, 80 injured and hundreds homeless.
Platforms like Facebook, Twitter and WhatsApp are increasingly understood as effective vehicles for spreading disinformation, which aids nationalists in these circumstances. The politics of intolerance and the outbreak of mob violence in Sri Lanka, often assumed to be visceral and spontaneous, usually involves sophisticated campaigns manufactured by political opportunists to mobilise supporters and marginalise opponents.

The Sri Lankan government's decision to block social networks is largely because much of the violence appears to have come from targeted disinformation campaigns spread via Facebook posts, tweets and memes.

The campaigns have spread falsehoods about an 'alleged increase in the Muslim population and birthed false rumours of a Muslim plan to reduce the Sinhalese population, including by feeding them contraceptives'. These disinformation campaigns have also focused on the alleged increase of wealth and influence of the Muslim population.

Some experts have critiqued the government's decision and seem to feel that the blocking of social networks will disrupt vital communication networks needed for relief. They worry that the decision may trigger more anxiety and violence. Human rights groups and activists have also argued that social network blackouts are denying many the ability to get in touch with each other during the crisis, blocking them from information channels that will help assuage their fears.

The rise of aggressive Buddhist nationalism and disinformation campaigns targeting Muslim populations has also been observed in Myanmar and is of growing concern in southern Thailand. In all three countries there exists a 'common mindset … that Buddhism is somehow under threat' and this perception has 'collided with recent Islamophobia'.

Countering these trends requires putting to rest the presumption that any particular religion is more peaceful or violent than another. Communal nationalism is always prone to violence, largely because it is predicated on the notion of cultural superiority. The image of Buddhism as an especially peaceful religion and the outpour of surprise at its violent face is as problematic as the belief that Muslims are prone to violence.

Increasing incidences of communal violence have the potential to derail an already fragile reconciliation process in Sri Lanka. To keep the peace, the government must assuage the anxieties of minority communities, specifically the Tamil and Muslim communities and increase public faith in both law enforcement agencies and the political system. A reformation of the draconian Prevention of Terrorism Act, often seen as a justification for police brutality towards minority communities, would be a step in the right direction.

The government must also take action to rein in extremist Buddhist monks and organisations that have played a key role in the continued violence against Muslims. Their current lack of action looks like appeasement and reflects a distinct lack of political will to protect minorities.

Without urgent and serious government intervention, Sri Lanka will continue to stumble towards more episodes of violence.

(Courtesy East Asia Forum)
(Pravin Prakash is an associate research fellow in the Centre of Excellence for National Security at the S. Rajaratnam School of International Studies (RSIS), Nanyang Technological University, Singapore)