---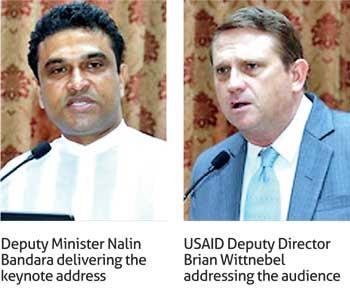 The Ministry of Development Strategies and International Trade (MODSIT) together with the USAID-SAIL project hosted a public-private dialogue (PPD) on global trade for businessman in the Kurunegala District on September 27, 2019, at Hotel Kamrel in Kurunegala.

The event titled, "Kurunegala in the Global Economy - How can the district maximise benefits and minimise risks?", was the third in a series of district-level PPDs being held to increase the general awareness and understanding of trade, and obtain the views of wider and more representative groups of stakeholders across the country. The previous two events were held in Colombo in June and in Kandy in August.

The dialogue was well received by the entrepreneurs of the Kurunegala District who welcomed the initiative and the opportunity to interact first hand with the minister and other key officials and seek clarifications on some of the pressing issues impacting their businesses.

Over 120 participants from ministries, government agencies, the business community, trade chambers, the private sector and representatives of other key stakeholders spent a whole day engaged in discussions, sharing experiences and gaining new knowledge. The resource personnel were led by USAID-SAIL Trade Expert Dr. Sanath Jayanetti, who spoke on "Kurunegala in the Global Economy - How can the District Maximise Benefits and Minimise Risks".

He was followed by Department of Commerce Inland Revenue Department Deputy Commissioner Nilantha Wimalasena, who did a presentation on taxation on
export trade.

Department of Commerce Assistant Director Dilanga Hettiarachchi discussed Rules of Origin and assistance for the exporters through commercial attaches abroad and the trade information portal.

Department of Customs Superintendent of Customs Lal Weerakoon elaborated on "New Initiatives at Customs" and Registrar of Companies Assistant Registrar Heshan Mathugamage explained the progress of "EROC (e-Registration of Companies) project" and his role as the Official Receiver.

Each presentation was followed by a questions and answers session.

Gracing the occasion was USAID Economic Growth Division Deputy Director Brian Wittnebel as guest of honour, MODSIT Deputy Minister Nalin Bandara, MODSIT Secretary Sisira Kodikara, Kurunegala District Government Agent Gamini Illangaratne, North Western Province Chief Secretary P.H.B. Sirisena and USAID-SAIL Project Chief of Party Glenn
Mackenzie-Frazer.

Delivering the keynote address, Deputy Minister Nalin Bandara said: "International trade is a priority area of our government and, as you know, our ministry has been a catalyst for many trade reforms over the past few years. Our government has taken numerous initiatives to re-orient the economy, and make Sri Lanka a respected and formidable player in the Asian region once again. The focus of the government is to shift the economic growth model from one that was heavily dependent on debt-fuelled public infrastructure spending, to growth driven more by private enterprises, exports, and foreign direct investment. Attracting foreign investment is a key priority of the country right now, and this is where a lot of our policy initiatives are being undertaken. In that spirit, today's event is very welcome. It aims to provide useful insights and guidance to you in the private sector and also get your observations and views. I am especially delighted to note that it is taking place in the district of Kurunegala which happens to be my electorate. The Kurunegala District is known to be a key player in the trade sector of Sri Lanka's economy and has a vibrant and diverse trading community which makes a significant contribution to the national economy," said Bandara.

"Thank you also to USAID and the American people for continuing to invest in enhancing Sri Lanka's trade capacity, and supporting sustainable job creation through various programmes throughout the years," concluded Bandara.

USAID launched the four-year SAIL project in October 2016 to support economic reforms and promote Foreign Direct Investment in Sri Lanka. SAIL provides policy and institutional support to improve the business enabling environment and promote investment in Sri Lanka. "The U.S.-Sri Lanka development and humanitarian assistance dates back to 1956. Since then the U.S. Government's development agency, the United States Agency for International Development, or USAID, has invested more than 320 billion Sri Lankan rupees (US$2 billion) in grant aid not loans," noted guest of honour Brian Wittnebel.

"This assistance has benefited Sri Lankans across the country and in diverse fields like agriculture, environment and natural resources, infrastructure, business development, health, education, governance and humanitarian assistance. As a representative of the U.S. Government and the American people, I am proud to see the U.S. partnering in such initiatives to increase awareness and understanding of trade benefits and agreements and discuss with relevant stakeholders potential trade barriers. Most importantly, I am proud that such initiatives are supporting Sri Lanka's continued progress, ensuring the delivery of socio-economic benefits to all its citizens, and contributing to this island nation's achievement of self-reliance. To put it another way, we are working with Sri Lanka to take decisions on its own development. Our objective is to foster a stable, resilient, prosperous, inclusive, and self-reliant country," added Wittnebel.