---

A fate, ending in death, a rite of passage for the animal kingdom's gentle giants – elephants.
All for the callous want to harvest ivory.

Ivory, a hard, white material primarily harvested as the tusk of an elephant, is popularly and illegally used in the art or manufacturing jewellery, ornaments, religious sculptures and tools.

In 1989, the Convention on International Trade in Endangered Species of Wild Fauna and Flora (CITES) banned the ivory trade putting hunting outside the law.

With the illegal hunting of elephants and trade of ivory plaguing nations, it has travelled to the shores of the island nation of Sri Lanka, with the depth of this problem brought to light following the confiscation of illegally transported 1.5 metric tons of elephant tusks while en route from Africa.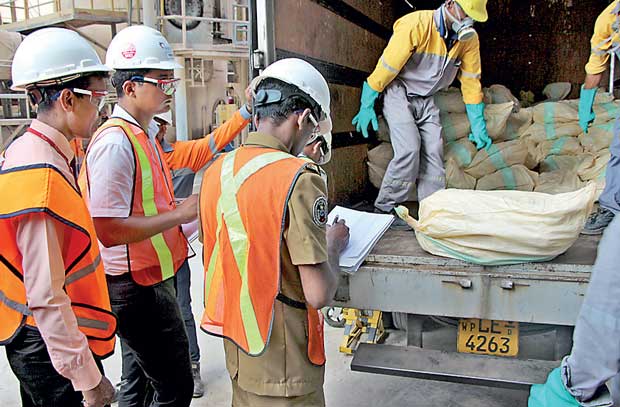 Confiscation
Sri Lanka Customs, the heroes of today, under the guidance of Sri Lanka Customs Customs Intelligence Directorate Director Udayanath Liyanage, first received a taste of evil when the shipment arrived at the Colombo port, carrying the tusks, which stretched up to 10 feet, concealed as plastic scraps and dry fish from Africa.

Leaving its harbours at Mombasa, Kenya, with its final destination set to Hong Kong/China, to enter the black market and be sold for up to US $ 400 billion, the shipment became the first consignment of its grand size to be captured in South Asia. Reprimanded and confiscated in 2012 under the careful supervision of Customs officials and the Sustainable Development and Wildlife Ministry, following strict governance and global regulations set by the CITES. Over 40 officials overlooked the project to ensure transparency, safety and the correct use of processes since confiscation in 2012 and the container that remained docked at the ports was under the watchful eye of the Preventative Division.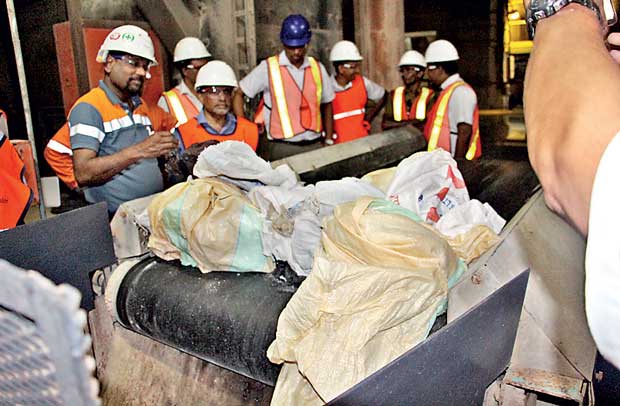 It was in 2013, that the Sri Lanka Customs worked diligently under the guidance of Interpol, working in co-operation with the Sri Lankan CID that 200 particle samples were first collected by and sent safely to be analysed. The vigilant and globally practiced three-year procedural analysis revealed that although these tusks were shipped from Kenya, the origin species came from Tanzania – a country that has been plagued for decades, with elephant massacres for the benefit of black market ivory sales.

It was during this secure process of collection that Sri Lanka was awarded the title of having never before seen full-proof processes and co-operation for all international authorities involved in
the matter.

What surfaced then was the question of ensuring a secure method of destroying these tusks.
Liyanage stated, "The illegal trade of ivory is controlled via a large network of organised gangs in Africa. The legislative war to stop these heinous crimes against these gentle species has left over 1400 rangers killed. Poachers are aware that once shot, elephants can take up to three weeks to die. Regardless of this factor, they are stripped of their tusks while still alive. It is Sri Lanka Customs belief that if we stop the demand for ivory goods – that these illegal activities will have no place in today's culture.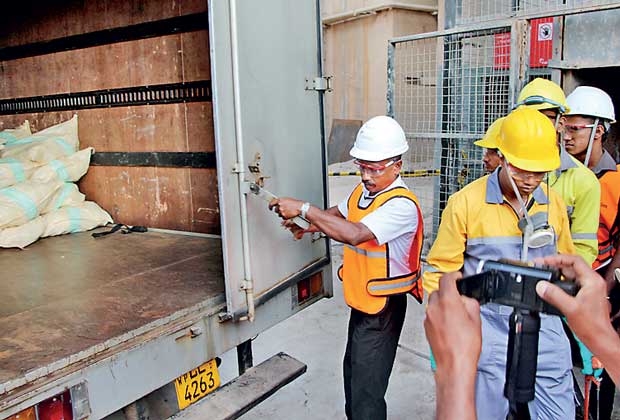 "Since the initial docking of this container at the Colombo Port, my office overlooked this and both myself and my team, continuously watched over it like it were a toddler that we were personally responsible for. It was our prerogative to ensure that these illegally harvested tusks remained secure and sealed until they were finally destroyed."

Legislature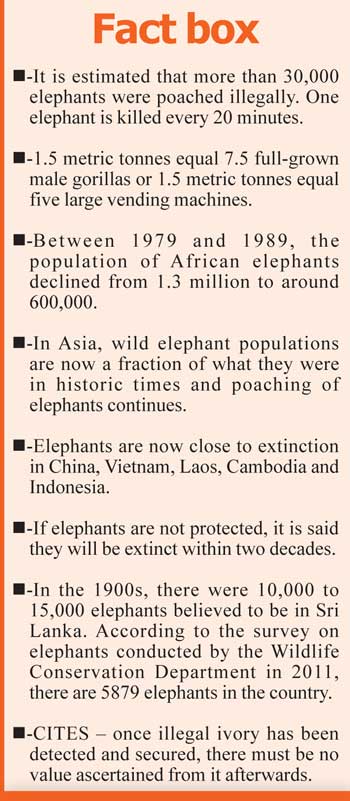 While Sri Lankan Customs worked with global authorities to document and ascertain the origins of these majestic tusks, behind the scenes was the Sustainable Development and Wildlife Ministry with its leadership under Minister Gamini Jayawickrema Perera with this particular project being passionately coordinated by environmentalist and volunteer consultant Vidya Abhayagunawardena.
It was in 2012, after the immediate confiscation of the tusks, that the fight to bring to light the severity of ivory collection was communicated at government and diplomatic levels, securing interest from the international media.

The continued discussions at government forums led to the need for better legislature and an improved understanding of the severity of the illegal ivory trade. It is the CITES motto that once illegal ivory has been confiscated, there should be no value ascertained from it thereafter.

2015 saw a break through following the assistance from the Wildlife Minister and communication began with CITES Secretary General John E. Scanlon and his office.

It was during this time that immense international interest surfaced around and Scanlon visited Sri Lanka at the invitation of President Maithripala Sirisena for the elephant tusk crushing ceremony held on January 26 at the Galle Face Promenade.

But the question still remained, what was the most sustainable way to destroy
these tusks?

Abhayagunawardena commenting on the ivory destruction event said, "Sri Lanka is a country likened to paradise for many; it is in this stride that we must stop the violation of not only our flora and fauna, but also prevent [in this case] poachers from abusing us to carry out damaging and illegal activities.
Sri Lanka has a lot more to do to educate its populous on the perils of the illegal ivory trade. This is a cause that should be dear to our hearts because in history we see that during the time of kings, colonial rulers and until recent times, the ivory trade was not reported. With better legislation, which will be an inevitable – we can combat these crimes and make the world safer for all flora and fauna."

"It was no easy feat to get the ball rolling and mustering local support for the destruction of these tusks. However, we [Sustainable Development and Wildlife Ministry] and Sri Lanka Customs knew that potential partners to assist with the matter can only be those of stature and true belief in a greener tomorrow. With this we turned to companies like Dilmah, Laugfs and Holcim, who not only believe in, but also practice in sustainability and environmental protection."

A new world, for a better tomorrow
In countries such as Uganda - confiscated tusks are destroyed via a week-long pyre burning, secured by round-the-clock military surveillance.

However, looking at the environmental and safety implications – Geocycle, the waste management arm of Holcim Lanka, under the LafargeHolcim group – as the only entity in Sri Lanka with co-processing facilities, was approached to undertake this arduous task.

What ensued was a proactive discussion which carried on for three months within the ranks of LafargeHolcim's top management and its global and local technical experts. A review of the requirements followed looking in depth at quality assurance, environmental impact, health and safety aspects as well as the broader social impacts.

This review was followed by samples provided for analysis of the chemical composition and physical nature of the tusks to ascertain if they are viable for destruction via Holcim's cement kiln, located at its Puttalam plant.

Geocycle General Manager Randeewa Malalasooriya stated, "Geocycle had previously stepped into assist the government and industry in times of environmental crisis through the disposal of many hazardous materials such as chemical waste but this particular disposal was the first request of its kind and is unprecedented within the 68 other counties under LafargeHolcim that possess co-processing capabilities."

Understanding the severity of the need to destroy these tusks, Geocycle stoically accepted the request to provide its expertise, free-of-charge.

It was due to Geocyle's willingness to provide support to the nation of Sri Lanka via its network of global intelligence and knowledge sharing that Sri Lanka received its blessings from both the local and international community in the destruction of the ivory, which took place on January 27, 2016 after being transported by Sri Lanka Customs and fed into the kiln under
their supervision.