---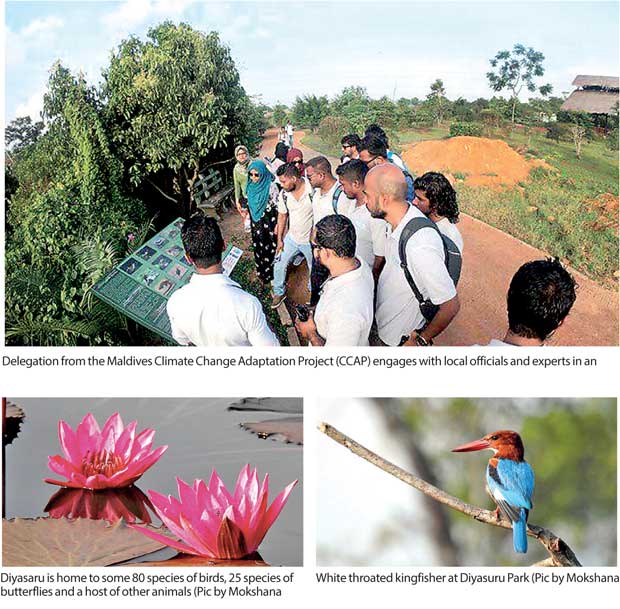 Outside the boundaries of the Diyasaru Park, traffic is locked bumper-to-bumper but inside is a wetland paradise. A long walking path winds its way through 60 acres of carefully restored wetlands, complete with narrow streams covered in pink lotus flowers in bloom.

Wildlife has reclaimed this space and Diyasaru is home to some 80 species of birds, 25 species of butterflies and a host of other animals including otters, shy fishing cats and two estuarine crocodiles, who are sometimes spotted feasting on fish. The purple-faced leaf monkey and a long-tailed languor, endemic to Sri Lanka, can be seen swinging through the trees.

Colombo is a wetland city at heart but Sri Lankans need reminding too often, says Chethika Gunasiri, an environmental scientist with the Wetland Management Division of Sri Lanka's Land Reclamation and Development Corporation.

"People talk about how important it is to protect places like Wilpattu and Yala but they don't think about the wetlands in our own backyard," she says.
'Wetlands for a sustainable urban future', the theme for World Wetlands Day 2018, is designed to highlight the role urban wetlands play in making cities liveable. For Chethika, it is also a call to action. She says Colombo needs to preserve its wetlands, while it still has them.

Wetlands save Colombo millions through a range of 'ecosystem services'

The Colombo Wetland Complex (CWC), which includes 20 square kilometres of freshwater marshes, lakes and paddy fields in the city, stretches around the Diyawanna lake, like an emerald necklace, extending to areas such as Beddagana, Thalawatugoda, Kotte, Kolonnawa and up to Talangama and Ambatale. The wetlands are essential allies in protecting Colombo's inhabitants from floods.

It has been estimated that if the city was to lose all its wetlands, the Colombo metropolitan region would be at a risk of losing one percent of its gross domestic product on average each year due to flood damage – similar to damages suffered in the massive floods of November 2010.
The CWC provides refuge for 39 percent of the storm water storing and then slowly releasing the excess water over a long period of time. In doing so, the wetlands help maintain soil moisture balance. There are also a host of other "ecosystem services", says Chethika.

More than 50 percent of the city falls within the catchment of the CWC, allowing Colombo to enjoy a kind of natural air conditioning. Colombo's wetlands act as a buffer by trapping and removal of particulate matter in the air. This has direct health benefits for the city's inhabitants – the wetlands reduce the incidence of cardiopulmonary and respiratory diseases, coughing, bronchitis and lung cancer.

They combat pollution in the water as well. Research conducted while preparing the Colombo Wetland Management Strategy (WMS) revealed that 65 percent of the canal network in Colombo carries water of poor quality but that the water tends to be cleanest around the parliament lake area, thanks to the wetlands, which act as filters. Areas like Wellawatte, where the wetlands have been filled up, have noticeably poorer water quality. Even more important is how the wetlands feed and provide for the communities that surround them. The WMS highlighted how locals relied on water from wetlands to cultivate vegetables, edible herbs, yams and other crops when water levels are low or during the off-paddy seasons. The wetlands supported subsistence fishing and offered spaces for cattle to forage.

Conservationists say over 87 percent of all the wetland areas actually provide food and additional household income for Colombo's urban poor. An estimated 60 percent of such local households directly benefit from livelihoods and products derived from the wetlands.

Why recreate, when you can protect?

Wetlands currently cover about 20 square kilometres of the Colombo metropolitan area but they have been degraded and lost at a rate of 1.2 percent (58 acres) per year. In some parts of the city, up to 60 percent of wetland extent has been lost since the 1980s. Programmes such as the Metro Colombo Urban Development Project (MCUDP) supported by the World Bank are rushing to stem the tide, creating spaces such as Diyasaru, where the wetlands can be protected.

This is a conservation effort with tangible rewards. Today, tourists seldom linger in the crowded capital. Restoring and opening up the wetlands may give them a reason to stay. In fact, it is estimated that the wetlands could generate about Rs.2 billion annually for the city if their recreation potential was tapped.

Sri Lanka needs only look to other cities to realise it makes complete sense to preserve its wetlands. Take the London Wetland Centre – it costs the British government an estimated 30 million pounds to convert four concrete water reservoirs in a 42-hectare wetland ecological habitat.
In Hong Kong, the government created a 64-hectare wetland in the middle of the city to recreate nature and nature's services.
These have become major attractions in these cities. Colombo doesn't have to spend millions doing the same – all it needs to do is protect the bounty it already has.

Wetlands for a sustainable Colombo

People think of wetlands as a barrier to development or as a kind of wasted business opportunity, where every perch of land should be filled up, say Chethika, explaining that working at Land Reclamation and Development Corporation means that she is very pro-development but understands that if it is not sustainable, Colombo could become unliveable.

"We don't want to stop development. When it comes to wetlands, we cannot put up a fence around them. We have to integrate them into people's lives so they can support livelihoods and also incorporate them into tourism."

Colombo has been presented with a unique branding opportunity, she emphasizes.

"This is our uniqueness. We don't want to become another shopping destination; we can't be Kuala Lumpur or Singapore. We have to use what we have and our wetlands can help us build a unique, sustainable city."