---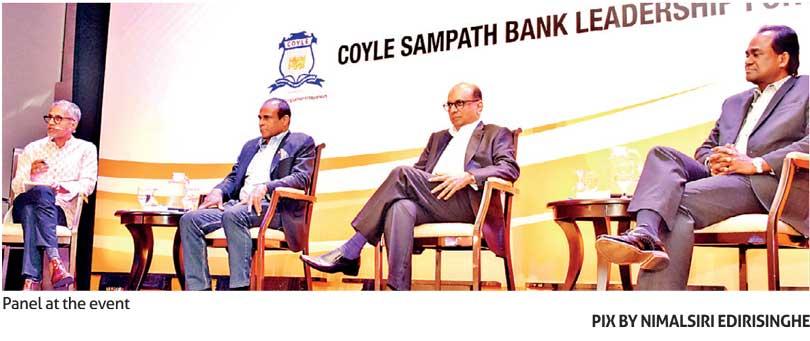 COYLE Sampath Bank Leadership Forum 2019, held for the sixth consecutive year, saw industry veterans share their success stories to inspire future potential entrepreneurs and leaders.
The event was organised by the Chamber of Young Lankan Entrepreneurs (COYLE) alongside the Title Sponsor Sampath Bank and was held at Cinnamon Grand Colombo, on October 17, 2019.

Three aspiring leaders shared their success stories with a full-house of top-level executives, C-suite dignitaries, entrepreneurs and other distinguished guests, to prompt and encourage the participants to take challenges in the business world head-on.

Welcoming the audience, COYLE Chairman Aminda Rodrigo said, "I am humbled and inspired to see such a diverse group of aspiring entrepreneurs together with our distinguished invitees and students. You are here today because you know that change and progress are possible with vision and ambition."

"Recent statistics show that Sri Lanka has just over 225,000 employers or business owners, which accounts just for over 2 percent of our working population. Compare this with other countries such as Thailand, where the working population is at 27.5 percent, incidentally, the most entrepreneurial country in the world."

Rodrigo further educated the audience with working population statistics of other similar countries and expressed that Sri Lanka is in dire need of more entrepreneurs to boost
its economy.

"We need a fivefold increase in entrepreneurs and SMEs to fuel economic growth. With reasonable support from the government with regard to business-friendly policies and also from the financial sector, entrepreneurship could grow in Sri Lanka, ushering a new era of economic development and prosperity," he said.

Meanwhile, the three veterans in the local entrepreneurial/business landscape were welcomed to the forum to share their success stories with the audience for the betterment of local SME and entrepreneurial businesses.

Capital Trust Holdings Group of Companies Chairman and CEO Tushan Wickramasinghe, idac (Pvt.) Ltd Chairman and Managing Director Dr. M. Rohitha Silva and Ceylon Hospitals PLC (Durdans Healthcare Group) Chairman and Tudawe Holdings Ltd Senior Director Ajith Tudawe held the limelight and in addition, N*able (Pvt.) Ltd Managing Director and CEO and renowned actor and director Peter D'Almeida was present to moderate the panel discussion.

"Life is like an obstacle course"

Kicking off the talks for the evening, Capital Trust Holdings Group of Companies Chairman and CEO Tushan Wickramasinghe took the audience through a journey of his life's success.
"Life is like an obstacle course. To succeed, one must change direction when necessary. Let me show you how I did it," Wickramasinghe said.

In 1991, Wickramasinghe commenced his career as a research analyst at a reputed research company, where he carried out the first stock market research in Sri Lanka. In 1993, he was hand-picked by the largest trader in the stock market and was appointed Director of Trading at Asia Securities and was later appointed CEO.

Wickramasinghe explained that in 2001, after the airport bombing, he had to make major changes that were previously unforeseen.

"Many shares were trading 50 percent below the net asset value. What could I do in this hopeless situation? I structured eight takeovers, of which some got blocked and some materialised. One of the takeovers that got materialised was the takeover of LOLC," he said.

He said that following the materialisation of LOLC, the company underwent drastic changes such as a change of the board of directors, top management and adopting new strategies, laying a solid foundation. From 2001 to 2009, Wickramasinghe was a Director of LOLC.

"I am happy that today, LOLC is one of the largest financial conglomerates in the country."
In 2003, LOLC and Wickramasinghe jointly bought the smallest stockbroking company and renamed it Lanka Orix Securities (Pvt.) Ltd. Within six months, the firm was ranked number one in terms of turnover, then from 2006 to 2008, the firm executed the most number of strategic transactions in the Colombo Stock Exchange (CSE).

Following the Colombo bombing in May 2009, the stock market saw another struggling downturn, due to which LOLC withdrew itself from further risk. Analysing and understanding the situation and risk factor, Wickramasinghe purchased 100 percent shares of Lanka Orix Securities (Pvt.) Ltd and renamed the company to Capital Trust Securities. Twenty percent stakes were later sold to two of the biggest investors in the Colombo stock market.

"One year later, I launched Capital Trust Holdings Ltd, where my wife and I are the sole shareholders. This was the start of my journey as a real diversified entrepreneur," he said.
"In the period 2010/2011, Capital Trust Securities executed the all-time highest transaction turnover of a whopping Rs.158 billion – in other words, an average of over Rs.650 million a day. Therefore, I significantly contributed for the stock market to rise more than 400 percent from January 2009 to February 2011."

He further spoke about newer acquisitions and divestments, political influence on policy changes, new ventures and success with his wife's involvement and understanding in his businesses and how strategic thinking and invaluable experience has benefited him to be where he is today.

"I wanted to be a true Sri Lankan"

Meanwhile, idac (Pvt.) Ltd Chairman and Managing Director Dr. M. Rohitha Silva took to the audience an empathetic story of how he paved his path to become a successful entrepreneur despite the loss of both his parents at a very young age.

Silva started his career as a management trainee at the John Keells group. In 1994, he realised that this wasn't the life for him and that he wanted more.
"I was wondering what to do. I wanted to be an entrepreneur. I looked at the market in 1994 and I realised that there was no air conditioning. Air conditioning was an absolute luxury back then," he shared.

He said that he noticed how there were only two giants in the air conditioning business in Sri Lanka, which catered to a very few buildings, all of which were based in Colombo.
"After thinking what I could do to tap this market with major potential, I realised that in Dubai, on sites, air conditioners are used from three months to one year and are then just disposed of. I thought that is the market for me. I started going and buying those," he said.

Silva also said that despite all the potential he saw in the used air conditioning market, he didn't posses any capital to engage in such dealings, so he approached an old school friend and requested a loan to be paid back with interest. The deal was successful and Silva was able to start his business.

"I had the money and I had the goods. Now I needed a strategy because I was trying to sell something nobody wants to buy – so what did I do? In Colombo, the elite only lived in Colombo 7, where else could I open an office? So I opened an office in Colombo 7," he said.

In 1996, Silva took over some of Colombo's major agencies and saw a golden opportunity with the construction of Sri Lanka's largest condominium project Royal Park Condominium in Rajagiriya.

After bidding to provide his company's services for the project, following several discussions, Silva's offer was taken up by the developers of the project but was requested to issue a bank guarantee of US $ 2 million.

This venture also saw success after Silva approached a friend who was willing to assist him in a time of need and Silva was able to proceed without a bank guarantee of such value.
"Twenty three years later, to date, Royal Park has our A/Cs and you can see the quality of what we have done," he said.

With ideas to expand further due to successful revenue growth, Silva then explained that in 1997 he brought in Price Waterhouse (Prior to merging with Coopers and Lybrand) to re-engineer the organisation.
"Next, I wanted to start a factory. I wanted to be a true Sri Lankan. I went and started a factory in assembling and manufacturing air conditioners and it was doing well. Then I started exporting," he said.

He went on to explain that he brought in a "North American guy" to work for him, to enhance his business to fit in with evolving advancements around the world. This was when the company saw a transition from 'analogue' to 'digital', replacing fax machines and telex machines with computers, email and more.

"I was a lucky man. You may be surprised but they gave it to me without any collateral. We were Sampath Bank's customer and Sampath Bank was our customer. We have done about 212 branches, about 95 percent of the bank's branch network. This is the power of networking. Networking has all the power," Silva said.

"I made air conditioning a lifestyle in Sri Lanka. When I started air conditioning, nobody had air conditioning. Today, air conditioning is not just a lifestyle but is an essential."
Later, in an attempt to motivate and help the audience understand the passion for succeeding in a business, Silva stated a few of his company's achievements; first to bring an A/C to Sri Lanka, first to bring an eco-friendly A/C to Sri Lanka; first to take on largest project in Sri Lanka; first to export A/Cs from Sri Lanka; first company to have ISO in Sri Lanka and more.
"I was the youngest to become Chairman"

Meanwhile, Ceylon Hospitals PLC (Durdans Healthcare Group) Chairman and Tudawe Holdings Ltd Senior Director Ajith Tudawe took the audience on his success story, kicking off by stressing that adaption is vital for organisations to build a sustainable future.

"All firms in different industries need to continue to inspire innovations and inculcations of strength," he said.
Tudawe explained that in the year 2000, there were the Fortune 500 companies, which were actively trading on the New York Stock Exchange and that 19 years later, 52 percent of those companies disappeared, either gone bankrupt, been acquired or simply seized to exist as economic entities.

"The common strain connecting the disappearance of 260 companies was that they failed in strategic management and majority of them failed to adapt to digital disruption, while others were not successful in retaining their market share with ever-increasing competition," he said.

"Sri Lanka's economy and future prosperity depends on many factors. High above the list is the ability of entrepreneurs and top corporate leaders with great business skills to develop innovative ideas into highly successfully corporate entities," he added.

After completing his education in the United Kingdom, Tudawe returned to Sri Lanka and began work as a young corporate executive in a family-owned firm known as Tudawe Brothers Limited, which is the longest standing engineering constructor in Sri Lanka, formed by the late Lawrence de S. Tudawe, his brother and three others, approximately 78 years ago.
"I began the wave of new systems and procedures into the family-owned company by introducing accounting applications," Tudawe said.
Later, Tudawe joined Durdans Hospital, as a non-executive director in the late 1980s.

"In 1994, with much entrepreneurial ambition, I began working as the young executive chairman at Durdans. It was almost 50 years at that time and in the history of Durdans, I was the youngest to become Chairman."

The lack of an organisational structure within Durdans was a major challenge for him, as he witnessed most business decisions being made in an ad hoc fashion.
"I took up the challenge and embarked on a computerisation programme. There was a clear stagnation in profitability and growth. Upon reviewing the company's business performance during the past 10 years, growth in real terms was merely one percent per annum. There was a dire need to come up with a new value proposition to expand the scale of operations at Durdans," he said.

Tudawe commenced the implementation of strategic planning in 1995 to identify areas and strategies for potential growth.
"I conducted a position audit, helping us to identify our current product portfolio, formulate new strategies and identify new disciplines. By adapting strategic management into Durdans, we achieved distinctive advantages in new product portfolios."

Over 22 years ago, the wealthy had to travel overseas to get their cardiac procedures done. People who did not have money did not have anywhere to go. The development and setting up of the Durdans Heart Centre in 1997 required new infrastructure development and the investment of funds, which the company did not have.
As a solution, Tudawe prompted the management to issue equity shares for the value of the property and the value of the new infrastructure and established a strategic alliance with the largest free-standing heart institute in Asia, opening the transfer of technological advancement in the country.

"I invited two venture capital companies to take part in the equity investment in the BOI-approved Durdans Heart Centre project. The greatest challenge that I faced was the restructuring of Durdans Hospital in order to list the company in the Colombo Stock Exchange," he stressed.

"On the outset of the restructuring process, a new strategy was adapted by me, making it a strategic equity investment of the family."
By the year 1999, Tudawe approached two investment bankers to be prepared for the restructuring and get a quotation on the Colombo Stock Exchange, where the whole duration took about three and a half years.

"At the time of the formation of the holding company, we came to a halt because of capital gains tax implications," he said.
"What I wanted to do was create a holding company and have a locking device so that the whole established company, 90 percent of the shares to be transferred to the newly created holding company but we just couldn't do it because of capital gains tax implications."

However, with a new government in power for two years, the company presented a paper to the secretary of the Treasury and through COYLE. The introduction of the mini-budget presented an opportunity as the budget abolished the capital gains tax, not only on shares or transactions but on all transactions.
The company was later successfully listed on the Colombo Stock Exchange in October 2003.

"My second greatest challenge was the construction of Durdans Hospital sixth lane wing. By far this is the largest investment in the history of Durdans, Rs.2.8 billion."
Despite hardships, the company successfully developed the new wing and implemented an ultra modern and technologically advanced tertiary healthcare institution within the existing hospital.

Tudawe went on to lay out most of the achievement and accomplishments of the company, before his final words.

These speeches were followed by a short panel discussion consisting of the three speakers as well as N*able (Pvt.) Ltd Managing Director and CEO and renowned actor and director Peter D'Almeida as moderator.

The COYLE is an organisation that reflects a new way of thinking as well as a youthful energy that is much needed for a dynamic private sector. While keeping true Sri Lankan values, COYLE has staunchly safeguarded the interest of the local entrepreneurs of Sri Lanka and acts as a link between the local entrepreneurs and the ruling government.
COYLE is the only chamber where 116 controlling shareholders or chairmen sit and advocate together and its membership contributes over Rs.600 billion per annum to the economy of Sri Lanka.