---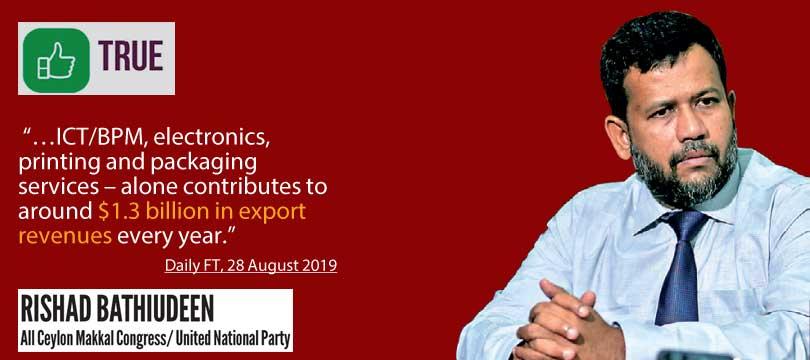 Minister Bathiudeen claims creditable export performance by citing USD 1.3 billion in export revenue from three sub-sectors. We checked this claim using data available from the Sri Lanka Export Development Board (EDB). Even though export statistics are available for up to 2018, the latest data available for all of the three sub-sectors quoted by the minister is for 2016 — for later years there is no revenue data available for "printing and packaging".
Accordingly, we assessed his claim against the 2016 data for all three sub-sectors. Export revenue from the Information, Communication and Technology (ICT)/Business Process Management (BPM) sub-sector was USD 0.9 billion (USD 1.035 billion in 2018); from the electrical and electronic products sub-sector was USD 0.302 billion (USD 0.410 billion in 2018) ; from the printing, prepress and packaging services sub-sector was USD 0.122 billion.

This means that export revenue from these three sub-sectors in 2016 was $1.324 billion (about 9.6% of all export revenue in 2016).

Therefore, we classify Minister Bathiudeen's statement as TRUE.

*FactCheck's verdict is based on the most recent information that is publicly accessible. As with every fact check, if new information becomes available, FactCheck will revisit the assessment.
FactCheck is a platform run by Verité Research.
For comments, suggestions and feedback, please visit www.factcheck.lk.