---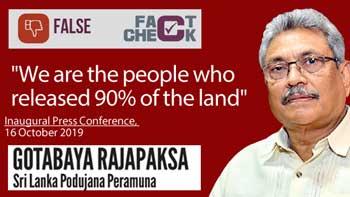 In his statement, SLPP presidential candidate Gotabaya Rajapaksa claims that the Mahinda Rajapaksa government released 90% of military occupied land, after the end of the war.
To verify this claim, we consulted data published by the Secretariat for Coordinating Reconciliation Mechanisms (SCRM), as well as consulting the Ministry of Defence (MOD) to confirm the numbers provided.

Land occupied by the military in the North and East at the end of the war comprised both state land and private land. SCRM data shows that between the end of the war in 2009 and January 2015, 68.0% of occupied private land and 24.3% of occupied state land was released by the military (Exhibit 1). Overall, of the 118,253 acres occupied, 35.2% was released as at January 2015. Even if Gotabaya Rajapaksa was referring only to private land, the official figures fall well below his stated claim.

Following this, Gotabaya Rajapaksa makes a further claim on private land released just in the Jaffna peninsula, "If you take the peninsula, we had released more than 90% of the land to the owners." FactCheck was not able to find data specific to the Jaffna peninsula. However, we have been able to confirm that land release calculations specific to Jaffna District (73%), and to the Northern Province (69%) as a whole, are also similar. They all fall well short of the claimed 90%.

Presidential candidate Rajapaksa's claim exaggerates the land released by the previous government. Therefore, we classify his statement as FALSE.

*FactCheck's verdict is based on the most recent information that is publicly accessible. As with every fact check, if new information becomes available, FactCheck will revisit the assessment.
Exhibit 1: Military occupied land released May 2009 - January 2015


FactCheck is a platform run by Verité Research.
For more fact checks, visit our website at www.factcheck.lk.