---
Today, the land available for the proposed reserve has shrunk to 12500 hectares
The proposed MER land still belongs to the Mahaweli Authority
Villagers charge that Weli Saman, Chaminda and Thushi are behind these illegal land sales
An SLPP electoral organizer has grabbed 50 acres for himself by blocking off the Hedilla elephant corridor and setting up electric fences

The focus on environmental conservation seems to be decreasing in the face of accelerated development projects in Sri Lanka. Development schemes encroaching on elephant habitats especially are far from satisfactory. Most projects have been implemented without prior wildlife study.

The recent death of an elephant calf in Katuwewa in Hambantota—run over by a speeding vehicle— underscores the plight of wild animals. Another elephant calf died after being hit by a tipper truck near the Hambantota Base Hospital.

Elephant as well as human deaths have increased with development projects in Hambantota. Since 2009, projects like the Hambantota Port, Mattala Airport, Sooriyawewa Cricket Stadium, International Convention Centre, Mirijjawila Industrial Zone and Southern Expressway have caused vast deforestation.

Although 30,000 hectares was to be allocated for a Managed Elephant Reserve (MER), a report by environmentalist Sajeewa Chamikara reveals that politicians from both major parties had distributed these lands among their supporters, Colombo business magnates and foreign buyers. As a result, some 450 elephants in forests in the Hambantota district have lost their natural habitat.


As the pachyderms had no access to the Udawalawa, Lunugamwehera and Weheragala forests, they became isolated into herds of 40 to 50, and ran out of food and water. They migrated along their usual routes in search of old habitats, but development projects and human settlements blocked their paths. The hungry elephants would then enter villages and destroy cultivation and attack and kill humans. Villagers in turn shot at the animals or threw improvised explosives like 'Hakka Patas' to chase them off. Some even built electric fences.

The Department of Wildlife and Conservation (DWC) has backed the planned 30,000 hectare MER as it would have minimised the human-elephant conflict in Hambantota. But since 2009, politicians have sold the allotted lands to their associates instead of gazetting the area as a reserve. Today, the land available for the proposed reserve has shrunk to 12500 hectares.

In 2019, there were 405 elephant deaths and 127 human deaths in the Hambantota district alone. Lands belonging to the Mahaweli Project, Forest Department, Wildlife Department, Divisional Secretariats, Land Reforms Commission and Nindagam lands in the Hambantota district have been allocated for development projects, and at present all these forests have been destroyed. For example, area politicians approved 2000 acres near Hamuduru Wewa between Ihala Andara Wewa and Pahala Andara Wewa in the proposed MER for banana plantation.
Although the MER was proposed while projects were underway, local politicians backed the distribution of these lands for development schemes and large-scale cultivations. Over 2000 acres of forest in Gal Wewa, Weli Wewa, Kurudana, Kataan Wewa and Andara Wewa have been cleared by bulldozers. A former senior government officer set up a solar-power plant in 500 acres of Burutha Kanda in Gonnoruwa.

The Mahaweli Authority distributed among people forest lands belonging to Burutha Kanda Alimankada extending from the proposed MER to the Mudunagala Nature Sanctuary, trapping 20 elephants in the sanctuary. Gonnoruwa elephants have lost their route to the Bundala National Park through the Gal Wewa area, and deforestation has increased the human-elephant conflict there. The proposed MER land still belongs to the Mahaweli Authority. But some 500 acres have been distributed among Colombo businessmen. Villagers charge that Weli Saman, Chaminda and Thushi are behind these illegal land sales.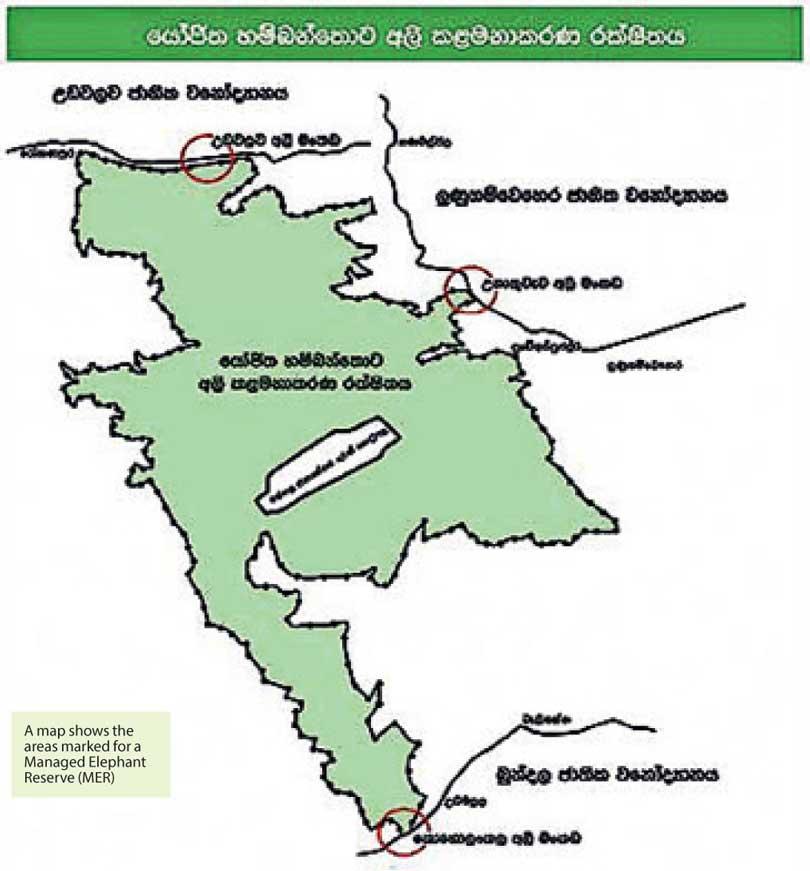 Traditionally, Hambantota elephants move to Bundala, Lunugamwehera and Udawalawa National Parts through the elephant corridor in the Gedilla Reserve. A former government politician of the area built a housing scheme blocking the elephant corridor between Katan Wewa and Gonnoruwa. An SLPP electoral organizer has grabbed 50 acres for himself by blocking off the Hedilla elephant corridor and setting up electric fences.

Under the Mahinda Rajapaksa Government, some 20,000 acres of forest under the Walawe Left-Bank Development Project were handed over to the Urban Development Authority. A study by Chamikara reveals that 15 humans and 30 elephants died due to this project alone.

The delay in issuing a gazette identifying the MER has led to forest lands being destroyed and given to political henchmen. Some 600 acres from Gonnoruwa, Katan Wewa and Pahala Andara Wewa were distributed for development schemes. And there was also a plan to give 1500 acres from the Udamalala, Lolugaswekada, Matiganwewa, Parengi Wewa, Lin Wewa, Swarnamali Wewa and Maiyan Wewa areas for an oil refinery. The refinery was to function after the Hambantota Port was handed over to China.

The purpose of the elephant management plan was to identify elephant migration patterns connecting the Udawalawa, Lunugamwehera and Bundala National Parks. The Wildlife Department was also keen on finding a solution to the human-elephant conflict. This reserve is mentioned in the Paragraph 2 of the Fauna and Flora Act No. 22 of 2009. The cost of building elephant fences, opening elephant corridors, and growing cultivation for elephant food was estimated. It has been eight years since the estimates were submitted, but the reserve has not yet been implemented. This reserve connects to the Udawalawa National Park at the 31-32km post. It is said a Monaragala district minister of the former Mahinda Rajapaksa Government had opposed the elephant corridor.
Moreover, 600 acres of forest in the Thissapura Burutha Kanda area have been cleared for foreign companies to build solar-power plants. Some 300 acres on the banks of the Diwula Palassa Wewa in Wal Sapugala, where elephants once roamed, have been cleared for a solar power village. A former government strongman has grabbed 60 hectares of which 40 hectares has been given to a solar-power company. Another 40 hectares in Burutha Kanda have been cleared for a separate solar-power plant.

Hambantota residents say it is illegal to cultivate lands belonging to the Mahaweli Authority, yet some Colombo businessmen are openly engaged in deforestation. At the Hambantota District Committee meeting on September 7, Environmental Minister Mahinda Amaraweera said those engaged in cultivation should get ownership of these lands and deforestation should be stopped. He said officers had shown him photos of people felling large trees. All political representatives in Hambantota attended the meeting. Though it was said that lands cultivated would be given to settlers, the Mahaweli Authority has taken steps to evict people from lands belonging to Mahaweli in the Walawe Left-Bank Zone and hand them over to government investors.

People complained that deforestation of the area under the proposed MER has caused the deaths of humans and elephants, and the destruction of property. People cannot venture out after 6-7pm, as elephants roam about in herds everywhere, including along the expressway, they added. Elephant calves, who come with their mothers to cross the road, wait on one side instead of crossing over. Alarmed by vehicle sounds, they cross the road hastily leading to collisions with speeding vehicles. Even though there is an expressway the areas used to be an elephant corridor once, and elephants are still using it, residents said.
---

"Environmental destruction was reported only from lands belonging to the Mahaweli Authority and not in Wildlife Department lands"
-Mahinda Amaraweera
---

At a meeting forest officers had with Land Minister S. M. Chandrasena the former had revealed details about illegal land sales in the Hambantota district. The officers demanded an immediate halt to the illegal takeover of Forest Department lands through fraudulent deeds. When others, including the minister, asked the officers for details of those behind these illegal dealings, the officers found themselves in a situation where they had to ask a wrongdoer for evidence against the wrongdoing.

Nindagam grant deeds

Another manner in which lands are illegally captured in the Hambantota district is by people claiming several lands belong to them under Nindagam grant deeds. Details of selling forest lands through such deeds were also revealed at the meeting. Mahaweli lands as well as Land Reform Commission lands are reportedly captured claiming they are Nindagam lands.

There are ten Nindagam lands in Hambantota. According to the Land Reform Act of 1972, a person cannot possess more than 50 acres. Lands above the 50 acre limit were handed over to the Land Reform Commission (LRC). Likewise, 3000 acres in Hambantota under the Commission were handed over to Divisional Secretariats. While Divisional Secretariats handed these lands over to people with permits and deeds, some who captured these lands have claimed their ownership from the LRC. Officers of the LRC therefore urged that a circular be issued halting the handing-over of lands through Nindagam deeds.

The Mattala Airport area used to have a large elephant density. Over 5000 acres of forests were destroyed for the Mattala Airport and other development projects, causing over 450 elephants to lose their habitat.
Gazette No. 772/22 dated 24.06.1993 issued as per the National Environmental Act (Amended) No. 47 of 1980 stipulates that lands over 2.5 acres must undergo an Environmental Impact Assessment with written approval before being used for a development purposes.

However Conservator General of Forests W.C. Weragoda claimed that he could not directly say whether reserve areas had been destroyed. "We protect our reserve areas while the Mahaweli and Wildlife Department protects theirs. We take legal action against those who capture lands illegally. I cannot state the amount of lands possessed by the Hambantota Forest Department without looking into it. We do not allow our lands to be destroyed. We take legal action," he said.

Meanwhile District Secretariat W. H. Karunarathna said if lands were illegally captured, offenders would be removed and legal action taken against them. "We cannot claim them as fraudulent deeds at once. We informed the Auditor General's Department to investigate the matter. We also discussed these matters at the district committee meeting. We will inquire about these issues," he said.
---

"I instructed State Ministry officials to immediately prepare the relevant gazette. But they are deliberately stalling the task. A court order has also been issued with regards to the gazette"
- C.B Ratnayake
---

But Hambantota District Forest Range Officer Saman Palitha charged that elephant habitats are continuing to be destroyed. "Elephants that have lost their old habitat are still searching for them, and still move along their old routes. When there is a food shortage, they storm villages. They move mostly at night. They frequent the Idinkatu Wewa near the flyover and the Mirijjawila Port forest area. They remain in small forests in herds. Their old routes to Bundala are no longer present today," he said.
Over 2000 acres of forest in Gal Wewa, Weli Wewa, Kurudana, Kataan Wewa and Andara Wewa have been cleared by bulldozers. A former senior government officer set up a solar-power plant in 500 acres of Burutha Kanda in Gonnoruwa

Palitha added though 30,000 hectares had been proposed for the MER, it was doubtful whether even 12,500 hectares remained today. "If this land is allocated to the Wildlife Department, we can set up food and water facilities for elephants and build elephant fences to control the situation. But we cannot do anything without legal authority. The proposed reserve land still belongs to the Mahaweli Authority. But they have distributed the lands for solar-power plants, other cultivations, and quarries. The Environmental Assessment report for the Mattala Airport and the port mentions the need for the managed elephant reserve. However, no such reserve has been implemented yet." said Palitha.

Meanwhile, Wildlife Minister C.B. Ratnayake said the State Minister was in charge of that particular subject. "As Cabinet Minister, the gazette on the elephant reserve should have my approval. I instructed State Ministry officials to immediately prepare the relevant gazette. But they are deliberately stalling the task. A court order has also been issued with regards to the gazette. Instructions have been given. There are only 422 wild elephants in Hambantota today. If they do not get the reserve, they will have to pay with their lives. Or else we will have to build an orphanage like Pinnawala and take food there," he said.

Environmental Minister Mahinda Amaraweera said environmental destruction was reported only from lands belonging to the Mahaweli Authority and not in Wildlife Department lands. "Illegal constructions will be removed after further investigations," he said.

Director General of the Mahaweli Authority Sunil Perera said according to the Mahaweli Act in 1967 lands were allocated for investments. Accordingly, thousands of acres from Victoria, Udawalawa and Maduru Oya were given to the Wildlife, Forest Departments and the Environmental Ministry. "Only lands under the Act of 1976 belong to the Mahaweli Authority," he said. He added out of these lands none had been taken from the proposed MER lands. "The Walawe Left-Bank lands under the Mahaweli Authority were also not allocated for the reserve," he said, adding he had informed Wildlife, Forest Department and Environmental Ministry representatives of the matter.
Perera added that the Mahaweli Authority functioned only according to the Mahaweli Act, and those lands were for investments only. "As Rs 200 billion worth of seeds are imported annually, there are plans to grow seeds in Hambantota. Since it is impossible to allocate lands for a reserve, the Mahaweli Authority does its primary duties. Corn has been cultivated in Mahaweli lands and no trees have been cut," he added.