---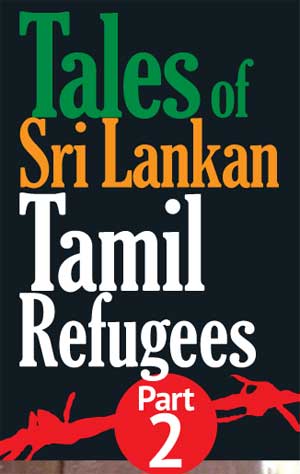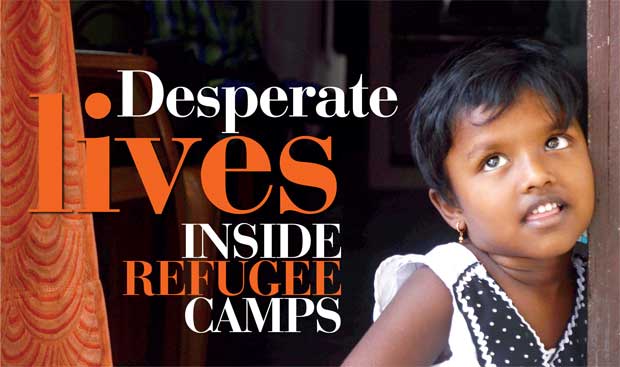 Typically, refugee camps are temporary living settlements that accommodate displaced persons who have fled their home countries. When it comes to the context of the Sri Lankan civil war, it is a known fact that many local Tamils fled the country at the height of the war, with the hope of returning when a conducive environment is created for peaceful coexistence, free of violence and warfare. However, unfortunately, their settlements seem to have become 'permanent' with their stay counting more than 27 long years.

"Api mehe thani wela (we are isolated here)", 49-year-old Nimala, a Sri Lankan refugee at the Gummidipoondi camp in Chennai told Daily Mirror recently.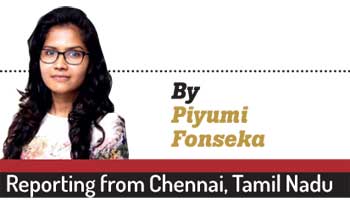 According to the 1951 Refugee Convention of the United Nations and its 1967 Protocol relating to the status of refugees, a "refugee" is an individual who, owing to a well-founded fear of being persecuted for reasons of race, religion, nationality, membership of a particular social group or political opinion, is outside the country of his or her nationality, and is unable or unwilling to avail him or herself to the protection of that country.

However, the Tamil Nadu Government, under the directions of the Indian Central Government which had not ratified the aforementioned legal documents, provided Sri Lankan refugees immediate relief when they entered Indian soil in early 1980s.
The dilapidated condition of toilets in a refugee camp
Pix by Shyam Gowtham and Steni Simon
"As a result of the many restrictions imposed on Sri Lankan Tamil refugees, securing employment has become more than a daunting task"

Education
"Inside the Gummidipoondi camp are some 900 youngsters receiving education. However, they receive this facility only upto the tenth grade," said Mathews (46), a father of two.

"Following the assassination of former Prime Minister Rajiv Gandhi in 1991, the admission of our children to schools was suspended by the then Tamil Nadu Government. But, later in 1993, our children were given the chance to study upto the twelfth grade in schools in Tamil Nadu. The law is not practiced here. Our children are denied of the right to continue their studies after the tenth grade," he said.

Some parents here fund their children's higher education at private institutes, although they are facing severe financial constraints and the government has not extended any support monetarily. Either they will do so or give up hopes because they are unable to afford private education. Nevertheless, it is noteworthy to see several Sri Lankan refugee parents toiling to finance their children's education.
"Denial of access to education has severely affected the children of Sri Lankan Tamil refugees. Making the situation even worse, the young refugee lads who are forced to discontinue their education from tenth grade, often get addicted to drugs"

Maya (23), the only daughter of Mathews, is currently reading for her MBA in a private college in Gummidipoondi. Even if she completed her studies amidst all difficulties, she will still be unable to secure a government job as that option is unavailable to the children of refugees.

Denial of access to education has severely affected the children of Sri Lankan Tamil refugees. Making the situation even worse, the young refugee lads who are forced to discontinue their education from tenth grade, often get addicted to drugs, mainly Cannabis – not to say the situation is identical in every Sri Lankan Tamil refugee camp in the state. When one treads along the shady path of the Gummidipoondi camp, groups of languishing youths could be seen playing Omi, a popular card game, while parents keep worrying about their inability to offer their children a bright future.

Freedom of Movement
"We savour no social or political right as we are governed by the 1946 Foreigners Act. We used to have comfortable lives in our country before the outbreak of the gruesome and bloodily war. Today, we are leading a very restless camp life. We cannot leave the camp unless the authorities give us permission to do so. We are allowed to go in the morning, but must return before dusk," said Jothika, a mother of one.

According to her, Sri Lankan refugees who wished to stay outside the camp for more than one day have to obtain written permission from the camp officer, which usually takes a few days.

Commenting on this, Kennedy (52) said they were detained inside the camp. "We have no freedom here. We are treated as outsiders. We are neither here nor there. It is not like we are staying here willingly," he said, adding that the feeling of living in one's own country could not be found by living anywhere else in the world.
Ganesh, a refugee compelled to discontinue education.

Employment
As a result of the many restrictions imposed on Sri Lankan Tamil refugees, securing employment has become more than a daunting task. They arrived in India without a single document to prove their identity. Even the ones who studied upto a certain stage are unable to produce necessary documents to find a job in Tamil Nadu. They can only find jobs that pay daily wages.

However, a survey conducted by the US Committee for Refugees and Immigrants (USCRI) stated that as Sri Lankan refugees were permitted to work during day time, many refugees worked on the local railway while many others engaged in bricklaying and painting.

Commenting on this, Samuel (43) from Avissawella who is presently employed as a security guard in a private institution in Gummidipoondi, said men must hunt for jobs that pay well, as it was difficult to survive with the limited financial support extended by the Tamil Nadu Government.
"The government has issued refugee identity cards for each of us. The breadwinners of families are given Rs. 1,000 per month. Those above 18 years of age receive Rs. 750 while those under 18, Rs. 300. The sum paid to us has not been revised despite the rising cost of living. We cannot live on with these trivial amounts even for a week. That is why we search for jobs," Samuel said.

Sabhu, a painter and the breadwinner of a seven-member family, said it was very difficult to obtain permission from the authorities to work outside the camp. "If you have money, you can bribe the officers and get things done," he added.

Rations, healthcare and other entitlements

Results of the efforts by refugees to improve the conditions of their settlements
The Tamil Nadu Government has issued 'ration cards' among Sri Lankan refugees living in camps in the state. Refugees need to present their cards to obtain rations. Smitha, a mother (52) of five, said the government provided them essential goods at low prices.

"Each adult receives twelve kilos of rice per month, while a child is issued three. Every family gets two kilos of sugar monthly. However, the goods issued are inadequate," she said.
The refugees who dwelled in camps which were of dilapidated condition had somehow managed to improve the conditions of their settlements. Terrance, another Sri Lankan Tamil refugee, said they found it extremely difficult to move about in confined camps that were covered with tar sheets. But as families started to expand, they had added some installations to these settlements.
"We suffered a lot inside camps during summer and heavy rain. No one was generous enough to help us. As time passed by, we found jobs that helped us earn some money and turn our camps into small houses," Terrance said.
According to USCRI, the Tamil Nadu Revenue Department is recording the purchases made by Sri Lankan refugees. Whatever the additions they make to the settlements, they do not own them. According to the law, they cannot bring anything to Sri Lanka on their return. "We don't have the right to legally own a house, property or vehicle. We left our things in our country," Terrance said.

When it comes to medical care, it is quite satisfying for refugees as they have access to free medical treatment in government -recognised hospitals.

"I am not entitled to any ration given by the government. I am living with my elder sister. I don't know the reason. I tried to hold discussions with relevant authorities several times, but to no avail. However, medical services are free for us.

"If anyone falls ill, we have to stand in queues for hours. We are forced to remain for longer hours than others because we are not citizens. Often, we have to buy medicine from pharmacies. Some check-ups and scans are recommended to be taken from private institutions. We cannot afford them," said Reeta (68).

It is nothing but disheartening to see Sri Lankans with refugee statuses living in Indian camps with no solution to their plight. The Indian Government has not yet decided to recognise them as citizens of India, as their existing law does not permit it. Some 90% of these deprived Lankans dream about returning to their home country.
The final section of the article series will be serialized this week. It will discuss the pressing issues that hold them back from stepping outside the camps to return to Sri Lanka, and efforts to travel to Australia illegally.
Read the first part of the series - http://www.dailymirror.lk/article/Recalling-war-trauma-126742.html