---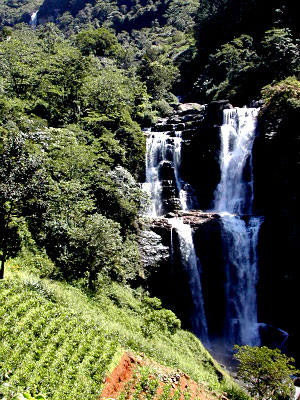 Are you eager to discover a wonderful nature creation more than just a pretty waterfall in Sri Lanka? Diyaluma Waterfall is one of best picturesque waterfalls that impress travelers with its might, height and its dramatic location. This spectacular waterfall is located in Badulla district, Sri Lanka and it is the third highest waterfall in the island which is 171 meters in height. Due to its impressive height, incredible scenery and awe-inspiring power of water, it has been more popular among worldwide travelers.
To discover this amazing destination and take a photo tour of this Diyaluma Waterfall, you can reach it conveniently along the A4 Koslanda – Wellawaya road and 06 km away from Koslanda. Or, you can reach via Poonagala from Bandarawela town. However, this waterfall is more accessible than other waterfalls that visitors can view directly from the main road even. This beautiful waterfall is nourished by the Poonagala Oya, a tributary of Kuda Oya which in turn, is a tributary of Kirindi Oya. And this Diyaluma Waterfall is listed as the 361st highest waterfall in the world. And the literarily meaning of "Diyaluma" is "a rapid flow of water". There are two famous beliefs about this waterfall. One story is about a Prince had fallen in love with a lower caste young woman. Once they had the fury of their residents, this Prince and the woman decided to escape by climbing the rock face of Diyaluma. It is said that a creeper was hanged on the woman and it became knotted in rocks and she leaped to her death. The other popular as well as tragic story happened in 1910. Harris and Ashna, two tourists had climbed Diyaluma Waterfall and Ashna had made a record time of climbing this top. But due to Harris' pride, it is said that he separated the rope from Ashna and let her fall to her death. Further, it is said that Harris also committed a suicide by cutting his own rope. However, this Diyaluma Waterfall is attracting many visitors due to it facilitates a supreme view from the dramatic bridge that passes below this aquatic marvel. Via Diyaluma rubber factory and via Koslanda, travelers can reach the top of this waterfall.
Therefore, travelers who wish to get a little wet and who love to have hiking, Diyaluma Waterfall in Sri Lanka will be a best travel destination. In addition to this sightseeing location, there are many noteworthy waterfalls with lofty heights and stunning power to discover in Sri Lanka, such as Bakers Waterfall, Bambarakanda Waterfall, Devon Waterfall, St Clairs Waterfall and more. And there is wide range of eco-friendly affordable and best Nuwara Eliya hotels and Ratnapura Hotels available, out of endless selection of Hotels in Sri Lanka. Thus, it's time to have a hiking adventure and to get little wet with Diyaluma Waterfall, as worth a special trip.