---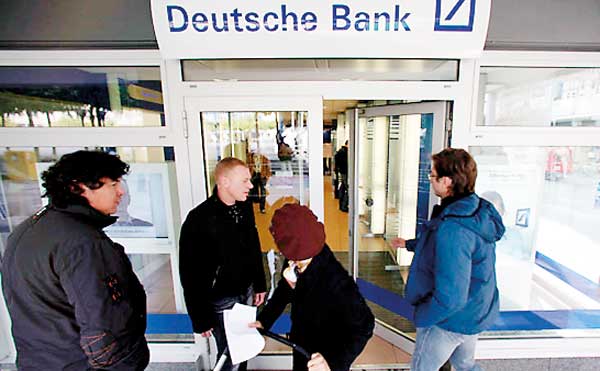 Other traditional investment vehicles such as life insurance policies offered by mainstream banks and insurers have also had to adjust their returns downwards



AFP - Fed up with record-low interest rates, a growing number of Germany's avid savers are throwing caution to the wind and allowing themselves to be lured by funds offering unbelievable returns.


But for many, this has turned out to be a costly mistake. Uwe Heyn, a 79-year-old retiree, was hooked when he was promised more than 150 percent in returns over five years if he put his money into a fund that specialised in renovating dilapidated properties and selling them on for profit.
He ploughed 20,000 euros ($21,000) into the fund, which turned out to be a trap.
At best, he stands to recover just half of his investment through the courts. "As one gets older, one wants to put money in safe investments... but the very low interest rates offer hardly any alternative," he told AFP.
Heyns is just one of thousands of people who have lost money in similar scams in recent years.
More than 7,500 financial fraud cases were recorded last year, up 18 percent from 2013, which itself registered a rise of 29 percent, according to official figures.
Germany is a particularly good market for such scams due to the fast-greying country's army of prolific savers.
The household savings rate is among Europe's highest -- with Germans putting aside 16.85 euros out of every 100 they bring home, against an average of 10.5 percent in the European Union.
Such fraud is "getting bigger, be it in the number of victims affected or the sum concerned", said Klaus Nieding, vice president of the federation for the protection of shareholders DSW.
"We are now talking about sums reaching triple-digit millions, that's significantly more than 10 years ago," he said.
"And we are talking about four- or even five-digit figures when we talk about the number of victims. I associate this phenomenon very clearly to the current development of the financial markets, and particularly so with the very low interest rates."
Germany's federation of private bankers BdB made the same observation.
"Investors seeking returns are being tempted increasingly by dodgy offers," it found, saying they are driven by "persistent weakness in interest rates".
Grey market
In a bid to bolster the EU's fragile economy, the European Central Bank has brought its key interest rate down close to zero.
It now stands at 0.05 percent, and while the low rate is good news for spenders, for European savers it often no longer pays to park cash in a savings account.
Other traditional investment vehicles such as life insurance policies offered by mainstream banks and insurers have also had to adjust their returns downwards.
Some clients have therefore turned to the "grey market", where unlicensed financial outfits are neither outlawed nor policed by market authorities.
In two major cases dominating German newspaper headlines, thousands of people have lost millions of euros in investments through what investigators believe are Ponzi schemes.
In Frankfurt, a trial is ongoing against the managers of S&K group, specialised in property-related investments and suspected of having lost more than 240 millions euros belonging to 11,000 clients in risky transactions.
The Berlin-based company BWF, nicknamed the "Gold mafia", is accused of having duped 6,000 people by offering them close to double the amount of gold they buy in a few years -- provided the precious metal is stocked in its safe.

More than 50 million euros had been entrusted to the company, according to media reports, but only a tiny amount of the metal stock turned out to actually be gold.
In both cases, investigators believe that managers were essentially running Ponzi schemes -- in which new investors essentially pay the returns of their recruiters, until the system collapses.
In fact, only six percent of funds that have advertised returns of 25 percent in the property, environment or maritime sectors have actually delivered, according to a study carried out on 1,139 establishments by consumer protection agency Stiftung Warentest.