---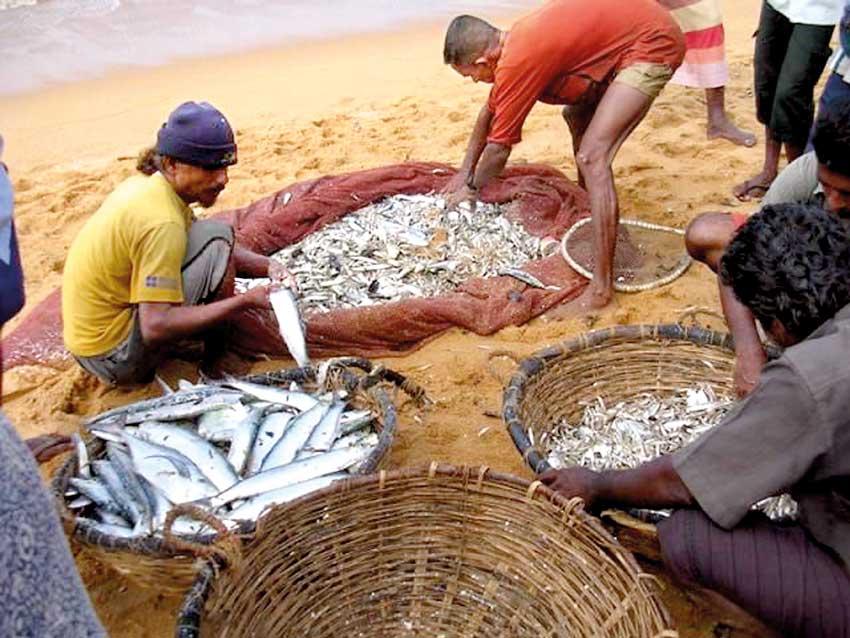 The current and future prosperity of Sri Lanka is intrinsically linked to its coastal, marine and mineral assets or neglected ocean resources. Fisheries and tourism can be two main pillars of its gross domestic product (GDP) economy and source of employment.

Ocean resource development-connected fisheries, nautical tourism, boat/shipbuilding, ship repairs, mineral sand mining, aquaponics/hydroponics should be considered by our ministers, planers and public officials connected to ministries as well as private sector connected to fisheries and tourism, if they are capable of thinking out of the box.

We still follow stories said by planers in 1940s when we were a developed economy compared to rest of South Asia managed by the British. All countries around us since 1948 have turned a new leaf and are passing us or have passed us. Our governments and planers are still reading the pages of the old book.

Sri Lanka's GDP global rank was 57 in 2020, China 2, India 6, Indonesia 16, the Philippines 34, Pakistan 39, Vietnam 40 and Bangladesh 44. By 2040, India is posed to be the most populated country, overtaking China and the GDP global rank 3, China hitting position 1, Indonesia 8, Pakistan 23, Vietnam 24 and Bangladesh 28. No prediction available for Sri Lanka. Where will we be by 2040?

There are many related agencies connected to ocean resource domestic product such as the National Aquaculture Development Authority, Department of Coast Conservation, Costal Resource Management, Sri Lanka Coast Conservation Management, Marine Environment Protection Authority, Sri Lanka Fishery Harbour Corporation, Sri Lanka Ports Authority, Tourism Development Authority, Merchant Shipping Secretariat, Ceynor, Mineral Sands Corporation, Department of Wildlife, Navy, Coast Guard, Sri Lanka Customs, Ministry of Fisheries, Ministry of Defence, Ministry of Trade, Export Development Board, Ministry Connected to Petroleum Resource Development (now asleep), Ministry of Agriculture, Board of Investment, private sector boat/yacht builders, yacht/leisure boat operators and ship repairers to name some.

They are administered under many ministries where the right hand does not know what the left hand is up to. Have all these departments ever met as a team or with private sector operators to discuss development of domestic product as part of the economy?

This may be the only island nation surrounded by ocean that imports low-quality canned fish, controlled by a canned fish importers mafia that imports canned fish to feed the so-called malnourished citizens. The same canned fish importers mafia incited Buddhist clergy to protest when a prime minster in 1980s wanted to introduce fish spawn into the inland tanks and reservoirs. The project was abandoned. Foreign fishing boats/multi-day craft/trawlers fish in our water and we sleep over it with many ministers, Navy and coast guards paid by the public as they have no capacity to think of the country first.

The fishery sector needs rapid revolutionary accelerated development. The private sector to be encouraged to deploy 'mother vessels' around the island to help fishermen to store their catch in cold rooms or blast frozen to meet the export requirements and also assist with first aid, fuel, water, etc. during the days they are at sea. There are massive sea water tank vessels operated by Japan and other sashimi consuming countries that help sashimi fish harvesters to store their fish fresh for many days in sea water till they dock.

Sri Lanka must develop cold room services in every fishery harbour with facilities to store fish at -60C for export market or blast frozen; establish training schools for fishing folks in modern methods of fishing by use of electronic equipment; enhance the involvement of the ocean university in the fishery sector education and boat building; encourage multi-day fishing vessel builders to fit sea water ice generation plants or deep freezers by granting soft loans to buyers instead of using 0C ice and styrofoam boxes to store fish while at sea; establish a dedicated subsidised insurance scheme based on the annual fitness check of boats as done for road vehicles for fishermen to cover their families and boats in the event of disaster or sickness; promote and provide low-cost loans for deep sea fish cultivation farms; development of fish processing and canning plants; encourage processing fish waste into fish food and fertiliser; enhance cold chain logistics to transport fish into hinterland for local consumption at affordable prices; expand fisheries corporation and eliminate or minimise corruption and middlemen and establish laboratories to periodically check fish quality/toxins and monitor harvest.

Sri Lanka is yet to develop organic vegetable growing technology using the principle of aquaponics/hydroponic. Aquaponics involves growing fish and plants together within the same environment, which is considered to be a sustainable process. Hydroponics is a gardening method that allows plants to be grown without the use of soil. A hybrid between aquaculture and hydroponics, using organic fish waste, could fertilise vegetable growth.
Aquaponics works on a circular system. Water from fish tanks and lagoons is filtered by the growing medium and plants as they grow. The water is then returned to tanks/lagoons cleaner than before. Aquaponics/hydroponics is commonly used in many countries alongside river basins/lagoons as only a small percentage of water is consumed using zero artificial fertiliser and pesticides compared to traditional soil-based farming.

Nautical tourism is neglected in this island nation. Nautical tourism can be developed using the 20 fishery harbours, other protected lagoons and rive mouths around Sri Lanka by promoting mini marinas. Speedy implementation of the 'harbour village concept' should be encouraged by the Urban Development Authority and private sector, where the land around fishery harbours and other lagoons can be developed for tourism-related services, real estates and coastal urban development.

Grow/house boats can be encouraged for individuals to own their boats and live in them with facility to anchor in mini marinas right round the island with services for discharge of sewage, kitchen waste and obtain services and supplies.

Bangladesh, one of the fastest growing nations in our surroundings, has a 22-day ban on fishing in inland waters, rivers and reservoirs during the fish spawning season. I have been on restaurant river boats in Bangladesh, where they harvest river fish 40-80kg in weight. Female fish are put back and only male fish are cooked onboard. Do any of our fishermen put female fish back into sea or inland water?

Thirty years ago there were many fish in lagoons, rivers, tanks in paradise. Where are they now? Fish cannot breed or grow in inland water due to the high contamination of water by poison washed into them by excessive use of chemical fertiliser and weedicides. Trout fishing was very popular in Nuwara Eliya, now unheard of. Female lobsters were not harvested by the fisherman of the past. Now who cares? Female lobsters with eggs are found in plenty, where lobsters are available for purchase. There are no fishing bans in lakes and tanks during the spawning periods in this country. If a ban is introduced, our empty vessel p-tikkos will organise protest marches, as they have no capacity to think beyond their nose that fish too need a peaceful environment to breed.

Harvesting and development of mineral sands-based industries should be a long-term plan, instead of exporting mineral sand without processing and importing processed mineral sand such as zircon and titanium for use in industry.

These are just a few to note for action by our planners who have neglected the ocean resources of the country since independence. Public is yet to hear plans by our legislators on ocean resource development. Our legislators will keep on wasting time on personalities other than voicing opinion on development at least for Sri Lanka to be GDP rank 30 by 2040.