---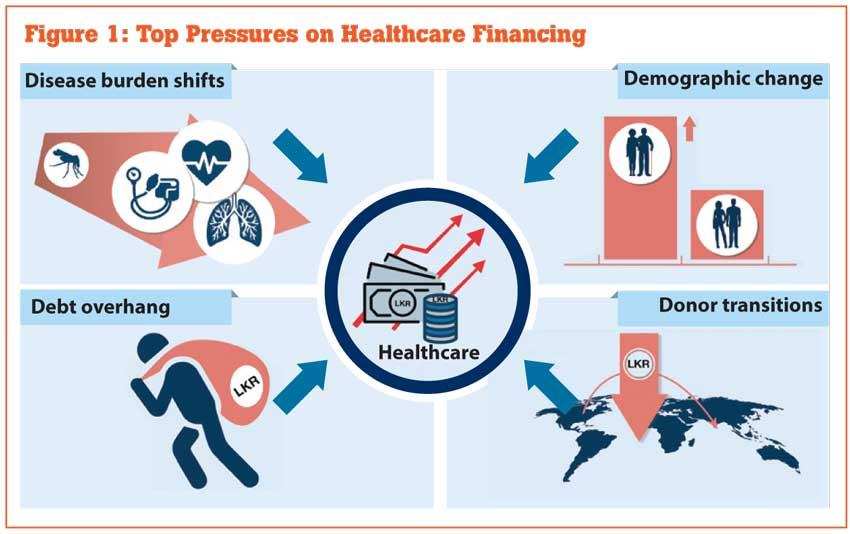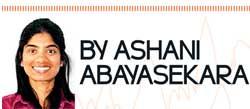 Across the globe, the magnitude of the COVID-19 pandemic has sparked a new urgency around healthcare systems and universal health coverage – the access to high-quality and affordable healthcare services for all, as and when needed. Such concerns are paramount for Sri Lanka, given its growing debt overhang and weak public finances, apart from the obvious constraints on public resources brought about by
the pandemic.

Added to this, a rapidly ageing population, increasing prevalence of non-communicable diseases (NCDs) such as diabetes, cancers, and mental illnesses, and tighter access to donor funds as an aspiring upper-middle-income country, pose challenges to sustaining the country's internationally recognised and successful healthcare system (Figure 1) built on the foundations of providing universal, free access to public healthcare services since
the 1930s.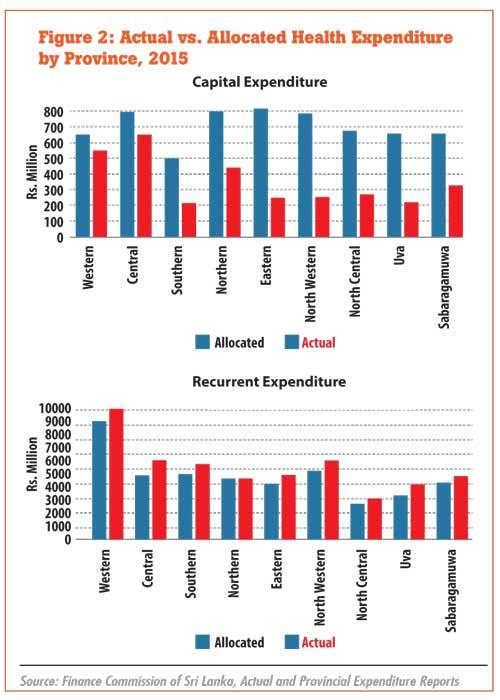 The limited resources available to address multiple challenges facing the health system point to the critical need for policymakers to explore better and smarter ways of investing existing funds. This article examines some areas in which health spending can potentially be made more efficient, drawing from information collected for an ongoing IPS study.

Current Issues in Health Financing
Inefficiencies in Fund administration and allocation
Sri Lanka's public health spending as a share of GDP, at around 1.5 percent, is low by international standards. This is compounded by inefficiencies in fund administration and allocation.

The current system is more a command-control type administration that offers very limited flexibility and authority to individuals to deliver services locally.

Although power has been devolved to the provinces in administering funds at the provincial level, they can raise only about one-fourth of their budgets through taxes, making them dependent on the central government for transfers.

The Provincial Council system is also heavily disorganised. Lack of a proper needs assessment mechanism has created problems in efficiently allocating funds to different sectors, leading to mismatches between required and allocated amounts, as well as actual funding received.

As Figure 2 shows, province-wise capital health expenditure – consisting of expenses for durable and essential items like medical equipment – falls significantly below allocated amounts across all provinces. In contrast, actual recurrent expenditure incurred in provinces – mainly consisting of staff salaries – is higher than budgeted amounts.

Poor Projections of Spending Priorities
A related problem is the lack of a proper system to forecast financial requirements well into the future. Currently, accounting is done based on an outdated cash basis, where expenditures are recorded only after incurring an expense.

For example, in many government hospitals, the process of allocating funds to buy new equipment only starts when the current ones are no longer usable, resulting in significant delays and uncertainties in procuring material when needed. This contrasts with accrual accounting where expenses are recorded before they are actually incurred, thereby securing funds well in time for future needs.

Similarly, future planning to adapt and cater to the changing health burdens in the country is limited. Managing and treating NCDs require a different type of health service delivery model compared to communicable diseases, focusing more on the continuity of care, at a more personalised level.

Meeting the needs of an increasingly ageing population also requires longer-term and costly services; it is generally believed that around 85 percent of a person's health budget is spent during the final stages of life.
These trends suggest the need for urgent investments in infrastructure and capacity, including laboratory equipment and high-quality drugs, specialised physicians and other healthcare workers, elderly homes, and insurance schemes. On the contrary, the 2021 Budget proposes more spending for paediatric care and maternal and child hospitals – which are already well-developed – but does not allocate any funds towards building infrastructure or capacity for elderly care.

Poor collaboration
Current collaborative mechanisms, both within the government and between the public and private sectors, are minimal. Government ministries, and at times, divisions within a given ministry, often work in silos, resulting in duplication of activities and wastage of resources.

Greater collaboration with the private sector, particularly during the pandemic, could have helped in financing COVID-19 related expenses, such as PCR tests and in-patient treatment, among others.

Towards smarter health spending
Prioritisation and efficient allocation and utilisation of available funds are key to addressing the changing health and financing needs of Sri Lanka and sustaining the very positive narrative that has accompanied health system performance over many decades. Robust reforms are urgently required in the following areas:

Well-developed and transparent accountability mechanisms are important in preventing wastage and inefficient allocation of resources. Clear and monitorable needs assessment procedures should be developed in preparing central and provincial government budgets, while also providing more flexibility and authority to individuals at the local level in decision-making, who have a better understanding of the most pressing needs in their respective localities.

Better planning is also key towards increasing the efficiency of spending. Challenges surrounding NCDs and an ageing demographic have so far not been addressed due to the absence of forward-thinking about emerging problems.

Accrual accounting systems need to be adopted in ensuring budget allocations are made for necessary medical equipment, treatment and caring facilities, as well as for training of healthcare personnel in relevant areas, which are typically long-term and costly investments.

Better coordination and collaboration within government ministries and departments, with clearly defined roles and responsibilities, is essential to avoid duplication and overspending. Partnerships with the private sector are also important in the context of weak government finances.

In the current context, allowing more private sector involvement in the COVID-19 response, including in procuring vaccines, is a potential win-win strategy, where those who can afford private services can opt for them, freeing up government services for others.

The government could still play a supervisory role to ensure procedures are being followed correctly, and conduct audits or impose price limits to ensure reasonably priced services.

(Ashani Abayasekara is a Research Economist at the Institute of Policy Studies of Sri Lanka (IPS) with research interests in labour economics, economics of education, development economics, and microeconometrics. She holds a BA in Economics with First Class Honours from the University of Peradeniya and a Masters in International and Development Economics from the Australian National University)