---
By Ranjith Fernando
International Chamber of Commerce Sri Lanka (ICCSL) Chairman Dinesh Weerakkody points out that the private sector is the engine of economic growth. Despite the recent setback from the pandemic, now more than ever needs the space to grow. Also, the ICC global network of 60 million members can be a vehicle for investment promotion and exports. Following are excerpts from an interview.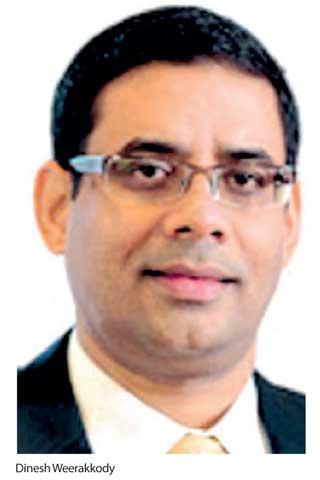 Is the private sector still the engine of economic growth post COVID?
In any country, the private sector is expected to create employment, conduct trade, provide goods and services and pay taxes to fund essential public services like health and education. However, depending on the space they get, they will deliver.

Is printing money good or bad?
Printing more money normally doesn't increase economic output. But in the current context, there is a need to inject liquidity into the economy and stimulate economic activity. Most countries increased the domestic money supply in hopes of spurring economic activity during the pandemic.
Economic revival in 2021.
Strong pick up in 1Q. The tourism sector however will take more time.
Colombo Stock Market.
Tremendous opportunities and great picks. Patience is required.

Are there challenges to the progress of capital markets?
A key issue would be the need for a professionally managed non-captive large institutional investor base in Sri Lanka and the strengthening of retail confidence – eventually, to have a properly functioning capital market, where capital is put to productive use, thereby contributing to economic growth. Our market has performed exceptionally well compared to many other markets. We now need a strategy to sustain it.

What is the progress of FDI and export development?
It is not easy to isolate individual factors. There are many different variables. It also depends on the type of industry. But in general, competitive wage costs, skills and transparency tend to be some of the most important. Also, macroeconomic stability and political openness tend to be important. The ICCSL continues to engage with several stakeholders to promote trade normality and foster a level playing field to facilitate export development, given our vast global network of members in 130 countries.

What are education and skills development challenges?
Emerging countries like Sri Lanka that are looking to aggressively build their export bases will need to prepare a large number of people to work in industry. However, to maximise the value of the investments, we need to know our current talent gaps, upcoming skill shortages and understand the impact of digital and social media infusion on trade and business. Therefore, the investments we make now in education will contribute significantly.

Do you support the retirement age increase?
An extension of working life beyond 55 seems logical because of the increase in life expectancy and because of costs involved in premature retirement. However, such changes also result in an increase in the working population and attendant costs. So, there is certainly a need for flexibility in managing this increase. The private sector certainly has no issue with productive employees, whatever their age.

Should chambers work collectively?
Certainly, we need to resurrect the joint business forum for maximum impact and to pool our resources and to leverage or networks for the benefit of business.

Is there sufficient consultation with the government on key business matters?
Can improve but certainly there is access.