---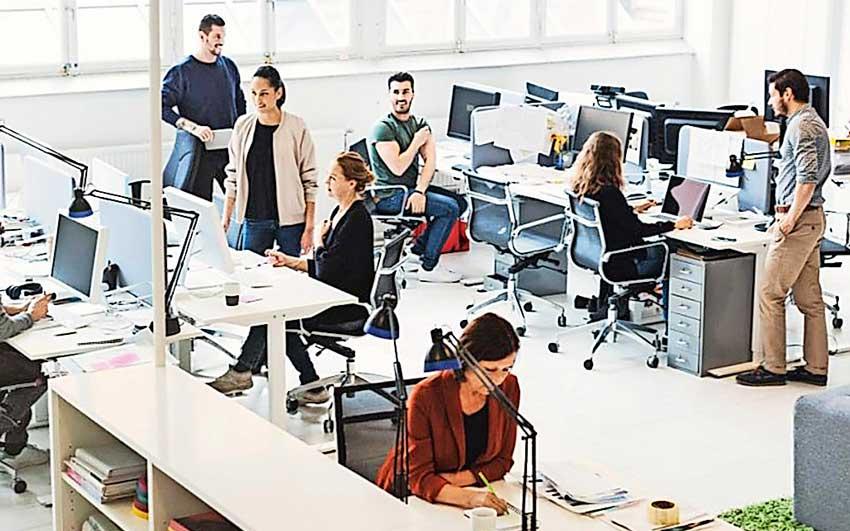 A productive human being and one that's not. What's the difference? A productive carpenter is a one who has mastered his tools. A productive food delivery man is a one who has full control over his motorbike. A productive factory floor, in the 21st century, is a one fully computerised with appropriate tools. The same is applicable for any workplace. Productivity boosts with right application of correct tools.

This piece is not about MS-Office-type tools. It is also not about professional social media tools like LinkedIn. Instead, let's talk on collaborative tools, which we call 'groupware'. They can be proprietary or open source. You can pay for them, if you wish. Otherwise you can find something similar on the web, completely free of charge.

As they are 'groupware', the decisions to use should be collective – that is, they must be taken by the organisations, not individual users. That also means the tools themselves are not of much use without a supportive organisation culture. As Peter Ducker correctly noted, it is organisation culture that can eat organisation strategy for lunch. So, it is essential that organisation culture is fed adequately so that it will not be too hungry to consume these tools.

So here we go, one by one. No attempts are made to either introduce the entire assortment of such products or justify the use of presented tools over their equivalents. Also no attempts are made to be politically correct. It is just that the author feels comfortable with the presented tools, after sufficient practice. He wishes to recommend them for others. That certainly does not mean other tools are inferior and useless.

E-mail (whatever the application)
Better to start with something we know well. Everybody knows e-mail. Everybody uses it. It is just that we still don't recognise it as a productivity tool. How can one exploit e-mail as a productivity tool? The common instructions include checking e-mail only at set points during the day; taking instant care of mails if it will take less than two minutes to read and reply to, even if it's not a high priority; having a logical and simple filing system to help manage your mail, etc. Let's not spend too much time here. Enough e-mail productivity tips are available online for anyone interested.

Do I have to mention here that any e-mail tool is no more just for e-mail? E-mail is only one component of a suite. The same application maintains your contacts, schedules and appointments, acts as a brief case for home use, etc. If you use Google, there are other features like video conferencing, search, maps, news, storage and translation.

Slack
A logical jump from e-mail to Slack, which could be a good replacement to the former. It's all about instant messaging. Not all messages worth a phone call or a mail. So we need an instant messenger. (Sometime back we used Yahoo Messenger. Remember?) With channels in Slack, you and your team know where to go to ask questions, share information and stay informed.

You can bring your team together in channels, which are spaces centralising everything relating to a project, a subject or a team. All channel members see the same messages and are on the same page. Slack also offers screen sharing and voice and video built-in, with features like automated reminders and keyword alerts.

Slack is not the only instant messaging application. In fact, it is not even the most used IM app. The credit goes to WhatsApp with its 1.5 billion users. You know WhatsApp well, don't you? So why Slack? The choice is yours.

Slack looks more professional but WhatsApp or even Facebook Messenger offers the same features. Even Telegram. With features like bots, secret chats, supergroups and the ability to send files up to 1.5 GB, this messaging app is gaining popularity with businesses.

If you look for team communications, Brosix, Discord, Mattermost, Fleep, Chanty, Troop Messenger, Flock and Ryver are few selected rivals. Nobody, I guess, masters all and then chooses the best. If one fits, use it. I am more familiar with Slack than anything else, so I use it. Before I forget, Slack is free up to 10k messages.

Microsoft Teams
Microsoft Teams too does instant messaging but with a lot more. The first version was out in March 2017 as a Software as a Service (SaaS) tool. It was part of the new development phase of Microsoft initiated by Satya Nadella, the new CEO of the group.

Microsoft Teams initially consisted of the features: SharePoint, an information sharing application; Exchange, a groupware offering electronic messaging; StaffHub, an application for managing remote team schedules and Skype for business, a unified communication platform integrating a set of communication means such as video or audio calls, instant messaging, etc.

These initial features have now been developed to a customisable collaborative platform that integrates video conferencing, file storage and transfer, note-taking (with OneNote) in addition to instant messaging for sharing in a team or by work group while keeping track of all exchanges. Its integration with Microsoft Outlook allows one to plan team meetings and share emails and contacts. Multi-factor authentication combined with data encryption ensures teams connect and work remotely in a secure space.

Microsoft Teams comes with a gamut of applications that makes it a wonder tool. Not all of the hundreds of tools from both Microsoft itself and others can be reviewed here. Follow, brief introductions to few most popular ones.

AttendanceBot: This app helps one tracking vacations, paid time off, employee shift planning, sick days, remote work and hours. It is especially helpful for remote teams with simple 'in' and 'out' messages, clock in and out.

Karma: This is an app that allows one to give 'kudos' to team members. Using this app, employees can give each other karma points and move up the leaderboards. That way, everyone is encouraged to work more efficiently and deliver faster.

MURAL: This is a team's digital workspace for innovation. Anytime on any device.

Polly: A tool for Polls. It gathers real-time insights with simple polls.

SurveyMonkey: Could be possible you have already used this tool, which gives real-time feedback with quizzes, polls and pre-built surveys. Update everyone by setting notifications for new survey responses or collaborator comments.

Wiki: This tool can create central knowledge repositories for teams. It can be used as a dedicated workspace to keep notes for team members within Microsoft Teams.
Zoom: As if we don't know. Seamlessly start, schedule and join meetings. It guarantees flawless video, clear audio and easy content sharing.

Then there is a gamut of Project Management apps such as Planner, Trello, Wrike, Asana, Azure Boards and ScrumGenius. (Please note not all are functionally the same.)

Nextcloud
This is a free software, file hosting site and collaboration platform. It is accessible via any web browser (recent versions – it may not be compatible with older ones) or specialised clients. Its open architecture has allowed extending its capability.

At present its functionalities include synchronisation of files between different devices, secure storage (file encryption on the server, point-to-point connection encryption), file sharing between internal or external users, online text editor (offering syntax highlighting), online document viewer (PDF, OpenDocument), online document editing with integration of OpenOffice, multi-format image gallery and connection to Google Drive and Dropbox.

Nextcloud also allows the management of user-groups. Content can be shared by setting read/write permissions between users and groups. When sharing files, Nextcloud users can create public URLs so the external users can access the shared resources.

Nextcloud is functionally not too different from more popular applications Dropbox and Google Drive. So again the question: Why Nextcloud? Why not Google Drive? Again, it is an individual choice. All are available for free. That perhaps makes our choice more complicated.

Redmine
Redmine is a free and open source web-based project management and issue tracking application. It is not the only one. You have already seen similar applications that come with Microsoft Teams. Then there is Primavera, a tool from Oracle Corporation. Perhaps you may also remember Microsoft Project, which was the most popular project management once, now also being offered online.

If you take it seriously, even Microsoft Excel has project management capabilities for relatively smaller projects. So why Redmine? Again, it is just your choice. (If you are interested in how project management software applications fare with each other here is a good reference: https://www.proofhub.com/articles/project-management-app-comparison)

Redmine functionalities include multi-project management; support for flexible role-based access control; management of user groups; issue tracking and bug reports (in software projects), requests for changes; advanced customisation of requests (fields, flows, customisable rights); multi-project wiki; multi-project forums; news and tickets accessible by RSS; email notifications; management of roadmaps, Gantt charts, calendar; recording of time spent; historical information; integration with various version monitoring and support for multiple databases.

That brings us to the end. Please note the objective of this informal exercise is not the promotion of one tool over another. All tools discussed here are for illustrative purposes. More important is the recognition of the necessity for tools for a productive organisation. Then an organisation can select what suits it best. Slack-Nextcloud-Redmine is a great combination used at least by one key organisation effectively and will be replicated on others with the success.

(Chanuka Wattegama, an information systems researcher, can be reached via chanuka@hotmail.com. All expressed opinions are personal)