---
Passengers had not contracted coronavirus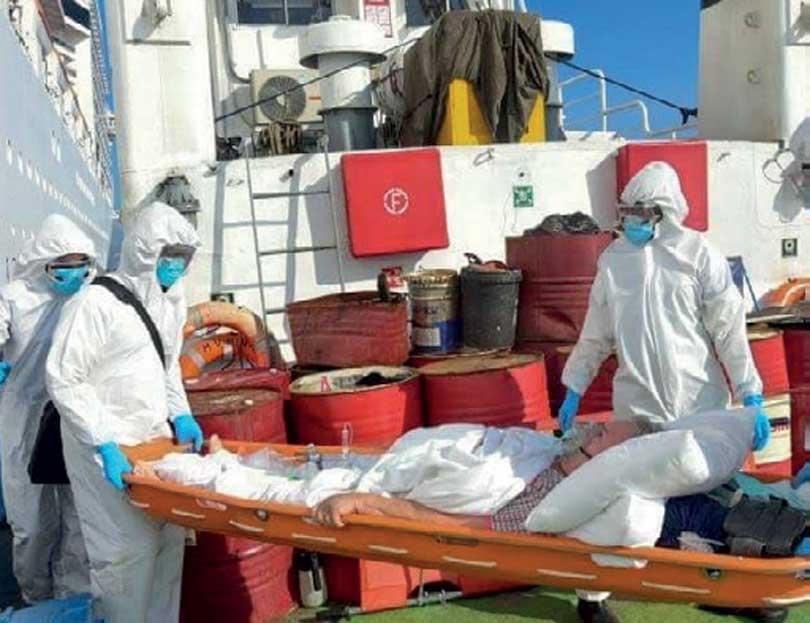 75-year-old female German passenger last to be rescued
cruise ship on a world tour from italy
By Sandun A. Jayasekera
Cruise ship 'MSC Magnifica' on its way to Italy from Australia left Colombo Port last noon after disembarking a Lankan crew member and admitting a 75-year-old female German passenger to the Colombo National Hospital after she suffered a heart attack, former State Minister of Ports and Shipping Kanaka Herath said.
President Gotabaya Rajapaksa granted permission to anchor MSC Magnifica at Colombo Port after a Sri Lankan crew member (chef) made an appeal to permit the cruiser to disembark him and obtain supplies to the luxury cruiser.

"We have information that no country has provided berthing facilities to the cruise on its way back to Italy from Australia in fear of having COVID-19 victims in the ship. However, President Rajapaksa authorised the cruiser to disembark the Sri Lankan youth at Colombo Port. He also permitted to enter the aged passenger to a private nursing home in Colombo. On its request, the cruiser was permitted to obtain essential supplies like fuel, food and water from Colombo. Sri Lanka Navy carried out the entire operation on the cruise ship," Mr. Herath told Daily Mirror, adding that he had information that the Sri Lankan youth, the ailing lady or any other passenger in the cruiser had not contracted coronavirus.

As a precautionary measure, the Sri Lankan youth was sent to the Boossa quarantine centre maintained by the army for a 21-day quarantine spell.
MSC Magnifica is a cruise ship operated by MSC Cruises in Italy. The luxury liner has 1,259 cabins – 2,550 passengers can be carried at double occupancy and 3,605 at full capacity.
As a precautionary measure, the Sri Lankan youth was sent to the Boossa quarantine centre maintained by the army for a 21-day quarantine spell